Kylie Garcia
---
My Family's Story of the Mexican American Dream
In celebration of Hispanic Heritage Month, the SF Fed is sharing perspectives and family histories from members of Unidos, our Latino Employee Resource Group. Visit Latino Communities and the Economy for more information on how the San Francisco Fed is studying and sharing what we learn about the economic contributions of Latinos to the U.S.
My family's immigration from Mexico to California
During the 1950s, all four of my abuelos, or grandparents, immigrated from Mexico and settled down near Fresno, California. My father's family, the Herradas, were from Zacatecas and moved to a small migrant farming town called Huron. My mother's family, the Garzas, migrated from Monterrey Nuevo Leon to the town of Sanger.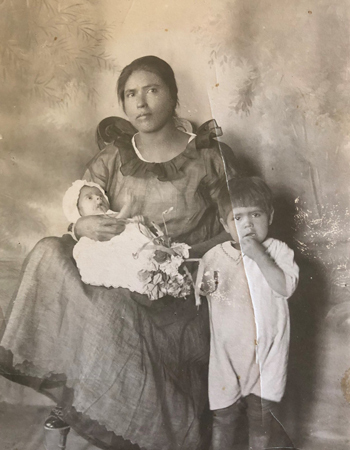 My abuelos immigrated at the time of the Bracero Program, where an agreement between Mexico and the United States allowed millions of Mexican workers to work under short term agricultural labor contracts in the United States. From 1942 to 1964, 4.6 million contracts were signed. Many individuals returned several times on different contracts, making it the largest U.S. contract labor program ever. The program was initially created during World War II, although the program outlasted the war as Americans grew dependent on the agricultural produce and labor that built the roads, canals, and other important infrastructure in the Central Valley.
As my abuelos only spoke Spanish and had little education, they worked as farm laborers. Life for them was a great challenge; however, their hard work and the support of the entire family helped them through it. During the summer months and school breaks, my father helped his family by picking cotton, potatoes, and cantaloupes, and later driving tractors on the ranch where they lived. My mother picked grapes, berries, peppers, strawberries, and tomatoes. When they started working in the fields, they were only six and eight years of age.
Despite this struggle, my abuelos and parents worked hard, bought property, and lived their American Dream—gaining more opportunities for their families than they would have had in Mexico. They joined the generations of Latino farmworkers whose hard work and resilience feeds our state and country to this day. The farmland where they labored in the Central Valley continues to produce one quarter of the nation's food, including 40% of the nation's fruits, nuts, and other table foods, on only 1% of all U.S. farmland. This essential work is carried out despite droughts, heatwaves, wildfires, and even global pandemics.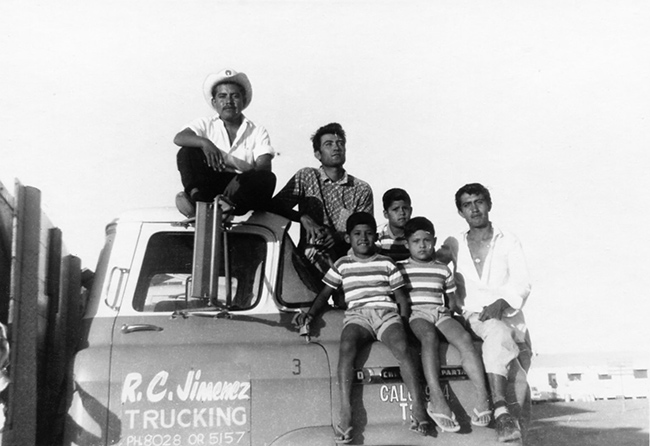 Their land of opportunity through adversity
My mom had a tough upbringing. She lost her own mother at the age of seven and as a result, started working in the fields and helping her father with household duties, in addition to going to school. She remembers the embarrassment she felt when she had to attend school with scratches all over her legs caused by vines when picking fruit. When questioned by friends, she would say that her cat scratched her (she didn't even have a cat).
As Spanish was my mom's first language, she struggled with vocabulary. She was held back in kindergarten because her Spanish accent was heavy and she couldn't pronounce "share" (she would say "chair" instead). Holding immigrant and non-English speaking students back was a common practice in many schools in southwestern states, and unfortunately still occurs today, albeit much less frequently.
My dad attended a predominantly white school, Coalinga High School, which offered more academic resources, but had its own share of challenges. During his junior year, he shared with his counselor that he planned to attend a four-year university and be a math teachers assistant (TA). He was told that he should be a TA for welding or mechanics and that college wasn't for him.
Despite this discouragement, he persevered with his self-belief and submitted applications to UCLA and Stanford. He was accepted to both and attended UCLA. To financially support himself through college, he applied for and received academic scholarships, low-income grants, small loans, and held a job in the law school library. His belief was to "follow your dreams and never let an opportunity slip from your hands."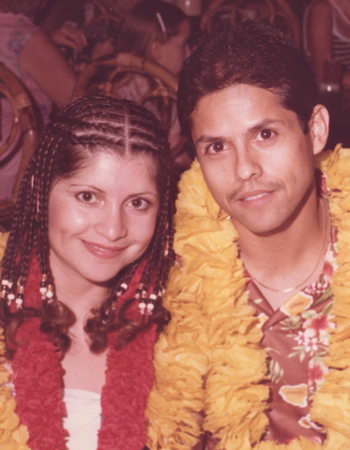 My parents met in Fresno and married in 1976 where my dad began his professional life at the Social Security Administration (SSA) office in Van Nuys, while my mother worked at a small business selling cars for European tourist delivery. In the '80s, they moved from Los Angeles to the Bay Area, in San Jose, working for the Department of Defense, NASA, and Lockheed Martin. They recently retired in Monterey, CA.
My mom and dad see themselves as examples of what the American dream can be for minorities and people of color who are given opportunities that everyone deserves. These opportunities can pave the way from poverty to a prosperous life through hard work, discipline, resilience, confidence, and strength. As my mom often says, "We were able to prosper through life, liberty, and the pursuit of happiness."
My upbringing and path to the Fed
I grew up in a diverse California community named Gilroy, where I don't have memories of experiencing racism because of my darker skin or feeling segregated like my parents did in the Central Valley. My dad would often tell me, "You can do whatever you want to do in life; never hold anything back."
I was five years old when my dad first took me out to play catch, and his passion for baseball naturally became my own. I remember one practice session when he threw the ball and busted my nose. Other fathers would coddle their daughter if this happened, but instead my dad said, "Next time put the glove there."
He was my coach from Little League to when I played competitively on a travel ball team, and my mom was my biggest fan. She herself played the game, even at six months pregnant, when she was a pitcher for the local team. I later received a softball scholarship to San Francisco State University where I played for four years and received a bachelor of science in recreation, parks and tourism with an emphasis in event planning.
My parents taught me to always work hard, whether it's scrubbing toilets (I did during my event planning internship) or working in an office. After graduation and four years building up my skills in event planning and sales, doing project management and executive assisting, I received an opportunity to work for the Federal Reserve Bank as an event planner. Now, after almost six years of being here, I can truly say that this is my home where I get to work with my Fed family every day. Events are always changing and evolving, and I am grateful I can continue to grow my career and skills as an event producer.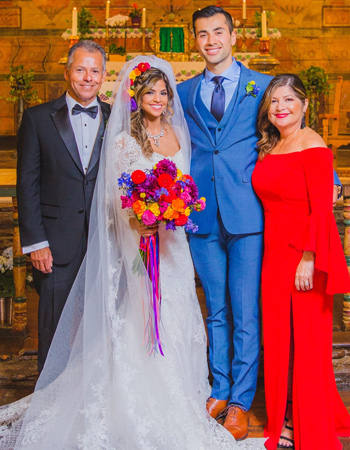 My family's experience taught me that it doesn't matter where you come from, what your race, creed, or upbringing is. Believe in yourself and take every opportunity that is given to you. As my mom's abuelo used to say, "Find those opportunities and take those opportunities and doors will open." "Si Se Puede," or in English, "You can do it!"