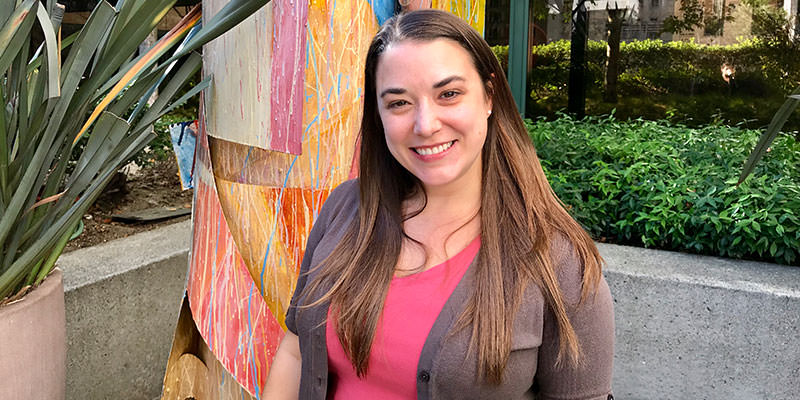 Laurel Gourd
---
Strengthened by Early Challenges, Self-Starter Relishes the Mission-Driven Work of Community Development
Laurel Gourd is running a large event at noon, but until late last night she was still adjusting the agenda.
"I think we had another change this morning," she says, glancing at her phone.
No big deal. Gourd regularly pulls off events without a hitch as the communications specialist for the San Francisco Fed's Community Development department. She organizes both large and intimate gatherings that build relationships between banks, nonprofits, and other stakeholders so they can coordinate resources to address the needs of low-income communities. It's a role that calls for big-picture thinking, a lot of flexibility, and sound intuition.
That intuition first brought the Fed to Gourd's attention in 2010. She'd traveled from Boston to San Francisco to check out the city when her husband landed a job in the Bay Area. Standing on a hotel balcony, surveying Market Street, she noticed a circular logo on the building across the street.
"I said to myself, 'The Federal Reserve Bank of San Francisco. I bet that would be a great place to work,'" she recalls with a chuckle.
Gourd left her job at Harvard University and drove her two cats across the country. Five months later, she spotted a job listing that fit her to a T: a combination communications and event-planning position at the San Francisco Fed. It was a perfect match for Gourd, who holds a degree in communications and nonprofit public relations from Boston University, and who has always sought mission-driven work.
A college internship with a local chapter of the American Cancer Society started Gourd on her career trajectory. It was natural for her to throw her talents and energy behind this organization since cancer had a profound effect on her life. Gourd lost both her parents during the summer before her senior year of high school; her mother to metastatic breast cancer, her father to leukemia. Her mom died on her 17th birthday. Within two months her dad was gone too.
Although this was clearly a difficult time in her life, it's not a topic Gourd avoids.
"I love any chance to talk about my mom and dad," she says fondly. Because her parents were both sick throughout her teens, as the oldest of three kids, Gourd ended up taking on an unusual amount of responsibility, learning a lot of life skills.
Before his cancer diagnosis, Gourd's father suffered a stroke that left him paralyzed on his dominant side and bedridden. Gourd was 15, and her mother was already battling cancer, so she had to step up to manage the household.
"My dad signed every single check in his checkbook, gave it to me, and said, 'I need you to take care of this,'" she recalls. The same year, he put a stack of tax forms on the table and said, "You're good at math, figure this out." Gourd still does her taxes with pencil and paper.
"At a time when a lot of my friends were rebelling against their parents, I was running our family's finances, helping around the house, and being a caregiver," she says.
After her parents passed, Gourd's younger siblings went to live with an aunt and uncle while she lived with a friend's family so she could finish high school in their Atlanta suburb. It was another big leap toward independence at a young age.
When asked how all this affected her, Gourd is quiet for a long moment. Finally, she allows that the events of her adolescence turned her into a self-starter and made her capable of working under minimal supervision. Those happen to be traits necessary for community development work, which requires coordinating with forward-thinking regional managers based all over the West.
"Everyone is encouraged to explore and to dig deeper on the issues that we see, especially something that might just be starting to bubble up but hasn't quite come to the surface yet, like predatory auto loans in disadvantaged areas," Gourd says.
From housing construction challenges in rural Alaska to a growing homeless population in Portland to the surprising food deserts amidst the agricultural abundance of California's Central Valley, the San Francisco Fed's district is teeming with community development opportunities. Working with the team to address these needs in all corners of the district is a balancing act. Gourd has that balancing act down.
After seven years, she can say with confidence that her intuition about working at the San Francisco Fed was spot on.