Lydia Petersen
---
From Data Purchases to Labradoodle Grooming, Lydia Petersen Celebrates Eclectic Interests
When you think of a research library, you might envision shelves full of thick tomes. The reality is a bit different—and a lot more modern.
Lydia Petersen is the San Francisco Fed's data librarian. It's her job to acquire credible third-party data to help the SF Fed stay on top of the state of the economy, lending, and consumer finance. She takes pride in meeting the needs of the San Francisco Fed's different groups.
"A number of groups at the Bank use third-party data to help inform our understanding of what's happening with unemployment, production, and prices, for example," Lydia explains. "I work with data providers to make sure we're able to buy reliable data at a cost that works for everyone. I also ensure the data sets meet our business needs."
Sometimes that means negotiating to make sure data comes packaged in a certain format.
"An economist might want to do text mining. Our financial analysts might be keeping an eye out for signs of a bubble in an industry, monitoring commercial real estate trends, or evaluating if a loan portfolio includes risky investments. I negotiate with vendors to make sure that the way the data is provided allows for the analysis we'd like to do," she says.
Lydia often gets requests to purchase data from a specific provider. Other times, she talks through specific uses cases and business requirements with stakeholders. She finds it far more fulfilling to do the legwork.
"Sure, I can purchase things, but it's more interesting for me to go out, look at what's available in the marketplace, and make decisions based on factors like the vendor's reputation," she says.
Data librarian grapevine
Lydia's expertise allows the Bank to invest in the right solutions, even when her business partners might be ready to throw in the towel. This came up in 2015, when two economists needed granular data about financial institutions—mostly banks —and their balance sheets, income statements, and financial reports.
"The format of the data we had didn't make sense for us. It was expensive. There were weird limits on how much we could download," Lydia says. "Our researchers were ready to give up on the project. I'd worked with a different vendor with an impressive underlying source. So, I went straight to that source. Now we have the same data, at a better price, and in a format we can use."
Every Federal Reserve Bank (FRB) and the Federal Reserve Board of Governors have at least one data librarian, and they're a tightknit group. If one FRB had a bad experience with a vendor, Lydia knows about it.
"We get on a call every month for active discussions," she says. "If I have questions, I never hesitate to pick up the phone and ask. It's really nice to have that network here in the Fed System."
A corner of the quad
Lydia also counts on her home team.
"We have four librarians at the SF Fed, so we call ourselves, 'The Quad. 'It's Noah Pollaczek, Paul de Barros, Anne Hall, and me. We all have very different areas of expertise, so we're by no means interchangeable," Lydia explains. "Three days a week, we do morning stand-up meetings to check in with each other about the projects we're working on. What I really like about working with this team is that we each have our own distinct areas, so can contribute to what the others are doing."
No one librarian covers the same thing.
"We each have our own spikes of knowledge, so we find connection," she says. "Our manager Cindy Hill and colleague Steve Rochon, who do our daily news briefs, also join our meetings. I'm always learning something about what's going on with the Fed, the broader economy, or the world."
Mentoring research associates
When research associates (RAs) end up in the library tasked with finding data related to an economist's big idea or question, they inevitably ask Lydia to point them in the right direction. She often becomes their mentor.
"I enjoy working with young people who are ambitious and smart and want to learn," she says.
The trust she builds ensures RAs are comfortable turning to Lydia. That's important when they do things like blow through an allotment of data with a vendor.
"They're usually not the first and they won't be the last," Lydia says with a grin. "I can say all of our RAs are hyper conscientious, so I can tell them it's fine and everything's going to be okay."
The RAs appreciate that Lydia goes above and beyond to make their experiences easier. They even nominated her for an Engage, Enable, Excel (e3) employee award, which Lydia received in 2019.
"It felt great, honestly, to have the Bank recognize all the effort I put into connecting with the RAs," she says.
A master's degree in library science
Lydia pursued her undergraduate at the University of North Carolina at Chapel Hill, majoring in American Studies.
"It's interdisciplinary, so I got to take classes like Introduction to Jazz History, American Art, and American Religious Studies. It was a way to dabble in lots of different things in a somewhat cohesive way," she says.
Her senior year, Lydia realized she'd need a little extra money to finance her "not very extravagant life." A frequent visitor to the library, she applied as a student assistant.
"Well, I didn't realize that I would work in the seamy underbelly of the library world: the fines and billing department," she says wryly. Lydia would check on people with hundreds of overdue fines or books they'd checked out and never returned. That wasn't so fun.
What was fun was solving the mystery of missing books.
"Some books would go missing for different reasons," Lydia explains. "Sometimes the reference department claimed a book or it was taken out of circulation. And as part of that job, I got to talk to a lot of different people in the library world at Chapel Hill."
When Lydia graduated, she was still unclear on what she wanted to do with her life. Her boss in the circulation department let her know the library's photo archives had an open job. It wasn't glamourous, but Lydia got to know people working with the photo archives and other special collections.
"That particular library housed the North Carolina collection, rare book materials, and the Southern historical collection. As I got to interact with all those librarians. I realized the people doing the fun stuff all had a library degree," she says.
Lydia learned of a small scholarship fund set up for library employees to go to library school at Chapel Hill, and she got access to cool jobs as a graduate assistant. Along the way, she did stints working in gifts, undergraduate reserve reading, and other interesting departments.
"Many people are surprised to learn you can have a master's degree in library science, and it's not all about stamping cards and putting barcodes on books," Lydia shares. "Honestly, I thought I was going to be an academic librarian. But that's not how it worked out at all."
Following the Fed's lead
After completing her master's, Lydia worked at corporations and the Harvard Business School. While living in Cambridge, Massachusetts, Lydia's husband was interviewing for faculty positions around the country. When he became a final candidate in the Washington DC area, she began looking for a new job.
"The Fed had just posted its inaugural job for a data librarian. I thought, that is what I want to do. Working for the Federal Reserve System seemed like a perfect blend of corporate and academic environments. It was the complete package and a chance to get in on the ground floor of a new role," she says.
In the end, Lydia's husband didn't get the job in DC and the couple moved to Berkeley, California. Lydia continued her job at Harvard and worked remotely. All the while, she kept the Fed in mind as a future employer.
"I contacted a recruiter as soon as we moved. She promised to call if anything came up," recalls Lydia. That call came through six months later. The San Francisco Fed was looking for a data librarian, and it was a match to her DC dream job right on the West coast.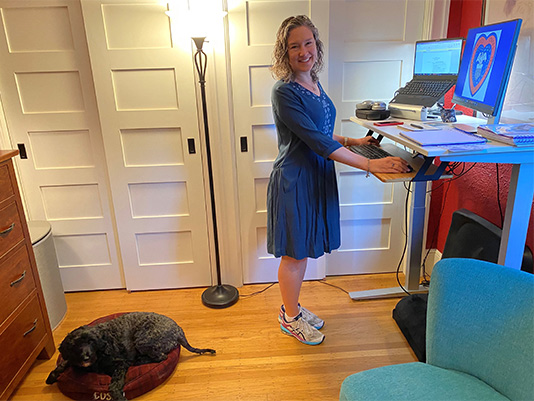 Eclectic explorations
Looking back on Lydia's childhood, some people are surprised she seems so settled. She moved around a lot as a kid, following her dad, an academic, as he got his PhD and two postdocs.
"I don't have my spreadsheet in front of me, but the high-level view is that I've lived in eight states, four of them on at least two separate times. This is my second stint in the San Francisco Bay Area," she says.
The constant relocations make it tough for Lydia to answer where she's from, but they also sparked her interest in exploring regional differences.
"Like when I lived in Connecticut, I'd wonder about the dividing line between when you're a Red Sox fan or a Yankees fan," she says. "In living in so many places in the United States, I've always been interested to see what makes us different but still citizens of the same country. It's the little things, like how people in North Carolina say 'you all,' but people in Michigan say 'you guys' that I find so interesting!"
One of her favorite corporate work experiences also made it possible to do a lot of travel, taking her to Europe, China, and even Zambia.
"The firm had high impact with its fingerprints all over some of the biggest developments in the business world," Lydia shares. "It was rewarding. That's one of the things that I like about the Fed, too. I know that what we do is important."
Giving tours to the public
At the Fed, Lydia volunteers as a Fed Ambassador, guiding tours for the public. For Lydia, it's not just something she truly enjoys—it's in her blood.
"When I was a kid, my grandfather was superintendent of Mackinac Island State Park in northern Michigan. My grandmother worked there, too. Every summer, I'd spend a few weeks with them, and it's one of the coolest places in the world," she says. "I would keep myself entertained during the day by going on guided tours. The guides dressed up in period costumes, and they would fire muskets and cannons. I loved the performance elements and learning the history. It made me think I'd enjoy leading tours."
When Lydia leads Bank tours (when the building is open to the public), she shares interesting tidbits that relate to everyday experiences or pop culture references. It's a way to help others understand what the Fed does. For example, when she takes people through cash operations, she'll talk about Hollywood producers going to the Los Angeles branch to see how things really work. That part of the tour is always a highlight.
"The quantity of money that comes through our Bank is astonishing," Lydia says. "I'm in awe of our employees, and they're in a good mood every time."
Lydia also likes to put the decentralized structure of the central bank into context. In other words, why the Reserve Banks are nonprofits and not part of the government.
"My favorite piece of Fed trivia ties back to the musical Hamilton and my American Studies major. The Fed, like so much else in the U.S., was built out of a series of compromises. Its structure has roots going way back to the founding of the country; a whole power struggle well before Jefferson and Hamilton. How much power should be concentrated in a central place, versus how much it should be distributed out to States and municipalities? It's not a question we've answered completely," she says.
Sewing in the she-shed
When asked what she does to relax, Lydia responds, "Oh, I sew! I made the dress I'm wearing now. I even put in a fun orange lining and pockets. It's been my hobby for the past six years or so. It turns out I live within a half-mile of what must be the world's most amazing fabric store."
It probably comes as little surprise that she has a dedicated sewing space at home for her hobby.
"When we bought our house, and I know these are luxuries, we wanted a guest bedroom and a studio space. So, my happy place is a little 10′ x 12′ retreat—a little glorified shed—where we put in power, heat, light, and some carpeting. I do a lot of sewing back there."
Downtime with the dog
Lydia considers Cosmo, her beloved Labradoodle, a real joy in her life.
"The Bank has a pet benefit now where you can take time off to bond with your new pet. I wish we'd had it when I adopted him. But my manager, Cindy, was sweet about everything. I took a week of vacation to help Cosmo get used to us, and us to him."
Lydia and her husband, Mark, have also become quite good at saving money on grooming.
"One of my many hobbies has become amateur dog grooming. We've gotten it down to an art and science at this point. The first time we groomed him I think it took us four hours. We're down to two hours for a full clip and trim and bath. It's a team effort but he's so soft and fuzzy after."
There is a central theme to her passions and pastimes.
"In case you haven't detected a trend, I really like pursuits where I get exposure to lots of different subjects. I'm energized by new things. And I get satisfaction from trying a lot of different things. It's what keeps me busy, and a great part of my job."