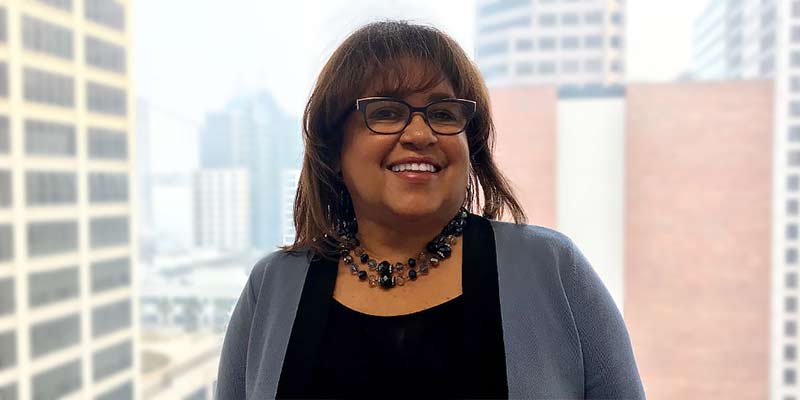 Lynn Reddrick
---
How Lynn Reddrick Became the San Francisco Fed's First Supplier Diversity Program Manager
Anyone can dream big but not everyone puts in the work to make those dreams a reality. As Lynn Reddrick tells her life story, one thing that stands out is that no matter what her goals—they've evolved drastically over the years—she takes the necessary steps to turn ambition into achievement.
As a child, Reddrick dreamed of roaming the South Seas as a marine biologist. She took classes at the California Academy of Sciences in San Francisco and excelled in biology. Her career goal changed after volunteering for a few summers at the University of California San Francisco hospital where both her parents worked.
"I diverted my attention away from being out in the South Pacific to being involved in hospital administration. I found everything it took to run the hospital fascinating," she explains.
While her peers were deciding who they'd take to prom or if they'd go to college, Reddrick decided to pursue a business degree. The same wanderlust that made her want to sail the South Pacific drove her to venture beyond her hometown of San Francisco. At first, she simply didn't want to live at home and take public transit to the University of California at Berkeley, as her parents suggested.
"I was like, no! I envisioned the dorm," Reddrick laughs. "I had it all mapped out."
She spent two years at UC Santa Barbara before transferring to UC Berkeley for the final two years for her business administration program.
Along the way, something unexpected happened that changed her map.
"Once I got into business administration, I found there was a lot more to business than hospital administration. It was something I wanted to pursue," Reddrick says.
She decided to get a Master's in Business Administration at Columbia University in New York City. The program allows students to work one trimester for every two that they attend classes.
During her internship trimester, Reddrick worked on the product marketing teams at General Foods for Jell-O® and later Calumet Baking Powder. It was a far cry from hospital administration, but she found it equally fascinating.
"Product marketing is almost like running your own business," Reddrick explains. "You set all the plans: This is how much we think we'll be able to sell. These are the dollars we need to spend to discount it periodically. This is what we tell sales reps about the product. This is what we put on the can to entice consumers to purchase. You work with the advertising agency on strategy. You have your arms in everything."
Reddrick enjoyed product marketing so much that she took a job with Nabisco in Manhattan after graduation.
But after a few years of having fun out East, she heard San Francisco calling her home.
Reddrick secured a transfer to Del Monte Foods, where she marketed Hawaiian Punch®.
Next, she got married. And became a mother.
Reddrick took some time off to be with her son and re-evaluate her career goals.
As much as she enjoyed marketing, the former Girl Scout and daughter of a social worker and medical researcher wanted to make the world a better place. A friend introduced Reddrick to an Oakland, California public policy consulting firm focused on supplier diversity. The discipline ensures that public agencies and municipalities fairly consider minority and women-owned suppliers when procuring new vendors and contracts.
The firm hired Reddrick to conduct disparity studies in the public sector. She helped public agencies such as cities and transit districts to assess whether they were adequately tapping the pool of minority-owned and women-owned suppliers in their communities. She then helped them draft policies to do better in meeting the needs of its vendors.
"Each study would analyze the procurement spending for an entity and look at businesses available in the market, which could be minority and women-owned," she explains.
The study would uncover any disparities between the percentage of minority-owned and women-owned businesses in the community and the percentage of the entity's contracts that went to such suppliers. These insights gave leaders the data they needed to make positive changes.
Just as she did interning in hospital administration as a teen and working on product marketing teams as a young adult, Reddrick relished being at the center of the action.
"I was managing these studies from start to finish. I worked with the researchers who gathered the data and did the statistical analyses. There was always a community outreach piece, too. We would build a list of available businesses that wanted to work with the public sector," she says.
For 11 years, Reddrick enjoyed conducting diversity assessments. She traveled to new cities, meeting mayors and other public officials, and helping each community engage diverse suppliers in their areas.
Then the Federal Reserve Bank of San Francisco came calling.
One of Reddrick's former employees gave her the heads-up that the San Francisco Fed was looking for its first supplier diversity program manager. The job would draw on Reddrick's strengths in finding qualified businesses and connecting them with procurement. The role held an exciting promise:
"The thing that was really resonated for me is that I would build the program," she explains. In 2012, she went for it and hit the ground running.
Reddrick was tasked with ensuring the Bank was inclusive of all businesses, finding the most qualified minority-owned and women-owned businesses to fill the Bank's needs, and providing technical assistance.
Internally, she created resources and marketing materials to let departments know about the need for supplier diversity. Externally, she reached out to the community, attending conferences, hosting events, joining boards, and building an always-growing network of capable diverse suppliers.
"While I wish we had projects for every qualified supplier out there, opportunities are limited. Still, the Fed can share expertise and forge connections that help create opportunities for these businesses," says Reddrick.
Pleased with the progress she's made so far, Reddrick recognizes her work is far from done.
"A lot of employees consider diverse suppliers when seeking competitive bids. What I would love to see happen, and where we are headed, is to get more supplier diversity discussions in the planning stage when we begin to source vendors," Reddrick says.
As with other roles she's held throughout her career, Reddrick enjoys being in the middle of everything. She has connections to every team at the San Francisco Fed and throughout the Federal Reserve System. Her days at the Fed never seem to become routine and never lack meaning.
"I'm at the center trying to make everything work so that the bank fulfills its strategic commitment to be diverse and inclusive," she says. "I like the fact that there's a variety to what I do, but ultimately I love that I'm helping people."