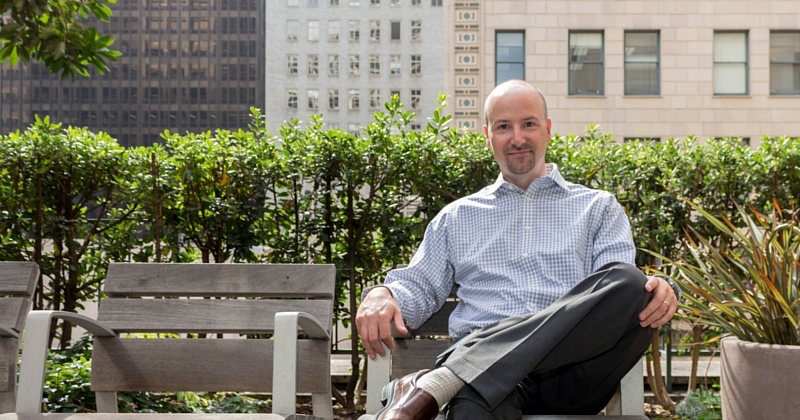 Michael Fernandez
---
From Shredding Cash in the Basement to Carrying out FOMC Directives
The first job Michael Fernandez scored out of college involved a basement full of industrial machines and working sessions in Hawai'i. The machines came first.
Fernandez was still a manager in a Bank of America call center when he earned his political science degree from the University of California, Berkeley. Unsure of what he wanted to do next, he applied for a management development program at the Federal Reserve Bank of San Francisco. Next thing he knew, Fernandez was working in cash operations at the SF Fed.
"I didn't know anything about cash. I took a tour, and you see these bricks of currency. The environment was different from how I would have pictured the Fed," Fernandez recalls.
For one thing, there was the smell.
"Currency has a unique smell, something like an old blanket. Especially when you have thousands and thousands of bundles, the smell permeates throughout the department," he says. Cash's smell is so distinctive that dogs can be trained to sniff it out.
Next, there was the industrialized workspace.
"[Cash operations] is a warehouse environment. You're moving currency. You're taking it in, processing it, getting the unfit notes out of circulation and shredding them, and then replacing unfit notes with new currency," he explains.
On the job, Fernandez also had the task of managing colleagues who'd been at their jobs longer than he'd been alive. It was a big change from BofA, where he'd had plenty of management experience, but where most of his direct reports had been peers.
"I was 23 years old. My whole mindset when I came in was that I would not be the brash kid who says, 'We need to do it this way. We're not doing it fast enough. We're not taking advantage of the technology,'" Fernandez says as he jokingly smacks the back of one hand into his palm.
"I wanted to ask a lot of questions, and rely on the staff to make sure I understood the work and processes. They were very open. I see that all across the Fed system: If you ask questions and genuinely want to learn, then folks are willing to share information with you," he says.
Soon Fernandez was given an interesting problem to solve: Hawai'i always had excess currency to send back to the mainland, but it was perpetually having to ship in coin. The reason, he explains, is booming tourism. "People go to Hawai'i, spend their cash with the vendors, and bring change back in their pockets. Rarely do they pay for food or souvenirs with coins."
Commercial banks generally pay to transport coins from their local Federal Reserve Banks, but the closest branch to Hawai'i is on the mainland. Frequent coin shipments were becoming a large financial burden, so state commercial banks looked to the SF Fed, their district Federal Reserve Bank, for help.
Fernandez worked with a team to set up Federal Reserve coin terminals on the islands where armored carriers would store coin on behalf of the Federal Reserve. The banks would then pay to transport the coins from the stockpile to their local vaults, similar to how it works on the mainland.
"It was nice to be able to work on an exciting project like that. How are we going to make sure the coin is secure? How are we going to make sure we're being fair to all the carriers and all the banks? It gave me a much broader perspective of how the system works," Fernandez comments.
But as much fun as he was having in the cash operation, Fernandez was not destined to spend his entire Fed career there. The Statistics Department needed a manager to work with the Statistics and Reserves application suite. A group vice president within the department thought Fernandez, who he's worked with previously, would be a good fit for the position. That vice president spoke to Fernandez's superior, who encouraged him to pursue the opportunity.
"It's one of the positive characteristics in our leadership here: If there's a good opportunity and they see it as helping another department and allowing a growth opportunity for the individual, they try to embrace that," Fernandez says.
This was not a job he would have thought to apply for on his own.
"I didn't know anything about the application suite. When I started looking into it, I saw that it was more of a technical position. I didn't have an IT background at all. But project management skills, I had. People management skills, I had," he says about his decision to apply for the job. He was hired.
Now 30, Fernandez once again found himself in the position of leading people who had been at the Fed for most of his life. And once again, Fernandez set about asking questions of his new team and learning the job from them. His officer and group vice president in charge of statistics also spent a lot of time helping him onboard.
"I had a ton of knowledge around me. Any questions I had, they were able to provide the answers to and were open to me asking those questions. It wasn't just me trying to find my way in the dark," Fernandez says.
Eight years later Fernandez is a vice president responsible for all aspects of Statistics and Reserves application suite automation, including the ongoing effort to move the applications off of the mainframe onto a web-based platform, and to split it into applications tailored specifically to compiling statistical data and to managing reserves.
To Fernandez, the most exciting part of his journey from the noisy and fragrant cash operation to his current post is getting to carry out directives from the Federal Reserve System's leadership.
"A lot of what we work on is referenced in the FOMC (Federal Open Market Committee) minutes," he says.
For example, in 2008, the Federal Reserve Board announced it would start paying interest to banks on the reserves the institutions are required to hold.
"We were the ones who would have to work on this, with other folks from across the system," Fernandez says. "We had to code the application to be able to pay the interest on reserves, flow to the accounting systems, and make sure everything is reflected in the banks' accounts with the Fed. Of course, we had to test to make sure it worked right and implement it." They continue to update STAR to process new data from banks and follow controls laid out in the Dodd-Frank Act.
"I can read the news and I see something referenced that I am working on," he says. It's a nice reminder to Fernandez and his team that they're making a difference.