Nancy Okun
---
Application Developer's Self-Reliant Childhood Feeds Hunger for Success
High-energy and enterprising, Nancy Okun started her Information Technology Services (ITS) internship at the San Francisco Fed ready to make an impression.
Okun was paired with the organization through Year Up, a one-year professional skills program working to close opportunity gaps. She'd spent six months rigorously training on technical skills along with soft skills like workplace etiquette. She'd have six months to continue her technical training in parallel with her Fed internship, and she hoped it would pay off.
San Francisco Fed ITS assigned Okun to work on applications supporting the Federal Reserve's Cash Product Office.
First, she was tasked with testing reports for the FedCash Analytics application, learning SQL, and how applications interact with databases. Okun demonstrated a firm grasp of SQL skills within weeks. Her quick mind and aptitude for the work caught managers' attention. Okun soon transitioned into a test automation role on another application.
She set a new goal for herself: to become an automation engineer. She enrolled in a coding boot camp to rapidly upskill.
Six months later, with her internship coming to an end, Okun was asked to present her Fed journey—her work, who she worked with, and what she learned. At the end of the presentation, Okun learned that her journey was just beginning.
"Ash Rawal, our vice president of Cash Application Development stood up. He said, 'here at the Federal Reserve we build bridges. Today we're going to build a bridge between your dreams and reality.' I was so grateful for the opportunity. I knew they would support my growth mindset and the continuous learning I need to be successful," she says.
As reality set in, Okun accepted a full-time position as an associate application developer focused on test automation.
"I never imagined I would be working in IT for the central bank of the United States," Okun says. In fact, she'd tried her hand at a few other possible careers before deciding on tech.
"I have a medical assistant certification, and I took video production classes at the Bay Area Video Coalition," shares Okun. "One day, a friend took me on a tour of the IT firm where he works. I decided to take the same courses he did, learning programming, IT support, and career readiness. Year Up would take us to tour the big tech companies, and I became fascinated by their work environments. I wanted to be part of them."
Okun decided to pursue a career in technology as a software automation engineer. She chose the Software Quality Assurance (QA) track after reading on a career site that QA analysts rank amongst the happiest workers in the world.
"My main goal is to be happy in my work and life," she shares.
She learned databases and their role within organizations, about the software development lifecycle, testing processes, and using testing tools. Her experience with several programming languages opened the door to a multi-faceted position at the Fed rather than narrower testing, quality control, or analyst roles.
She won Year Up's Strive to Learn Award.
While her time with the program has come to an end, she continues to prioritize professional development.
"It's important for me to continue to learn new techniques and ways to do programming so I can deliver quality work," Okun says.
Okun's family is proud of her accomplishments but is not the least bit surprised by her determination and work ethic. After all, she's been creating opportunities for herself since elementary school.
Born in Western Mexico, Okun lived with her beloved great grandmother, who doted on her, until the age of 5.
"My great grandmother has inspired me to be the best person I can. She taught me not only to strive for my goals but to accomplish them. She makes me proud of who I am and where I came from and is a shining example of the woman I want to become," Okun shares.
When her great grandmother began to suffer from dementia, the pair moved to live with Okun's grandmother. It took them from the state of Jalisco to the Pacific Ocean port city of Manzanillo, Colima.
Already caring for a disabled husband and another grandchild, Okun's abuela now took responsibility for her ailing mother and Okun.
Although just starting school, Okun wanted to help out.
"We were having some financial difficulties, so at 6 years old, I started working. I didn't have a specific job. I knocked on apartment doors asking if I could do errands in the neighborhood like go to the store, bring milk, or take out the trash," she says matter-of-factly. "I would also create intricate bisuteria beadwork shoes and jewelry to sell."
The little girl also took charge of herself. She would get herself up and dressed in the mornings before school. She would do chores and feed the household's cats, dogs, and chickens, which she adored.
At age 8, she felt ready to take on more responsibility.
"I got a job at a supermarket bagging groceries. I would wake up early to take the bus downtown, alone, so I could be at work by 7 a.m.," Okun remembers. She thinks back on the memories positively.
"I made good money when I was little. I was able to help my grandmother. Now when my grandmother tells these stories, I feel proud. Having to work when I was so young made me very hungry for success," she says.
Hard work and self-reliance helped prepare Okun for challenges she would face in the future.
"They gave me determination," she says.
Growing up in Manzanillo wasn't all hard work. Okun loved playing soccer and competed at the junior national level, dreaming of becoming a professional soccer player. As she got older, though, she thought opening a business might be a more practical ambition.
A career in technology didn't enter into her wildest dreams. That changed when Okun was 11 years old when her mother moved Okun and her sister to San Francisco, California.
Okun enrolled in Everett Middle School as an English as a second language student. The ESL program allowed her to learn English for two hours each day, with remaining classes taught in Spanish. She made friends with other newcomers to the United States, and had a great time, even singing in the school talent show. Upon graduation, Okun was awarded a certificate for outstanding newcomers granted by the American Legion.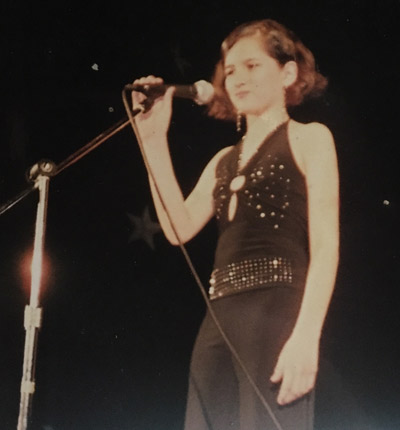 Three months into her freshman year, her mother decided to move the family back to Mexico, where Okun finished high school.
She missed San Francisco.
In the back of her mind, she knew she'd have a more significant opportunity to advance her education and career if she returned to the United States.
Okun worked full-time as a waitress and a clothing store manager to save up money. Her father, a U.S. citizen living in New York, sponsored her for residency in the States. That process took three years.
Returning to San Francisco at age 21, Okun earned a GED to expand her job opportunities. She's enjoyed reconnecting with old friends from middle and high school.
While most people consider her a determined self-starter, Okun shares a lot of the credit for finding success in a career in tech.
"The success I've had in my career is due in no small part to Ash, our IT director Siva Iyer, my manager Dino Mayavan, and my mentors Nadia George-Campbell and Viktoriya Keush. Nidhi Singh wasn't my designated mentor, but she got me up to speed understanding our framework. Sanjeev Desphande answered dozens of questions when I started learning Java. The entire team is very supportive of my growth mindset. I will forever be grateful for the knowledge and skills I've learned. I thank them for having faith in me and my abilities. They are a blessing in my life," Okun says.
Now on her chosen career path, Okun finds time to unwind by going to the gym, watching movies, and running a meme page on Facebook. She also sets aside time to help give others a hand up as a youth counselor for the United Way Bay Area where she spreads the word about job opportunities and offers motivation.
"The United States has an abundance of programs. I learned skills in many different fields. Today I know I want to help young adults, to motivate them and let them know that they can work towards what they want to do," she says.
Okun cites her favorite quote from Walt Disney: "All of our dreams can come true if we have the courage to pursue them."