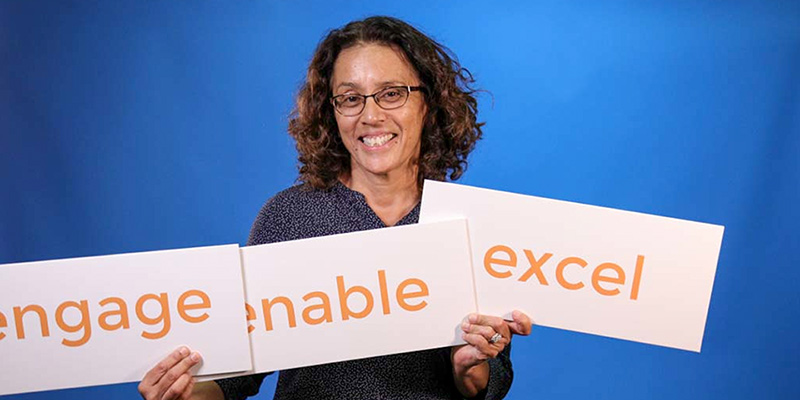 Patricia Gonzalez
---
Contracts Specialist Embraces Her Authentic Self at the SF Fed
Patricia Gonzalez started dressing the part of a white-collar worker early in her career. It was a way to create a professional identity much different from her family's origins in migrant farm labor.
"In the late 1980s, I started working at a major bank. I'd put on a uniform of a skirt, pantyhose, and pumps, and become somebody else: the office person," she says.
Over the course of 21 years at the San Francisco Fed, Patricia's work identity shifted—to that of her authentic self. For this purchasing and contracts specialist, bringing her whole self to work unlocked an ability to stretch professional muscles and accomplish more than she ever knew she could.
Empowerment comes from more than being able to "dress for her day," although it is nice to flex between jeans and business casual, depending on what her work schedule looks like.
"I know I can be candid with my manager, grab a coffee with colleagues, or get support from a friend if I need it. All of this gives me room to be myself and grow, both personally and professionally," she says.
Patricia credits her managers and coworkers—along with the Bank's progress toward openness and employee individuality—with helping her make that happen.
A path to recognition
Culture change at the San Francisco Fed is an ongoing long-term endeavor for the organization. Subtle shifts have made a big difference. For example, Patricia now feels comfortable opening up to coworkers when she's having a tough day. During the COVID-19 pandemic, it's a factor she appreciates: the support and sympathetic ears while working from home where three generations live under one roof.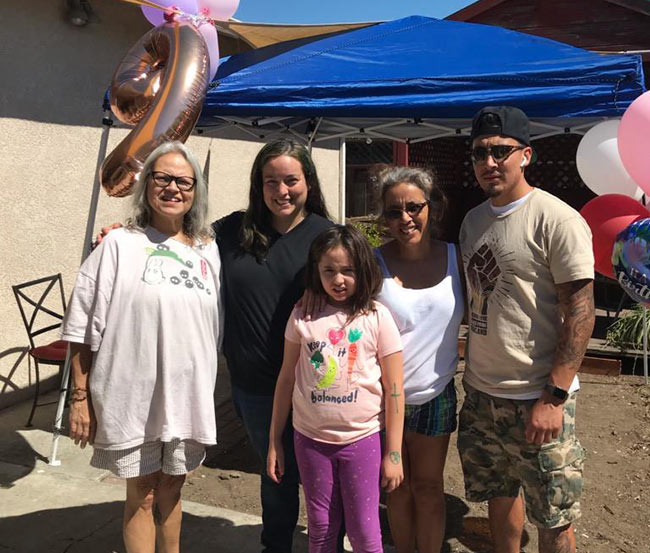 Other changes in culture, such as enabling employees to explore new opportunities, have more tangible results. For example, Patricia was honored with an e3 Award in 2019 for taking on a high-profile project outside her usual comfort zone.
e3 Awards recognizes San Francisco Fed employees who go above and beyond to engage others, enable growth, and excel in their work. To Patricia, the honor signifies recognition of going beyond her assigned pure support role to take on a more "project-oriented and self-starting" role.
"I was used to having a big pile of work in my inbox, getting it done, and being 100% accurate and fast," Patricia says. "I became the subject matter expert in what I do. But then, different opportunities came up that allowed me to play different roles."
One such opportunity appeared when the Bank shifted procurement to a new platform.
"I'd already done training to a certain extent in my job, so I was able to take on the role of primary trainer for the District," she explains.
Since that successful experience, Patricia has taken on a team role in a Federal Reserve System-wide project to modernize the Fed's people, financial management, and procurement technologies.
Accepting a growth mindset
For Patricia, one of the biggest challenges of new roles is accepting that she still has a lot to learn, and that's okay. Coworkers and managers have helped Patricia build confidence to make that transition.
"I have so much to learn," she says humbly. "One time, I asked a manager, 'Do you ever feel like you don't know enough?' He said, 'All the time. But I feel good in what I do know.' That helped," she says.
She continues to build skills through formal classes and experiential learning at the Fed.
"Since I didn't earn a BA, these experiences have been invaluable," she says.
Patricia has also flourished through personal development opportunities. These include participating in the San Francisco Fed's work with WOMEN Unlimited, a mentorship and networking organization that put her in touch with women from other corporations.
"What I really liked was being part of the community, to have my seat at the table," she says.
Standing out
Throughout Patricia's life, she's often had to pave her own way and fight for her successes. So, she's never taken her career and personal growth for granted.
Her father died of drug-related causes when she was a child. Her brother died at the age of 8 when Patricia was just 12 years old. Her mother, who struggled with mental health issues, couldn't always care for Patricia and her older sister.
"It affected who I became. We never talked about these things. I still struggle with that," Patricia shares.
Patricia lived with her grandparents off and on, soaking up their values of thrift and hard work. Her grandmother was a longtime farmworker who left the fields and orchards behind when she met her husband. Her grandfather, in every way but blood, had a good job at General Motors.
"They were one of the first Mexican families to move to Canyon Country, a suburb outside San Fernando Valley," she recalls. "My grandparents paid off their house and gave me a lot of structure, routine, and discipline."
The exposure to the new community brought challenges, such as attending a school where she stood out among the predominantly white student body.
Despite these difficulties, Patricia always knew she was loved.
"The biggest gift I received from my mother was physical and verbal demonstrations of love. She would brush our hair, give us hugs, and tell me I was her reina, or queen," Patricia says. "She was also a great role model for education. My mother went to an adult school. I remember her sitting at our kitchen table, doing homework."
Patricia's older sister embraced education. She was named valedictorian of her high school class and went off to Yale.
Early career challenges
In her sister's absence at home, Patricia dropped out of school at 16 and took an office job. She then went back to school and earned a high school proficiency certificate. When she became a single mother, Patricia found herself working a series of fast-food jobs, and the low pay made it hard to get by.
"Going to the grocery store, I'd keep a tally of what I'd spent," Patricia recalls.
She eventually went back to school, gaining the skills and knowledge she needed to land her first job in the banking industry. But it wasn't until Patricia joined the San Francisco Fed that she found purpose in her career. Procurement offered her systems, order, and processes that resonated with her on a deeper level.
"At the Fed, there are protocols in place. Everything's laid out, like your benefits. Our focus has changed over the years to be a little bit more relaxed about certain things. Today, I think it's cool to exercise that part of myself as well," Patricia says.
Balancing responsibilities during times of crisis
The life Patricia has built through hard work and constant personal growth hasn't been without heartache. She lost her mother to suicide in 2001. Her older sister, Patricia's sometimes rescuer and lifelong confidant, recently suffered a heart attack and stroke. Patricia is now her sister's caregiver.
Working from home during the COVID-19 pandemic has become a constant high-wire balancing act. Through this difficult time, Patricia is thankful that her coworkers and employer have been there for her.
"I feel split between my job and the responsibilities at home," she says. "The Bank has been tremendously supportive."
Self-care and a supportive team
One activity that helps Patricia get away from it all is running, which she started at age 50, after quitting smoking.
"Turning 50, I realized that I was still going to be around for a while, so I started getting healthy and exercising. It's been really good to have something that's just for me," she says.
Patricia looks forward to the day when everyone can return to the office. She misses running with Fed colleagues, trotting up to Coit Tower on lunch break, and even participating in group events, such as running on the Fed's team in the Chase Corporate Challenge.
"It's become part of who I am. Being with other folks, I feel strong and able. I look forward to getting back to that dynamic," she says.