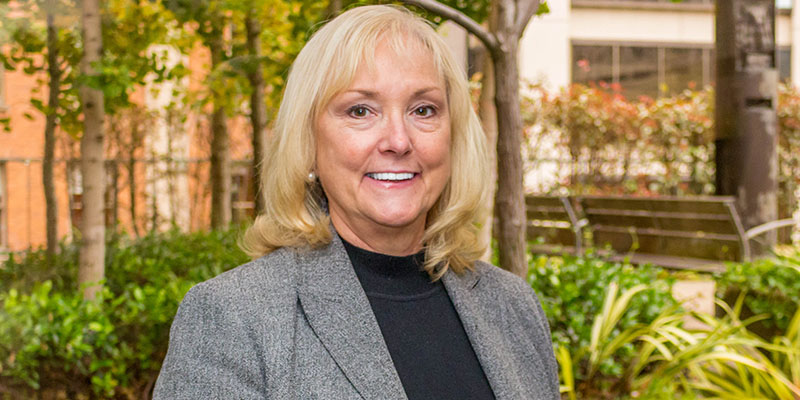 Robin Rockwood
---
Living a Life of Public Service at the SF Fed
Robin Rockwood has a deep appreciation for the Federal Reserve and her colleagues throughout the System. It's a respect that's grown over the last 25 years of working in the public's interest at the San Francisco Fed.
"We're thoughtful about what we do. One of our driving principles is to be stewards of public good. When we make decisions, especially as members of the management team, we use an important filter: How are we serving the public?"
Rockwood joined the Bank's Los Angeles branch in 1992 as a Financial Services officer. The ambitious former banker would subsequently harness opportunities in three SF Fed offices, using the Bank's tuition reimbursement program to complete her bachelor's degree and earn a master's degree with distinction in public administration. Those experiences brought Rockwood to her current position, or more accurately, positions, as Regional Executive for the SF Fed's Salt Lake City branch, 12th District Corporate Secretary, and a Financial Institution Outreach calling officer.
On any given day, you'll find the executive reaching out to banks, businesses, and organizations across the 12th District. She recruits industry and community leaders for the Bank's District boards of directors and advisory councils. And she manages the team that coordinates District board and Council meetings. That's all while advocating to external constituencies the Bank's mission to promote low inflation and full employment.
"I've always worked really, really hard, and I've focused on doing the right things for the right reasons. It's made me successful in building relationships," she says.
Of all her duties, one of the poised speaker's favorites is talking about the Fed with college students and members of the public.
"I love telling our story and dispelling myths. I speak about what we call purposes and functions. It's really Fed 101. People primarily hear about the Fed in relation to interest rates. Many people don't know how we operate. They may not know that we supervise financial institutions or that we don't print money," Rockwood explains.
Just as the Fed helped her grow professionally, Rockwood has helped the organization. In 2002, she was part of the three-person team that piloted the Financial Institution Outreach (FIO) program, previously known as Community Perspectives.
FIO officers call on the CEOs of community banks all over the 12th District, opening paths of communications and building relationships that lay the foundation for frank discussions. It's those discussions that give the Fed insight into community banking industry trends. Participating bankers also get to know the Fed better.
"Prior to FIO, many banks had never spoken with the Fed before," Rockwood explains.
The pilot program went over so well that it became permanent, and the concept spread to other districts across the Federal Reserve System. Although she has gained many other responsibilities since piloting FIO, Rockwood still calls on more than 70 banks in her region.
"Hearing the voices of bankers, as well as those of community and business leaders, allows us to better understand the economic drivers of the region. We have PhD economists and staff to crunch the numbers, but it is ground-level stories and expertise that provide deeper context."
Her hands-on approach extends to most aspects of her work, and Rockwood vocally encourages SF Fed employees to follow her example in carving out their career paths.
"I never thought I'd be a lifelong banker or public servant, but here I am. The Bank is a place that supports employees who are willing to put in the work. Anyone interested in advancing can let their managers know and find enthusiastic encouragement and a path forward."