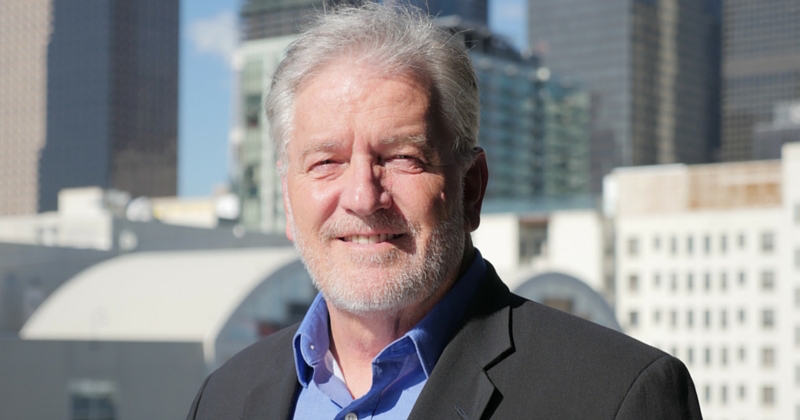 Roger Replogle
---
LA Branch SVP Has Big Plans to Create Meaningful Work for People with Autism
After 35 years ascending the ranks of the Federal Reserve Bank of San Francisco, Senior Vice President and Los Angeles Branch Manager Roger Replogle is starting to plan for his next career. Along with it his next challenge: starting a nonprofit that could make a big difference for individuals with autism.
Social entrepreneurship will be a new frontier for Replogle, whose aspirations spring from his experiences as a father of children with special needs. But he's taken on daunting challenges before, such as turning around a troubled department and managing lines of business that were new to him.
This is a guy, after all, who went from being a homesick Midwestern kid delivering interoffice mail to an officer at the Los Angeles Branch in a little over 10 years.
Growing up in a small town in Missouri, Replogle never imagined himself as a Los Angeles executive. The only reason he came to California was to follow his then-girlfriend, who was moving with her family. He had dropped out of college and left behind the lush June greenness and clear skies of the Ozarks to find a land of smog.
Replogle still remembers his trepidation when he arrived in the Golden State. "I got into my first traffic jam coming off the Cajon Pass into the LA Basin. I thought, 'Wow. If this is what it's going to be like, this is not going to be much fun.' I'd never been in traffic. I'd never been around this many people. LA was definitely a culture shock for me," he recalls.
But true love and a growing appreciation for California weather as winter set in pushed him to persevere. Replogle moved in with a high school buddy and got a job in the mailroom at the SF Fed. At night, he worked a part-time delivery job. His plan was to stay for a while before going back to college and figuring out a career.
What he didn't realize was that his career had already begun.
Most of us think of going from the mailroom to executive suite as a corporate fairy tale that never happens anymore. But the job was a perfect launch pad for a people-person like Replogle.
"The mailroom gives you a great opportunity to go around the Bank and meet people," he says. While dropping off mail, he bonded with everyone from administrative assistants to branch managers through 3-minute conversations.
Within a year, he had transferred to the Cash Department. He married his girlfriend and was eventually able to drop the night job. They started a family. Replogle progressed to jobs of higher and higher responsibility on an orderly path, until one day in the late 1980s when a manager called him in to discuss an ominous offer.
"We have some major problems in our check area," the manager told him frankly. Three managers had tried and failed to turn the department around. Friends urged Replogle to turn the job down, but he decided to accept the challenge. At 30 years old and still lacking a college degree, Replogle, by then a father of two, couldn't pass up the chance to distinguish himself.
"These are the opportunities that can open doors and demonstrate to people what you're capable of," Replogle explains.
He dug in, working 16- and 18-hour days. He lost more than 35 pounds. His wife was holding down the fort at home with their baby and toddler. But his hard work paid off. In less than a year, auditors confirmed that Replogle and his team had done what was seemingly impossible.
Replogle remembers when he got the news: "You've taken what used to be—and these were the terms they actually used—the armpit of check processing in the Federal Reserve System, and made it one of the best," he says.
After so many long days, Replogle happily switched to the night shift, a schedule that let him spend all day with his daughters, then ages 1 and 3. He would go to bed at the same time as his children in the evening and then get up at midnight to go to work. From then on, Replogle's SF Fed career blossomed. He became an officer in business development and later a vice president, with ever-longer lists of responsibilities.
It wasn't all easy. One of his most difficult work memories is the need to shut down the Checks Department when electronic check processing made the line of business obsolete.
"Over the course of 2.5–3 years, I had to let go of about 500 people. Not the most fun job," Replogle says.
But one thing in his life was harder: becoming the father of twins, a boy and girl, diagnosed with Fragile X Syndrome. The new additions brought a lot of joy, but major changes as family life began to revolve around helping the twins develop. Because females have two copies of the X chromosome and males have only one, boys are usually more severely affected by Fragile X.
The twins are now teenagers living at home. To this day, the Replogles lean on the twins' grandparents and big sisters for help, especially when they manage short getaways to help them stay strong as a couple.
Replogle speaks of all four of his children with pride and love. His older daughters both hold advanced degrees, one a special education teacher and the other an aspiring screenwriter. He calls his third daughter a comedian.
"She's a lot of fun to be around. She's loud, doesn't understand social issues. Whatever happens in her brain comes out of her mouth," he said.
His son, who also has autism, faces additional day-to-day challenges. He rarely speaks more than two words at a time, but can feed himself and do some computer activities.
Replogle worries about what will happen when the twins turn 22 and age out of the education system. The family is active in the special needs community, and he's seen what happens when young people with Fragile X suddenly have nothing to do all day.
"They lose their social network. They lose their sense of worth. Life is about learning, and when these kids aren't learning, they start to deteriorate socially and mentally," Replogle says.
Giving his twins and other people like them meaningful work is the driving force behind his idea to start a nonprofit. At age 58, Replogle expects to work at the SF Fed for a few more years. He's spending part of that time firming up his post-retirement plans.
He's not sure what the business would be—maybe a cafe or a farm. Or maybe, just as Replogle received mentorship from Fed managers that helped him develop professionally, he could provide a coaching service to help these young people with autism and special needs find placements in established businesses.
He summarizes the endeavor as, "My goal is to start a business and create jobs. It's not to make money. It's to create an opportunity for these kids to feel like they're productive members of society." Although a few years away from this next career, Replogle says it's not too early to start envisioning what this might look like, "When I retire, I want to be able to hit the ground running."
You may also want to read: