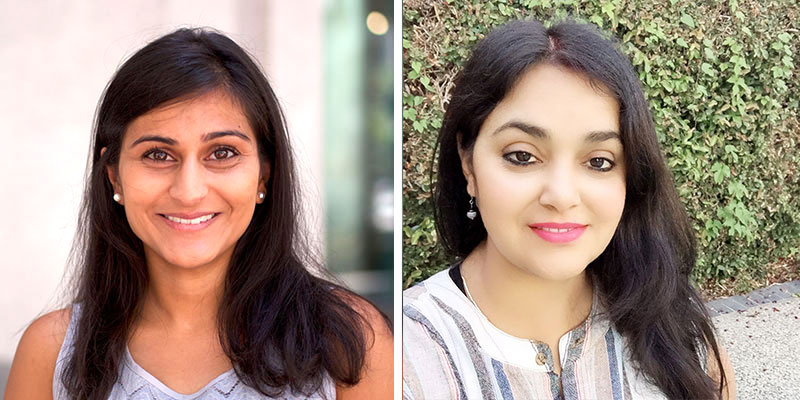 Saachi Gupta and Taruna Sharma
---
Indus Employee Group Creates Community from the Bay Area to Bollywood
In a year like no other, when a virus swept the globe and life turned upside down and her work left the building at the Federal Reserve Bank of San Francisco, Saachi Gupta still had something she could count on.
Bollywood dance class, every Tuesday at noon.
Last fall, for eight weeks, Saachi and about 15 other San Francisco Fed employees gathered in a virtual dance studio. They warmed up for 15 minutes and danced for 45. They followed the footsteps of their Bollywood dance teacher—Rajiv Khanna, a senior IT manager at the Bank.
"The class was great," said Saachi, co-chair of the SF Fed employee resource group (ERG) named Indus, after the river that flows through India and Pakistan. "Some of us did it for fun. Some of us did it for exercise. I did it because I wanted to step outside my comfort zone. But we all participated to celebrate South Asian culture and connect with colleagues from all over the Bank."
But the online dance class isn't the only thing that the Indus ERG offers its 150 members. Far from it. Saachi Gupta and co-chair Taruna Sharma say that Indus is a social club, a career club, and a way for SF Fed employees to engage the community outside the Bank.
Social(-ly distanced) celebration
Members of Indus get together to celebrate the cultures of South Asia, says Taruna.
"I was born and raised in the United States, but for me it's still really important to stick to my roots," says Saachi. After she started work at the Fed three years ago, she joined Indus so she could share her heritage and meet people at the same time.
One highlight of previous celebrations was a collaboration between the three Asian ERGs—Indus, InspirAsian, and Halo Halo (the Filipino American network)—in honor of Asian Pacific American Heritage Month. They asked employees of Asian heritage in all departments and offices in the 12th District to share what it means to them to be Asian American.
"We received a variety of personal stories, including parents' and grandparents' journeys of immigrating to the United States and of integrating into American culture," Saachi shares. "We put the stories on display boards in the San Francisco office for employees to view and to better understand the variety of perspectives and journeys that their Asian American colleagues at the Bank have experienced." The ERGs also sent booklets of the stories to the other offices in the district.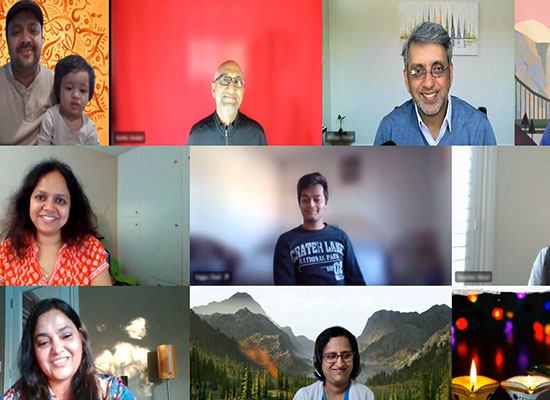 These days, Indus social activities include the Bollywood dance class, a monthly Zoom happy hour, continuing to collaborate with InspirAsian and Halo Halo, and a celebration of Diwali, the Hindu festival of lights.
For the annual Diwali celebration, 2020 was very different, says Taruna.
Because of the coronavirus pandemic, participants couldn't meet in person at the Bank, so the whole event had to be held online. "It was challenging but it was also good, because we could invite whole families online, where in the past we couldn't get whole families into the actual bank building," she says.
"Online Diwali was a technical challenge," adds Saachi. The program included several dance performances, a singing performance, a video collage of Indus members celebrating Diwali at home with their families, and a trivia show. "As the moderator, I was speaking on camera and trying to prepare the next digital file while pushing specific buttons so that the different elements appeared on screen without gaps."
Saachi and Taruna say they spent at least 10 hours per week—in addition to their regular work—planning, rehearsing, and producing online Diwali. "But it was worth it," says Taruna.
Career connections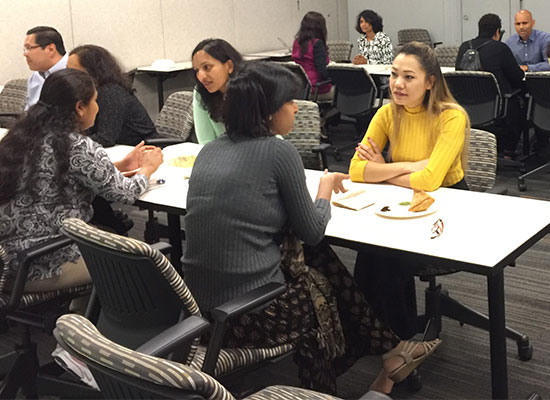 To support members' career development, Indus offers networking sessions, job announcements in the monthly Indus newsletter, and "fireside chats" with special guests who talk about their careers.
Last year, the ERG had planned to hold, at the San Francisco Fed location, a fireside chat with Neel Kashkari, president of the Federal Reserve Bank of Minneapolis. But the event had to be postponed because of the pandemic.
"So we pivoted and held it online," says Taruna. They hoped that 500 people would show up—and 650 did.
For careers in general, Saachi says she has learned that at the SF Fed, "your career isn't necessarily a ladder. You can hop around in different ways—laterally, diagonally, there are many different paths you can take."
Both Saachi, an internal auditor, and Taruna, a senior IT business analyst, say that leading Indus has helped them to grow professionally.
"As co-chair, I've had a chance to demonstrate my leadership skills, and now in my job I've been given more leadership responsibility," says Taruna.
Community engagement
Saachi and Taruna encourage Indus members to engage with local communities, including through volunteerism. The SF Fed offers each employee volunteer time off, or VTO, of 16 hours each year, says Saachi. The Indus ERG encourages every member to actually schedule that time for community service.
"Last year I volunteered at St. Anthony's Dining Room in San Francisco. They feed more than 2,000 people every day," says Saachi.
In addition to volunteering, Saachi and Taruna and other Indus members help to recruit college-student interns at the SF Fed. They also offer tours—in person (pre-pandemic) or online—to high-school students to teach them about the Bank.
Next steps forward
For 2021, Taruna says they want to gain more members—both South Asian employees and allies. Also, this year Taruna will work with a new co-chair, because Saachi's two-year term as co-chair has come to a close.
"I look forward to working with our new co-chair, Raynil Kumar. He brings new ideas to the group," says Taruna. "At the same time, I'm already missing Saachi. She's been very supportive and she's very sharp. I admire her courage and her positive attitude. Fortunately, she'll remain a part of Indus, so I'll still get to see her—maybe in a dance class, and (eventually) in person!"