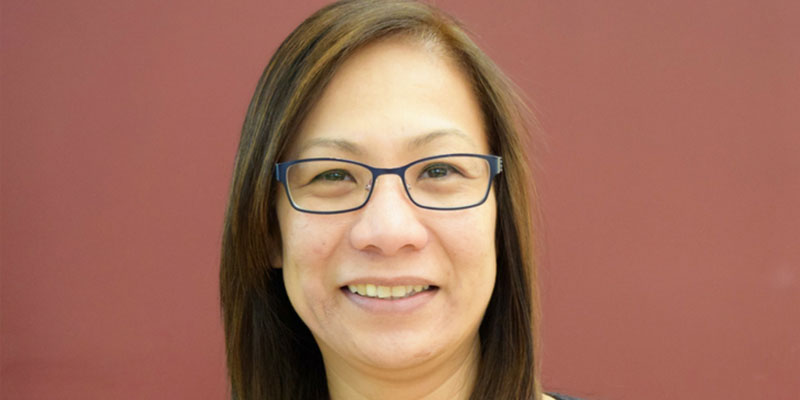 Ruth Aniceto
---
Salt Lake City's Jill-of-all-Trades Assistant
Stuck in a snowbank, three months pregnant, and waiting to be rescued by a tow truck on a windswept Utah roadside. Ruth Aniceto and her husband had spun out while driving their car in icy conditions. Fortunately, no one was hurt, but the experience left the couple wondering what other twists and turns would lay ahead as they settled into life in Salt Lake City.
Aniceto grew up in hot and humid Manila, the granddaughter of a World War II Colonel granted U.S. citizenship for his service, and immigrated to Los Angeles at 18 years old. California was vastly different from her homeland, but with the comforts of warm weather, nearby family, and a large Filipino community. Eventually, she met and married another immigrant from the Philippines and worked in the back office of a car dealership.
Then her husband took a job in Salt Lake City.
Winter driving was only one challenge brought on by the move. Another was childcare.
"We didn't have family in Salt Lake City. I didn't know anyone that I was willing to trust to take care of my baby," she recalls.
Aniceto took a graveyard shift processing checks at the Federal Reserve Bank of San Francisco's Salt Lake City branch. She stayed home with her daughter during the day while her husband cared for the baby at night. For five years she would catch a few winks on the couch while her daughter played, eat dinner with her husband, and then go back to work where she would spend hours processing and reconciling checks.
"It was a hard time, but we managed," she says.
When her daughter was ready to start school, Aniceto was ready to give up the grueling schedule. An opening came up for a daytime job: assistant to the Checks Officer. She nabbed it.
"It was a pretty smooth transition for me. I understood checks, coming from the checks department," Aniceto says.
Always eager to learn, Aniceto saw her responsibilities grow over the years. She became executive assistant to a bank officer, and also had the opportunity to help the branch manager's executive assistant as needed.
"I was helping her out with the board meetings, setting up the events related to the Board of Directors," she says.
Aniceto is now executive assistant to Robin Rockwood, Regional manager Executive for the Salt Lake City branch and the Twelfth District's Corporate Secretary. Because Rockwood's duties are so varied, and the branch's staff is so lean, Aniceto has become a bridge between the branch and resources the Twelfth District has to offer. On an average day, she may call the presidents and CEOs of banks to schedule visits, set up board meetings, assist onboard new employees, handle branch events and activities, or schedule appointments with offsite information technology experts.
"If people don't know where to go or who to ask, they ask me. If I don't know the answer, I figure out who to reach out to."
The Aniceto family is now firmly entrenched in the Salt Lake City community as well. After two decades, they've come to love their home.
"Salt Lake is a nice place to raise a family because it's smaller and a lot slower-paced compared to a big city," Aniceto says.
To remain connected to their roots, the Aniceto family joined one of the area's Filipino groups. Their daughter danced in a Filipino dance troupe that performed at Salt Lake City's annual Living Traditions multicultural festival. And every Christmas, they drive to Los Angeles to visit relatives, enjoy Filipino meals made by Aniceto's mother, and connect with a larger Filipino community.
Now that her daughter is attending graduate school, Aniceto is especially grateful that her grandfather's service gave her the opportunity to live and raise her child in the United States.
"Looking back, I think my life would be a lot different if I had lived in the Philippines. The opportunities here in the U.S. are far greater."