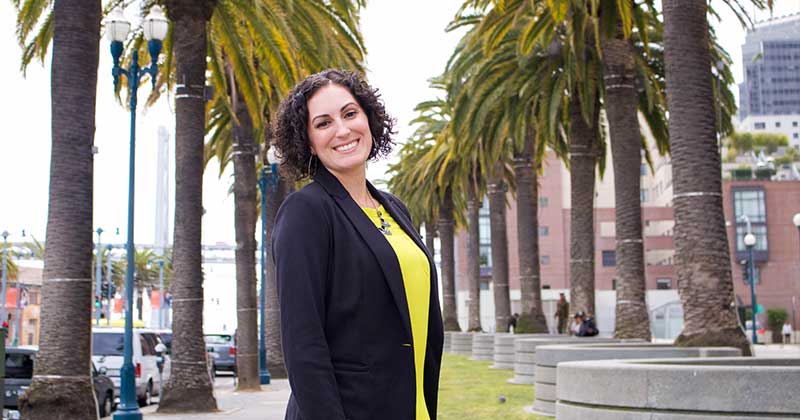 Simone Papapietro
---
A Perfect Pairing: Simone Papapietro and SF Fed Event Management
Simone Papapietro loved growing up in a de facto urban winery in San Francisco's Outer Mission district. Like his grandfather before him, Papapietro's father produced wine in the cellar of the family's home. Wine production time was the biggest event of the year, with relatives and her parents' friends converging on their house to help, and no shortage of delicious Italian food.
Papapietro learned to reach way over her head to crank the wine press, and to lean into the vats to punch down grapes as they fermented. After the grapes went through the press, she recalls, "the smell of fermenting grapes used to rise up into our house."
The spirit of celebration was literally in the air she breathed. Having a sizable extended family added to the excitement.
"I've always been into parties. It came naturally," explains the SF Fed's event management supervisor. "We were 50 people at a Christmas dinner. Anything we did was a large event."
Papapietro began gravitating toward professional event management as a teenager. In high school, she worked summers at the YMCA as a kayak and camping trip counselor. She also helped run fundraisers for the program. In college at Chico State, Papapietro studied resort and lodging management as well as special events. Then she landed the perfect internship: Working alongside her older sister at San Carlos' George P. Johnson, an international experience marketing firm.
Papapietro worked grand scale and sometimes lavish events. Think Salesforce.com's Dreamforce, a conference so large the company had to moor a cruise ship in San Francisco Bay to house attendees. Or Cisco House at the 2012 London Olympics, a private viewing suite where high-level technology buyers could enjoy the games.
Papapietro's four-month internship turned into a seven-year whirlwind of traveling more than she was home in San Francisco. She enjoyed the work—and the high-profile speakers and entertainment.
"I've seen Bill Clinton. I've seen Condoleeza Rice. I've seen Lenny Kravitz. It was fun to be a part of, but was definitely high intensity."
So how's planning board meetings and conferences for the SF Fed stack up? Papapietro—whose love of fun and flair shine, even in a Federal Reserve conference room—enjoys getting to know and build relationships with her clients instead of parachuting in and out for one-time events.
"I'm friends with so many people in the bank. The event manager works with everybody," she says.
Her team of four puts on 20 to 40 events per week, typically at San Francisco headquarters or the Los Angeles branch. They're essentially the Bank's behind-the-scenes welcoming committee.
"We work on events for the Economic Research group such as the Asia Economic Policy Conference and Macroeconomics and Monetary Policy Conference. And we work with the Office of the Secretary to host the Conference of 12th District Directors. That's a two-day conference where current and former directors and advisory council members meet," says Papapietro, explaining the types of projects her team takes on.
Small to mid-size events are typically held at SF Fed office locations, but sometimes there's a need to branch out.
"I partnered with the Community Development team for the National Interagency Reinvestment Conference [NICRC], which happens every other year. It's the premier conference on broadening economic opportunities for low-income communities. Over 1,200 people attended in 2016. We don't have a conference room that big so the conference was held at the JW Marriott at L.A. Live," she says.
Papapietro is still expected to be creative, but in different ways than her old job.
"It's not like, Come up with a new theme for the party that's never been done before," she says. Instead, she's been working on building out and updating the event management system so her internal clients have a more seamless way to book their meetings and conferences.
Weekends also keep her busy. Papapietro's father, Ben, partnered with his wife Yolanda and friends Bruce and Renae Perry to form Papapietro Perry Winery, a well-regarded and popular producer of Pinot Noir and Zinfandel. In her "free time," Papapietro can be found pouring at wine festivals, fundraisers, and even weeklong river cruises organized by her parents so they can spend time with their favorite customers.
For Papapietro, helping out with the family business means that even though she is no longer working 18-hour days for clients, her work weeks, weekends and vacations are still dominated by events. She wouldn't have it any other way.
Just as the Northern California terroir predestines the fruit of the Vitis vinifera to become a luscious glass of pinot noir, Simone Papapietro's upbringing provided optimal conditions for her to become an event planner. Fortunately, she has boundless energy and was raised in a family that puts a premium on fun.