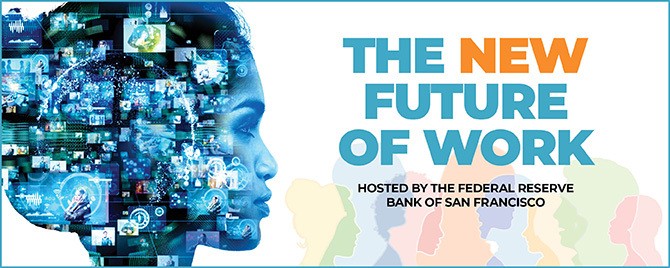 The New Future of Work
From physical distancing and face coverings, to a need for flexible schedules and remote work, what started as a response to a health crisis is turning into a new normal. What's next for the workplace once the COVID-19 pandemic is behind us? And how do we help get millions of unemployed Americans back into this changing work environment and ensure they have the skills and capabilities to compete?
The Federal Reserve Bank of San Francisco is hosting a series of virtual events that explore how COVID-19 is compelling American employers and employees to reconsider the ways we live and work. These one-hour, live discussions bring together leading experts from a variety of backgrounds and perspectives to examine the issues that will determine "the new future of work."
After each discussion, the video recording will be available on-demand. Please check back for future events.
Join the Conversation
Past events
The New Future of Work: Future of Education
March 22, 2021
San Francisco Fed President Mary C. Daly, Dr. Peter Q. Blair (Harvard Graduate School of Education), Sal Khan (Khan Academy), and Dr. Astrid S. Tuminez discuss the effects of changes in labor market demands, technology, and remote learning on higher education, as well as how we can equalize access to a college degree.
The New Future of Work: Future of Cities
November 23, 2020
SF Fed President Mary C. Daly, Mayor Keisha Lance Bottoms (City of Atlanta, Georgia), Earvin "Magic" Johnson (Magic Johnson Enterprises), Mayor Lauren McLean (City of Boise, Idaho), and Enrico Moretti (Economics, UC Berkeley) explore how changes brought on by COVID-19 are affecting our cities and what that means for the people who live and work there.
The New Future of Work: Remote Work
August 20, 2020
San Francisco Fed President Mary C. Daly, Arianna Huffington (Thrive Global), Erica Brescia (GitHub), and Nick Bloom (Stanford University) discuss the tensions employers and employees face with changing work environments, and offer insights into the core needs and desires of our future workforce.