Twelfth District Federal Advisory Council Member
Effective January 1, 2023
Appointed by the Board of Governors of the Federal Reserve System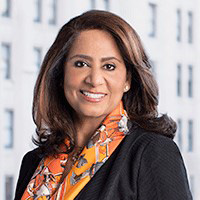 Nandita Bakhshi (2023)
President and Chief Executive Officer, Bank of the West
Co-Chief Executive Officer, BNP Paribas USA Inc.
The Federal Advisory Council (FAC) is composed of twelve representatives of the banking industry and consults with and advises the Federal Reserve Board on all matters within the Board's jurisdiction. The Council ordinarily meets four times a year, the minimum number of meetings required by the Federal Reserve Act. Each year, each Reserve Bank appoints one person to represent its District on the FAC, and members customarily serve three one-year terms. The members elect their own officers.
Related