Louise Willard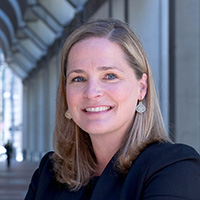 Louise Willard, Executive Vice President and Chief Information Officer
Chief Information Officer Louise Willard leads the SF Fed's Information + Technology Services (ITS) team in planning, implementing, designing, and delivering the Bank's overall technology strategy and services with an emphasis on digital transformation and innovation. She has extensive experience in building organizations, delivering on large technology modernization programs, and driving transformations that allow us to realize our vision of creating unreserved opportunity throughout our District.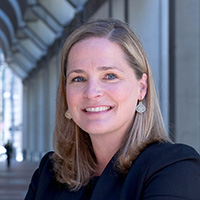 Louise Willard, Executive Vice President and Chief Information Officer
Louise began her career at the SF Fed in Economic Research and held varied roles that included six years in leadership with SF ITS, CIO for the Cash Product Office, and senior vice president within the Federal Reserve Financial Services (FRFS) Technology Group, where she was responsible for technical product line management and technical strategy for the retail, wholesale, and cash product lines.
As CIO and executive vice president of ITS, Louise serves on the SF Fed's Executive Leadership Team and is a permanent member of the systemwide Technology Delivery Leadership Council. She aligns with System CIO Ghada Ijam on systemwide initiatives and works with the other District CIOs and the FRFS Technology Group on information technology solutions.
Louise serves as a Steering Committee Member of Women United at the United Way. She holds a BA in economics from Scripps College in Claremont, California.