David Chen Appointed Chairman of Portland Branch Federal Reserve Board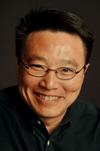 David Chen
Portland, OR – The Board of Governors of the Federal Reserve System appointed David Chen chairman of the Portland Branch board of directors, effective January 1, 2011. Mr. Chen is CEO and founder of Equilibrium Capital Group LLC, an investment firm focused on real asset sectors impacted by resource constraints and sustainability.
The Portland Branch board of directors provides an economic perspective on the region to both the Federal Reserve Bank of San Francisco's board of directors and the Board of Governors in Washington. The Board of Governors considers this information when determining monetary policy.
Prior to founding Equilibrium Capital Group, Mr. Chen was general partner at OVP Venture Partners, focused on early stage tech venture investing. He is Governor-appointed Chairman of the Oregon Innovation Council and serves on the board of other institutions including: Oregon Investment Fund; National Collegiate Inventors & Innovators Alliance; and the Freshwater Trust. Mr. Chen got his bachelor's degree from the University of California, Berkeley and received his MM from Northwestern University's Kellogg School of Management, where he is also on the faculty. Mr. Chen joined the Portland Branch board of directors in 2006.
Other members of the Federal Reserve's Portland Branch Board of Directors include: Megan Clubb, Baker Boyer National Bank; Peggy Fowler, Portland General Electric; Roger Hinshaw, Bank of America; Dr. Joe Robertson, Oregon Health & Science University; and Roderick Wendt, JELD-WEN, inc.
Lorraine Thayer
Federal Reserve Bank of San Francisco, Portland Branch
(503) 276-3012
---
The Federal Reserve Bank of San Francisco (SF Fed) serves the public by promoting a healthy, sustainable economy, and supporting the nation's financial and payment systems. With offices in Los Angeles, Seattle, Salt Lake City, Portland and Phoenix, the Bank serves the Twelfth Federal Reserve District, which includes one-fifth of the nation's population and represents the world's fourth-largest economy. As part of the nation's central bank, the SF Fed informs monetary policy, regulates banks, administers certain consumer protection laws and acts as a financial partner to the U.S. government.