San Francisco Fed Announces New Chief Strategy and People Officer
SAN FRANCISCO – The Federal Reserve Bank of San Francisco announced today David M. Porter, Jr. is joining the organization as executive vice president and chief strategy and people officer, effective January 4, 2021.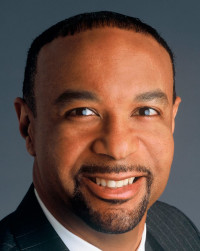 David M. Porter, Jr.
Download high resolution photo (jpg, 117 kb)
Porter is a devoted public servant and accomplished scholar and strategist. As a member of the San Francisco Fed's senior executive team, he will lead the function that brings strategy and people together, recognizing that interconnectedness is vital to realize the organization's vision of being the best in public service.
Porter will focus on continuing to evolve and integrate the Bank's strategy, people, and risk functions in fresh and innovative ways to increase effectiveness and reimagine what great public service can be.
"David is passionate about ensuring everyone has a voice and finding ways to bring those diverse voices together to make the biggest impacts," said President and CEO Mary C. Daly. "He is a tremendous thinker who always puts people first. That rare combination of skills means we are absolutely thrilled to welcome him to the San Francisco Fed."
Porter joins the San Francisco Fed from UC Berkeley, Haas School of Business, where he served as chief diversity, equity, and inclusion officer. Previously, Porter was chief executive officer for the Walter Katz Foundation, a non-profit organization serving as a catalyst for increasing workforce and supplier diversity. He also served as the director of graduate programs at Howard University and spent 8 years at UCLA where he was a professor in human resources and organizational behavior and a faculty director in executive education.
Porter has a Ph.D in organizational behavior from Harvard University, in addition to an A.M. from Harvard University in sociology. He also holds a B.S. and M.S. in industrial engineering and an M.A. in sociology from Stanford University.
Tom Flannigan
Federal Reserve Bank of San Francisco
415.974.2553
---
The Federal Reserve Bank of San Francisco (SF Fed) serves the public by promoting a healthy, sustainable economy, and supporting the nation's financial and payment systems. With offices in Los Angeles, Seattle, Salt Lake City, Portland and Phoenix, the Bank serves the Twelfth Federal Reserve District, which includes one-fifth of the nation's population and represents the world's fourth-largest economy. As part of the nation's central bank, the SF Fed informs monetary policy, regulates banks, administers certain consumer protection laws and acts as a financial partner to the U.S. government.