Leadership and Membership Announcements for the Federal Reserve Bank of San Francisco's Portland Branch Board of Directors
Portland, Oregon – The Federal Reserve Bank of San Francisco has appointed Maria Pope, president and chief executive officer of Portland General Electric, as the Bank's newest Portland branch director.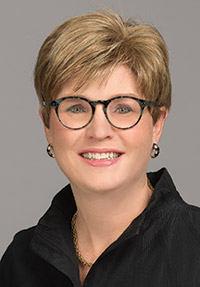 Download high resolution photo (jpg, 2 mb)
Ms. Pope joined Portland General Electric (PGE) in 2009 as chief financial officer and treasurer. She also oversaw the company's power generation facilities, wholesale power marketing and long-term resource strategy as senior vice president of Power Supply, Operations and Resource Strategy. From 2006 to 2008, she was a member of PGE's board of directors. Ms. Pope received her master's in business administration from the Stanford Graduate School of Business, and her bachelor's degree from Georgetown University.
The Bank also announced Charles A. Wilhoite, managing director of Willamette Management Associates in Portland, Oregon, has been re-designated as chair of the Portland branch board for 2020. In addition, they announced the reappointment of Anne C. Kubisch, president of The Ford Family Foundation in Roseburg, Oregon, to the Portland Branch board for a three-year term that begins January 1, 2020.
The remaining Portland Branch board of directors includes:
Gale Castillo, president, Cascade Centers, Inc., Portland, OR
Hilary K. Krane, executive vice president, chief administrative officer, and general counsel, NIKE, Inc., Beaverton, OR
Stacey M.L. Dodson, market president, Portland and Southwest Washington, U.S. Bank, Portland, OR
Cheryl R. Nester Wolfe, president and chief executive officer, Salem Health Hospital and Clinics, Salem, OR
About the Boards of Directors
The Federal Reserve Act of 1913 requires each of the 12 Reserve Banks to operate under the supervision of a board of directors. The Federal Reserve Bank of San Francisco's head office is governed by nine directors who represent the interests of the 12th Reserve District and whose experience provides the Bank with a wider range of expertise that helps it fulfill its policy and operational responsibilities. The nine directors of each Reserve Bank are divided evenly by classification: Class A directors represent the member banks in the District; Class B directors and Class C directors represent the interests of the public. In the case of the Federal Reserve Bank of San Francisco, its four branches in Los Angeles, Portland, Salt Lake City and Seattle each have a separate seven-member branch board.
Tom Flannigan
Federal Reserve Bank of San Francisco
(415) 974-2553
---
The Federal Reserve Bank of San Francisco (SF Fed) serves the public by promoting a healthy, sustainable economy, and supporting the nation's financial and payment systems. With offices in Los Angeles, Seattle, Salt Lake City, Portland and Phoenix, the Bank serves the Twelfth Federal Reserve District, which includes one-fifth of the nation's population and represents the world's fourth-largest economy. As part of the nation's central bank, the SF Fed informs monetary policy, regulates banks, administers certain consumer protection laws and acts as a financial partner to the U.S. government.