Federal Reserve Bank of San Francisco Announces Reappointment of Nandita Bakhshi to the Federal Advisory Council
SAN FRANCISCO – The Federal Reserve Bank of San Francisco (12th District) has announced the reappointment of Nandita Bakhshi, president and chief executive officer of Bank of the West and co-chief executive officer of BNP Paribas USA Inc., to represent the 12th District on the Federal Advisory Council for another one-year term beginning January 1, 2022.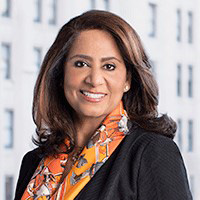 Nandita Bakhshi
In addition to her roles as president and chief executive officer of Bank of the West and co-chief executive officer of BNP Paribas USA Inc., Ms. Bakhshi also serves on both organizations' boards of directors and executive management committees. Bank of the West is headquartered in San Francisco, California, with a team of over 9,000 employees and community banking roots dating back more than 140 years. Through digital channels and more than 500 branches and offices across 24 states, the bank offers customers retail, wealth, corporate, commercial, and business banking products and services. Bank of the West is a financially strong, well-capitalized and prudently-managed FDIC-insured bank with over $100 billion in assets.
Ms. Bakhshi joined Bank of the West in June 2016. She has formed a strategic vision for the organization based on sustainable finance, diversity, and being part of a banking group with global capabilities and reach.
During her more than 30-year career, she has held leadership positions at TD Bank, Washington Mutual (now JP Morgan Chase), FleetBoston (now Bank of America), and First Data (now Fiserv). Ms. Bakhshi serves on the Board of Directors of Grameen America, the U.S. India Strategic Partnership Forum (USISPF), and the Pacific Bankers Management Institute at the Pacific Coast Banking School (PCBS). She is also a member of the Supervisory Board of The Clearing House, the Committee for Economic Development of the Conference Board (CED), and the Council on Foreign Relations (CFR). She holds a master's degree from Jadavpur University and a bachelor's degree from the University of Calcutta.
The Federal Advisory Council, a body created by the Federal Reserve Act, consists of one member—generally from the commercial banking industry—from each of the 12 Reserve Bank Districts. The council ordinarily meets four times a year with the Board of Governors in Washington, D.C., to discuss economic and banking matters. Members customarily serve three one-year terms.
Marshall Eckblad
Federal Reserve Bank of San Francisco
(415) 977-3843
---
The Federal Reserve Bank of San Francisco (SF Fed) serves the public by promoting a healthy, sustainable economy, and supporting the nation's financial and payment systems. With offices in Los Angeles, Seattle, Salt Lake City, Portland and Phoenix, the Bank serves the Twelfth Federal Reserve District, which includes one-fifth of the nation's population and represents the world's fourth-largest economy. As part of the nation's central bank, the SF Fed informs monetary policy, regulates banks, administers certain consumer protection laws and acts as a financial partner to the U.S. government.