As of mid-year 2003, there were 7,831 commercial banks in operation throughout the United States. This includes large banks, with many branches nationwide, as well as small community banks. Together, these institutions held about $4.25 trillion in deposits.
Fed Members and Nonmembers: What's the Difference?
What is the distinction between commercial banks that are members of the Federal Reserve System and those that are nonmembers? As stated in Fed in Brief:,

National banks chartered by the federal government are, by law, members of the Federal Reserve System. State-chartered banks may choose to become members of the Federal Reserve System if they meet the standards set by the Board of Governors. Each member bank is required to subscribe to stock in its regional Federal Reserve Bank, but holding Federal Reserve stock is not like holding publicly traded stock. Reserve Bank stock cannot be sold, traded, or pledged as collateral for loans. As specified by law, member banks receive a six percent annual dividend on their Federal Reserve Bank stock; member banks also vote for Class A and Class B directors of the Reserve Bank.
Of the total number of commercial banks in operation as of mid-year 2003, 2,999 were members of the Federal Reserve System. As Chart 1 illustrates, although there were fewer member banks, these institutions held a significant share of the nation's deposits. In other words, on average, member banks tend to be the larger institutions.1
Payments Services Are Available to Both Member and Nonmember Banks
Both member and nonmember banks may use some of the financial services sold by the Federal Reserve. Included in these Fed-provided payments system services are check clearing, electronic funds transfers, automated clearing house payments, and coin and currency services.
Chart 1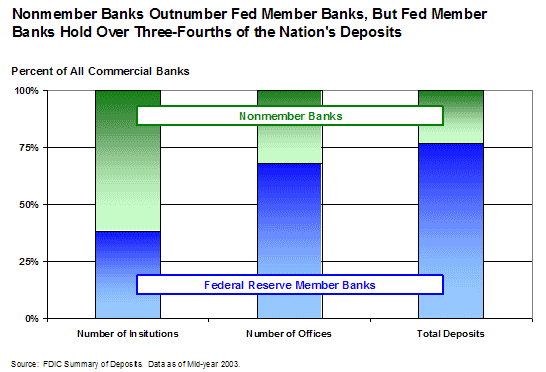 Members and Nonmembers: A Consumer's Point of View
As is illustrated in Chart 1, if you choose to bank at a member institution, you will likely be choosing a larger bank with many branch locations. Alternatively, if you choose to hold an account with a nonmember bank, you'll typically be choosing a smaller institution with fewer branch locations.
How Do You Know if your Bank is a Member or a Nonmember?
If you are the curious type, the easiest way to find out if your Bank is a Fed member or a nonmember is to contact your Bank and simply ask about the bank's charter type. Another way is to explore your Bank's web site to see if its charter type is mentioned. Remember, both national banks and state member banks are considered "member" banks.
Don't Forget FDIC Insurance!
As a consumer of banking services, you may have also heard about Federal Deposit Insurance Corporation (FDIC) deposit insurance. In the event that a bank, savings and loan, or mutual savings bank is forced to close, accounts are protected by FDIC insurance up to the current legal limit of $100,000 per depositor. Both member and nonmember banks have the option to provide FDIC insurance to their customers, and virtually all do. You can find out if your bank is insured and if your deposits are insured by contacting your institution or visiting the FDIC web site. Of course, there are certain investments that aren't covered under deposit insurance such as mutual funds or treasury securities. For more information about investments that aren't covered by FDIC insurance, visit the FDIC's Uninsured Investments section.
---
Endnotes
1. The Monetary Control Act of 1980 reformed reserve requirement rules so that all depository institutions regardless of membership in the Federal Reserve System—commercial banks, savings banks, savings and loans, credit unions, U.S. agencies and branches of foreign banks, and Edge Act and agreement corporations—must hold some level of reserve requirement based on deposits. The reserve requirement is set by the Federal Reserve.
Additional Resources
Bank Lists for the Twelfth Federal Reserve District, Federal Reserve Bank of San Francisco.
/banking/institutions/index.html
Bank Peer Group Performance, Federal Reserve Bank of Kansis City.
http://www.kc.frb.org/bs&s/bankpeer/peermain.htm
How to File a Consumer Complaint About a Bank, Federal Reserve Board.
http://www.federalreserve.gov/pubs/complaints/
"Mutual Funds: Understanding the Risks." VHS video format. 1997.
/education/curriculum/mutual.html
The Federal Reserve System In Brief. Federal Reserve Bank of San Francisco. Revised March 2004.
/publications/federalreserve/fedinbrief/index.html