6 Tips to Make the Most of Your Virtual Internship at the SF Fed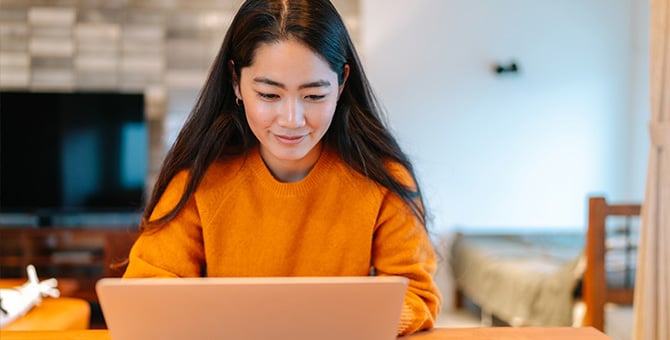 An internship is your opportunity to learn and practice new skills, experience a company's culture, meet mentors, make friends, and maybe even land your first job.
A remote internship doesn't change any of that. But going virtual does mean taking a different approach. More than ever, you'll need to be self-motivated, communicative, and open to stepping out of your comfort zone.
But don't worry—we believe in you! This year, the San Francisco Fed's Growing Opportunity for Leadership and Diversity (GOLD) internship program went virtual and the summer 2020 cohort exceeded our expectations, rising to the occasion of being our very first class of remote interns.
"The SF FED is looking forward to welcoming you virtually next year! Our team is working around the clock planning fun social activities where you can bond with fellow interns as well as network with other employees."

Jeanette Lewis, Early Career and Diversity Program Manager
We want to make next summer's remote internships even better, and we've compiled a list of recommendations from former interns and their managers for how you can succeed in the virtual internship environment.
Be a self-starter
It can be a liberating thing to work from home: You can manage your own time, enjoy the comfort of your living space, and, let's be honest, wear what you want to wear. But it also means you'll have to know how to work independently.
As a self-starter you should take extra initiative when working on a project, find additional tasks to work on when you've checked everything off your to-do list, and anticipate needs and outcomes so you don't fall behind. Your hard work won't go unnoticed—a great impression will lead to a great reference down the line.
"A piece of advice that really made a difference for me is to know that you can and are able to pursue things that you're interested in—even if it doesn't seem like it's directly related to what you're doing at the moment. At the Fed, for example, there are a bunch of different departments and a bunch of different people that are willing to help you. Everybody is rooting for you and wants you to do well and succeed in something that interests you. So don't be afraid of pursuing what you really want to do."

Michelle Xu, Product Analyst, National Product Management (former GOLD Intern, Summer 2019)
Ask questions
You may be self-motivated, but you're not a mind-reader and you're not yet an expert. It's important to communicate regularly with your manager about your work, and especially to ask questions. Your internship is as much about learning as it is about doing.
That said, make sure you're asking good questions. If you can Google the answer, try that first.
Every manager and team is different. Find out the best channels for asking questions, getting feedback, and keeping your manager apprised of what you've been working on. Create a regular check-in plan. And don't be afraid to ask to talk to your manager about modifying that workflow if the current setup isn't working for you.
"Combining consistency and flexibility was an important focus for my intern and me this past summer. Early on, we discussed what mode and frequency of communication works best for him and our team's line of work and zeroed in on regular check-ins via video call. We met more frequently at first, then less often—with the caveat that he could always email, message, or call if any questions came up. I wanted him to feel comfortable reaching out to me and to other colleagues as much as he needed. It isn't possible to over-communicate, especially in this virtual office setting."

Laura Freeze, Program Manager, Government and Civic Relations
Your boss is a person too
While you'll certainly be picking up plenty of work tips and advice, sometimes the most valuable lessons come from outside the regular office chatter.
Everyone at the SF Fed has a story about how they ended up at the institution or in their roles. Ask people to tell their stories. You'll often find yourself surprised, inspired, and a little more knowledgeable about navigating your own career path.
Socializing is important—and fun!
Our Internship Council sets up icebreaker events and channels for interns to connect with one another. Don't skip out on these, previous interns say.
But also be prepared to make your own opportunities to get to know your peers. Organize an informal get-together, reach out for a one-on-one video chat, send a friendly email. You may need to step out of your comfort zone to make new relationships, but in the end, you'll be glad you did.
"Whether you're virtual or not, reach out! I say this as a shy person myself, as I was hesitant to reach out to people across departments. I've learned so much. Every meeting I had was invaluable either career-wise or for my personal growth."

Prescott Y., Summer 2020 GOLD Intern, Information Technology Services
Speaking of meeting people, consider sitting in on a virtual meeting of one of our employee resource groups. These groups, which bring together employees of diverse backgrounds and common interests, are an important part of the Bank's culture and a great way to connect with folks outside your team.
Take advantage of intern activities
During Career Week the SF Fed provides career counseling, resume reviews, and mock interview sessions. Last summer the Young Professionals Network (one of the Bank's employee resource groups) hosted a panel titled "Your First Year at Work," during which members shared what they learned as they transitioned from college to the workplace. Don't underestimate these resources. They're not only an opportunity to sharpen your skills and job materials but could also lead to new professional connections.
The many events put on by the Internship Council have helped me learn a lot about the Federal Reserve System and have also helped develop and hone my professional skills. My favorite part about the internship is the many panels we've participated in. They're super interesting and have given me a lot of great career advice.

Jolie L., Summer 2020 GOLD Intern, Police Services
Take a breath
Yes, work hard, make friends and connections, get out of your comfort zone. But don't forget to take some time for yourself. It's hard to live in a virtual world, and it's harder to live in our real-life, rapidly changing, always uncertain world. Make boundaries for yourself and respect them. Takes breaks. Take a breath. (Remember those employee resource groups? There's one for mindful meditation.)
An internship is a great opportunity to learn to work. And that includes learning to work for yourself.
Image credit: recep-bg via iStock.
You may also be interested in: