Around the District: Salt Lake City, Utah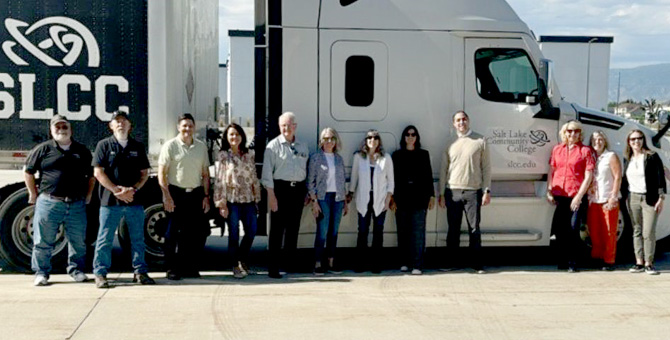 Ever driven an 18-wheeler? It was quite a ride!
At the SF Fed, we strive to be a community-engaged bank. This means listening and learning from the people we serve to make sure that their economic priorities are reflected in our work.
As leader of the SF Fed's Salt Lake City Branch, I'm fortunate to work with a Board of Directors with representatives from our region's leading businesses and community institutions. The board members provide me with invaluable insight about what is top of mind for the residents of our area. At our most recent meeting, board member Dr. Deneece Huftalin, president of Salt Lake Community College, hosted us at the college's Westpointe campus. SF Fed First Vice President Sarah Devany joined us for the board meeting and the campus event.
We learned about the college's Professional Truck Driving training school, one of the many job training programs offered by SLCC, and we even got the chance to drive an 18-wheeler!
Becky B. Potts is vice president and regional executive of the Salt Lake City branch of the Federal Reserve Bank of San Francisco.
You may be interested in: