As COVID Continues, More People Pay for their Purchases from a Distance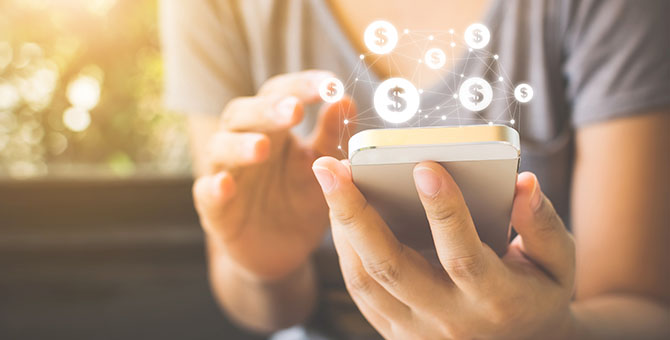 During this pandemic, with its remote schooling, work, and family gatherings, even payments are going remote.
A rise in remote payments, plus the drop in small-value payments, are two key findings from a recent survey the Federal Reserve Banks of San Francisco and Atlanta conducted to better understand U.S. consumers' payment behavior.
Compared to 2019, U.S. consumers in 2020 made nearly 50% more not-in-person payments to grocery stores, restaurants, and general merchandise locations such as Walmart, Target, and Amazon. Total monthly spending for these remote payments jumped from an average of $110 per person to $212 per person. At the same time, transactions less than $25 declined by 26%.
The Diary of Consumer Payment Choice survey also found that in 2020:
Cash accounted for 19% of all payments, down seven percentage points from 2019.
U.S. consumers made an average of 34 payments per month, down from 39 in 2019. This decline was mostly due to the decrease in the number of payments under $25.
While the number of payments decreased, the total amount spent per month increased from $4,236 to $4,760.
The share of people reporting at least one in-person payment per month dropped to 72%, a 19% decline compared to 2019.
Consumers sharply reduced cash payments in March 2020 and reduced in-person payments in April 2020, followed by a rebound in subsequent months.
It appears that concerns and uncertainty about COVID-19 infection have curtailed in-person purchases and cash purchases—especially small-value cash purchases. It remains unclear how, or if, the pandemic will affect consumers' payment behavior over the long term. It is clear, however, that the U.S. needs to maintain a strong payments system, which includes supporting the U.S. cash supply.
To learn more, visit the 2021 Findings from the Diary of Consumer Payment Choice.
Shaun O'Brien is a lead data and policy analyst at the Federal Reserve Bank of San Francisco.
Photo credit: marchmeena29 via iStock.
You may also be interested in: