Climate Resiliency in the Age of COVID-19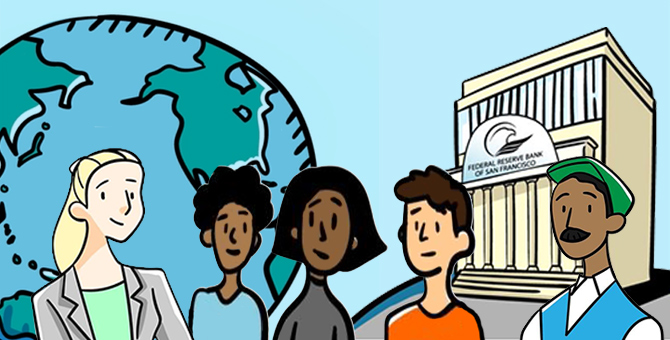 American environmentalist John Muir once said, "When we try to pick out anything by itself, we find it hitched to everything else in the Universe." Our connections to one another — to neighbors both near and far, and our dependence on natural resources has become more clear than ever before.
As we recognize Earth Day's 50th anniversary at the San Francisco Fed, we're reminded of how interconnected and interdependent we are across the planet. This year, Earth Day occurs during a large global crisis. With the recent shelter-in-place actions implemented across much of the world, the ripple effects seem never-ending. Our world and how we live in it has changed dramatically in what feels like overnight.
From an environmental perspective, being homebound has had some beneficial outcomes. Because fewer people are commuting, we've seen reduced air pollution and carbon emissions. In the Bay Area, for example, air pollution is down 21% in Oakland, 36% in San Jose, and 41% in San Francisco. According to the EPA, one car trip — assuming it's a passenger vehicle with 22 mpg — equates to 20 pounds of carbon (source: Environmental Protection Agency). Taking into account the millions of people across the world who are also sheltering in place, the air we share has become both cleaner and cooler for everyone in a matter of weeks.
Improved air quality is just one example that shows how simple, individual actions can add up to a positive outcome that we can all benefit from. At the SF Fed, this understanding of our reliance on each other as caretakers of people and resources is at the heart of Earth Day. We've also increasingly recognized the importance of the environment and climate to our mission. Watch our quick video that explains.
Why does the San Francisco Fed care about climate change?
Because it can affect our goal to promote a strong economy with low inflation and financial stability.
We need to understand and prepare for the increase in severe weather events, and for the disruptions that they may cause.
We regulate and supervise banks, so we need to make sure they are prepared for financial risks related to climate change.
We set policy that helps keep people employed and prices stable. So we need to understand current and future risks to our economy.
We provide enough currency to meet public demand, so we make sure you have access to cash when you need it.
When you put all these pieces together, it becomes pretty clear. Climate change is an economic issue that we can't afford to ignore.
Learn more about why the San Francisco Fed cares about climate change: SFFed.us/climate
Robin Connell is Senior Manager, Social Responsibility at the Federal Reserve Bank of San Francisco. She holds an MBA in Sustainable Management from Presidio Graduate School.
You may also be interested in: