Happy Independence Day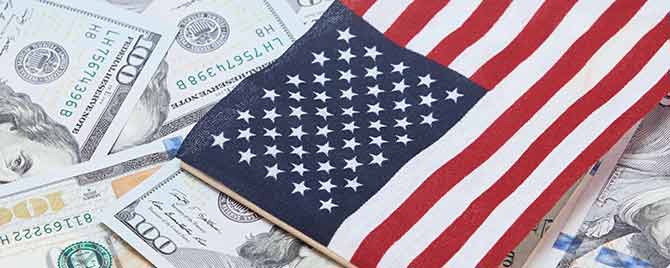 The Federal Reserve's Cash Product Office (CPO), headquartered at the Federal Reserve Bank of San Francisco, put together this fun United States currency-themed sightseeing tour to celebrate the 4th of July.
$1 Note: George Washington's Mount Vernon
Learn about our First President with a trip to George Washington's home in Mount Vernon, Virginia. Originally built in 1735, the house has been carefully restored along with its surrounding gardens and Pioneer Farm.
$2 Note: Independence Hall
The reverse of the $2 note features an engraving of The Signing of the Declaration of Independence by painter John Trumbull. If Philadelphia is in your travel plans, you can tour historic Independence Hall and experience where the founding fathers signed both the Declaration of Independence and the U.S. Constitution.
$5 Note: Lincoln Memorial
The back of the $5 features the Lincoln Memorial in Washington, DC, which houses a 19-foot tall statue of President Abraham Lincoln. The Lincoln Memorial is situated at the western end of the National Mall and is one of the most-visited destinations in our nation's capital.
$10 Note: U.S. Treasury Building
Alexander Hamilton, the first Secretary of the United States Treasury, is on the front of the $10 note. You can visit the U.S. Treasury Building in Washington, DC, which is featured on the back.
$20 Note: The White House
The White House adorns the reverse of the $20 note. Public tours are available but you'll need to book your spot in advance.
$50 Note: U.S. Capitol Building
The U.S. Capitol building is the featured vignette on the $50 note. Same-day tour passes may be available, but the Capitol's Visitor Center strongly recommends advance ticket registration to ensure a spot on one of their guided tours. Fun fact: The original John Trumbull painting featured on the back of the $2 note is displayed in the Rotunda of the U.S. Capitol building.
$100 Note: Liberty Bell
We're back to Philadelphia for the $100 note. The reverse of the note features Independence Hall. On the front, you'll find the Bell in the Inkwell, an advanced security feature that helps you tell if a $100 note is genuine. By tilting the note back and forth, the copper color-shifting ink changes to green, and you can easily see the image of the Liberty Bell. If you're visiting Independence Hall, be sure to stop by the Liberty Bell Center to see the real thing.
Bonus: Bureau of Engraving and Printing
Curious to see how currency is made? Consider a Bureau of Engraving and Printing production tour at the Washington, DC or Fort Worth, TX BEP Visitor Centers.
You may also be interested in: