Mary C. Daly Appointed New Bank President
San Francisco, California – The Federal Reserve Bank of San Francisco announced today that its Board of Directors has appointed Mary C. Daly to the position of president and chief executive officer, effective October 1, 2018. Daly's appointment as the San Francisco Fed's 13th president and chief executive officer was made by eligible members of the Bank's Board of Directors with the approval of the Board of Governors of the Federal Reserve System.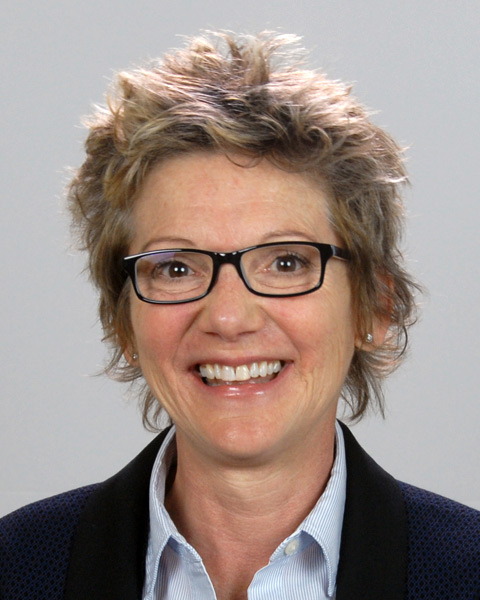 Mary C. Daly
Download full size image (271 kb)
In keeping with the Federal Reserve Act, only Class B and C Federal Reserve Bank directors – those unaffiliated with regulated banks or financial institutions – were permitted to serve on the Board of Directors' presidential search committee and participate in the appointment process.
Daly, who has been serving as the Bank's executive vice president and director of Research since 2017, succeeds John C. Williams as head of the San Francisco Fed. Williams assumed the role of president and chief executive officer of the Federal Reserve Bank of New York on June 18, 2018.
"After an extensive national search that involved meeting and interviewing multiple individuals from a diverse pool of qualified candidates, all of us on the San Francisco Fed's Board of Directors are confident that Mary Daly is the ideal choice to become the next president and chief executive officer of the Federal Reserve Bank of San Francisco," said Alex Mehran, chairman of the Board of Directors for the Federal Reserve Bank of San Francisco and chairman of the Board's presidential search committee. "In addition to her profound knowledge of economics and monetary policy, Mary is one of our nation's leading authorities on labor market dynamics. Her research in this area reflects her deep commitment to understanding the impacts of monetary and fiscal policy on communities and businesses at a local, regional and national level. The Federal Reserve System will be well-served by adding Mary Daly's expertise and voice to the Federal Open Market Committee's deliberations, and the Twelfth District will benefit from her increased involvement with the diverse constituents in our District." 
"I am truly honored to have been given this opportunity to serve as president and chief executive officer of the Federal Reserve Bank of San Francisco," said Daly. "I believe very strongly in the Federal Reserve's mission and in the important role we play in helping to create strong, stable economic conditions in all corners of the country that allow individuals and businesses to prosper. I look forward to deepening my relationships with business and community leaders all over the District to broaden my understanding of the varied economic conditions impacting everyone in our nine-state region."
The search for a new president and CEO for the San Francisco Fed was launched on May 16, 2018 with the formation of a presidential search committee comprised of four members of the San Francisco Fed's head office Board of Directors. The search committee included Mehran, chairman and CEO of Sunset Development Company; Tamara Lundgren, president, CEO and director of Schnitzer Steel Industries, Inc.; Barry Meyer, retired chairman and CEO of Warner Bros. Entertainment and founder and chairman of North Ten Mile Associates; and, Rosemary Turner, president of UPS Northern California.
The search committee retained Diversified Search, the largest female-founded and owned firm in the search industry, to assist in casting a wide net and developing a pipeline of qualified candidates from a broad, diverse candidate pool. The search committee also reached out to more than 4,000 stakeholders, including community and business leaders, government officials, nonprofit and labor leaders, academics, and members of the San Francisco Fed's branch boards of directors and advisory councils to solicit input on professional skills, capabilities and leadership attributes most desirable in a Federal Reserve Bank president. The search committee also solicited the names of qualified candidates for the role during this phase of the search.
In late spring and early summer, Diversified Search and search committee members contacted 283 prospective candidates, to assess their qualifications and gauge their interest in the position. Of this pool, approximately 48% came from the private sector, 31% from academia, 9% from the non-profit sector, 8% from within the Federal Reserve System, and 4% from government. This candidate pool was 33% female, and 33% of candidates were from a minority background. During July and August, Diversified Search helped the search committee screen and focus its efforts on interviewing the most qualified individuals from the candidate pool based on the position's qualifications leading to the search committee's final determination.
Daly is an internationally recognized scholar whose published work on economic inequality, wage and unemployment dynamics, increasing output through workforce development, and disability and retirement policy is frequently cited by other prominent economists and academics, and by journalists. She is the author of several books including, Lifecycle Events and Their Consequences: Job Loss, Family Change and Declines in Health, The Declining Work and Welfare of People with Disabilities: What Went Wrong and a Strategy for Change, and Income Mobility and the Middle Class.
Daly is a sought-after speaker and lecturer on her scholarly research on social economics and has become a strong voice for increasing diversity among the leadership ranks of the Federal Reserve System by focusing on building the pipeline of women and minorities entering the economics profession. In addition to visiting and speaking with educators and students about careers in economics, Daly frequently engages with young audiences on social media platforms such as Quora, Medium and Twitter as part of her personal dedication to inspire students to consider careers in economics and to help make economics more accessible to a broader audience.
Daly joined the San Francisco Fed in 1996 as a research economist and has since held positions of increasing responsibility including vice president, group vice president, and senior vice president and associate director of Research. She is a member of the Bank's Executive Committee, the governance body responsible for strategic oversight of the institution, and former chair of the Bank's Diversity Council. Daly is also a recognized leader within the Federal Reserve System, serving as executive chair of the System's Committee on Research Management, and is a past chair of the Economic Advisory Group for the System's Committee on Compensation and Benefits.
Daly's record of public service and research extends beyond the Federal Reserve System. She has served on the advisory boards of the Congressional Budget Office, the Social Security Administration, the Office of Rehabilitation Research and Training, the Institute of Medicine, and the Library of Congress.
Daly earned a bachelor's degree from the University of Missouri-Kansas City, a master's degree from the University of Illinois Urbana-Champaign and a Ph.D. from Syracuse University. She completed a National Institute of Aging post-doctoral fellowship at Northwestern University.
Find out more about the search for the 13th president of the SF Fed.
Kevin Sajdak
Federal Reserve Bank of San Francisco
(415) 314-2948 (m)

(415) 977-3631 (o)