Happy Nowruz!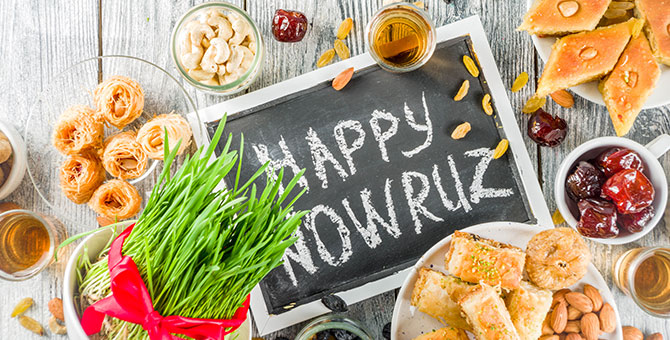 We know everything feels a bit different right now, and that includes how we celebrate our families' cultural traditions. So, we asked some of our employees to share what they're doing for Nowruz, the Persian New Year, which starts at the moment of the vernal equinox in spring and lasts for two weeks.
Mana Shahvaran-Jam is an assistant manager for the Police Services support team. Golnaz Motiey is the associate corporate secretary in the Office of the Secretary. Both worked on planning this year's festivities at the San Francisco Fed, and are happy to bring you a bit of the New Year virtually.
What is Nowruz?
Mana: Nowruz translates to "New Day" in Persian. It's the Persian New Year celebrated by about 300 million people around the world. The biggest celebration happens in present-day Iran, and it's a holiday in countries throughout Central Asia such as Tajikistan, Azerbaijan, and Afghanistan, and as far out as Macedonia and Turkey.
Golnaz: It's important to know that this is really a multicultural celebration and not a religious holiday by any means. It's very inclusive.
Mana: That's a really good point. You don't see a lot of multicultural holidays. Nowruz is secular and broadly spread worldwide across ethnic communities. It's an ancient tradition that started more than 2,500 years ago. When the Persian Empire was expanding, it didn't put any religious parameters around Nowruz. Keep in mind that many of these cultures were agricultural, so Nowruz is a celebration of spring and the renewal of life across the diaspora. It promotes acceptance and harmony, and being neighborly to one another.
When is Nowruz in 2020?
Mana: Nowruz is based on the solar calendar and is usually around March 20, but changes with the exact time of the vernal equinox in Iran when winter becomes spring. When the sun crosses that path in nature, that's when our clock strikes the New Year. For 2020, Thursday, March 19 at 8:49 p.m. PT marked the year 1399.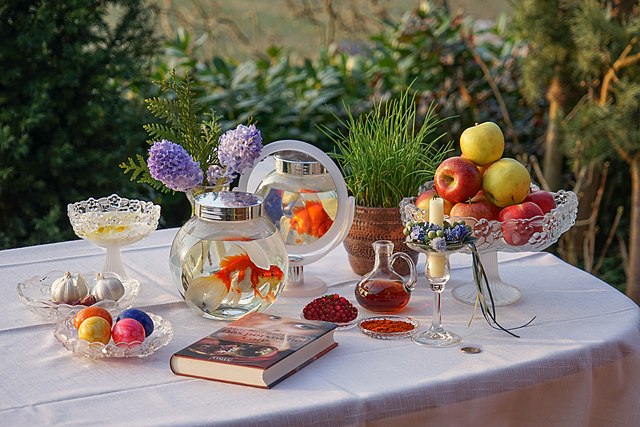 How does the San Francisco Fed celebrate Nowruz?
Mana: So, let me start by saying it's all about feeling included and that your culture is recognized and accepted. For example, my son is in first grade. There are some really fun ways I'm helping him share our traditions with his friends. We had some class activities planned that you can do at home. Grow wheat sprouts for science. Set up the Haft-seen. Explain the holiday, do some singing, or read some books. Iranian-American author Sheila Salamat has a great series of kids' books I shared with my son's kindergarten class last year: Niko's Nifty Nowruz, Niko's Nature Day, and Niko's Red Wednesday. By bringing Nowruz to his school, my son feels more included and that it's a holiday just like Hanukkah or Christmas or Lunar New Year. That's something my son can remember his entire life.
Golnaz: It's very similar at work. Last year, our colleague Natalie did a really nice video for employees and to share on our social media accounts. We were going to go a bit bigger this year, bringing in a Persian dancer similar to how our InspirAsian group brings in lion dancers for Lunar New Year. A lot of our culture revolves around food, so our cafeterias were going to offer a traditional Persian meal of fresh fish and herbed rice. We were also going to set up a Haft-seen table for everybody to see. We're looking forward to bringing all of that to the Bank in 2021 when everyone's back in the office.
Mana: While we couldn't be together in the Bank this year, I love that we can share the culture at work. We're a dynamic organization supported by people with various backgrounds and cultural heritages. That's part of what makes it exciting to come to work every day, embracing what everyone brings to the table. We're all complex human beings. It's great that we can bring our whole selves to our offices.
For those who don't know, can you describe a Haft-seen?
Mana: The Haft-seen is a decorated spread or table and our representation of the New Year. Haft-seen translates to seven S's, and each "S" is a symbolic elements of spring.
Seeb (apples) translates to "seed" and represents beauty and health
Sir (garlic) for good health
Serkeh (vinegar) stands for patience and age
Sumac (crushed spice of berries) for the spice of life and sunrise
Senjed (dried lotus tree fruit) for love and affection
Sumanu (sweet wheat pudding) for fertility and the sweetness of life
Sabzeh (wheat sprouts) for rebirth and renewal of nature
There are other symbolic items that go on the table and every family will decorate their Haft-seen in their own way. In my house, we include hyacinth flowers for spring and real goldfish to symbolize new life. Families might place a mirror to reflect on the past year, coins for prosperity, candles for light and happiness, or colored eggs for fertility. Some families place the Qur'an, the Shahnameh Persian story, a book of poetry by Shams ud-Din Hafez, or other special book.
How else do you get ready for Nowruz?
Mana: Nowruz spans 13 days and we have events and things to do leading up to the New Year, too. It's a holiday of spring and rebirth, right? So, you usually start with spring cleaning. The kids start getting excited, and families prepare to visit each other and friends and relatives.
Golnaz: We typically have a big party to kick off the New Year. We go to the park the Tuesday beforehand for a picnic and dancing. We usually go to peoples' houses and enjoy a lot of food. That's a change as we're all doing our part to shelter in place to address the coronavirus. It's really hard because the culture does revolve so much around being with people.
Mana: The Tuesday before Nowruz we usually gather at the park or my parents' house. One tradition is to jump over a small bonfire, which is meant as a cleansing to usher in good things in the New Year. And we share traditional meals. But social distancing is definitely coming into play this year.
Do you have a New Year's countdown?
Golnaz: We do! I grew up in the San Francisco Bay Area and have my parents nearby, so a lot of the holiday revolves around family for us. I also tend to be very last-minute so my parents help me put up the Haft-seen. We usually find a countdown timer online, and at the exact time it becomes spring, we hug and kiss each other. We're modifying some of that this year, of course.
What other traditions do you have?
Mana: Everything's new. You wear new clothes. You give fresh money as a gift, especially to the kids. At our house, we share a traditional meal of herbed rice and fish. It's fun to pass these traditions on to my son.
Golnaz: [Laughing] My kids love it. When I was growing up, it irked me to have my birthday around the Persian New Year because I would get combined birthday/ New Year gifts. I can really relate to people who celebrate Christmas and have a birthday around December 25.
Mana: Visiting family is usually a big part of it. On the first day of the New Year, you start to renew bonds and relationships. It's tradition to see whoever's eldest in your immediate family—your parents, or grandparents, or elders. From there, you go to see close relatives and then friends. You have tea and cookies and things like that, and you do this over and over again over 13 days.
Golnaz: Totally. And when there are years that the New Year happens in the day, we keep the kids home from school to celebrate. They really enjoy it.
Mana: When I was a kid, we'd also take the day off school, and we have a bunch of little traditions along the way. At the end of Nowruz, we knot wheat sprout leaves together, make a wish, and release them into a little river. Obviously what you do depends on where you live and your own family.
Anything to add?
Mana and Golnaz: Thanks for reading about Persian New Year, everyone! Sale no mobarak!
You may also like: