San Francisco Fed Joins CEPR Global Research Network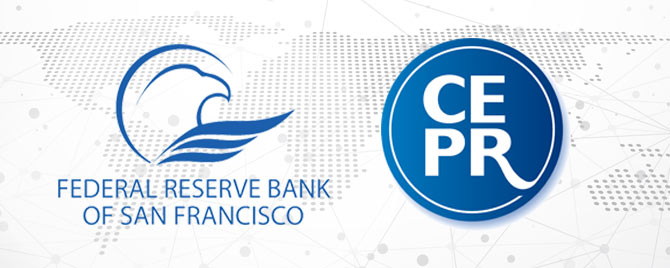 The Federal Reserve Bank of San Francisco is pleased to announce its membership in the Centre for Economic Policy Research (CEPR), one of the largest global research networks in the field of economics.
The San Francisco Fed conducts research on important current issues in economics, finance, banking, and community development. This research informs decisionmaking at the Bank and is frequently published in the form of articles and books. Some prominent examples include our widely read Economic Letter series and our working papers, research on the role of cash and climate change in the economy, as well as books on topics such as the financial health of American households.  Carrying out top-notch research is an important part of our work here in the 12th District, just as it is all over the Federal Reserve System.
Excellent research tends to unfold in settings where people from diverse backgrounds get together to discuss and collaborate. A global research network like CEPR is a powerful catalyst in bringing together such researchers. CEPR is an independent nonprofit organization based in London, with members from universities, central banks, financial institutions, and international organizations around the globe. It has a strong focus on economic issues that are relevant for policy decisions.
CEPR membership is by invitation, and the San Francisco Fed is grateful for the sponsorship of CEPR's current president, Professor Beatrice Weder di Mauro. With this important step, we are joining a large and growing group of member organizations with a strong commitment to excellent research, including the St. Louis Fed.
We look forward to many exciting opportunities, including
Organizing joint research conferences on policy-relevant topics
Publishing our research on VOX, CEPR's policy portal dedicated to research-based policy analysis and commentary
Collaborating and exchanging ideas in dedicated Research and Policy Networks, including "Central Bank Communication" and "Fintech and Digital Currencies," as well as other high-priority areas
In addition to CEPR's reputation for research, the network has a strong commitment to improve female representation in the field of economics. In addition to research on gender inequality and development, CEPR recently launched Women in Economics initiative, under the leadership of CEPR's Vice President Professor Hélène Rey. A central part of this initiative is profiles celebrating contributions by outstanding women in the economics profession. This emphasis fits well with the San Francisco Fed's commitment to fostering inclusion and diversity in all areas of the Bank including economic research. We look forward to working with Professor Weder di Mauro and Professor Rey in pursuing this important goal.
Michael D. Bauer is a research advisor in the Economic Research Department of the Federal Reserve Bank of San Francisco.