4 Ways You Can Support Local Communities during the Coronavirus Pandemic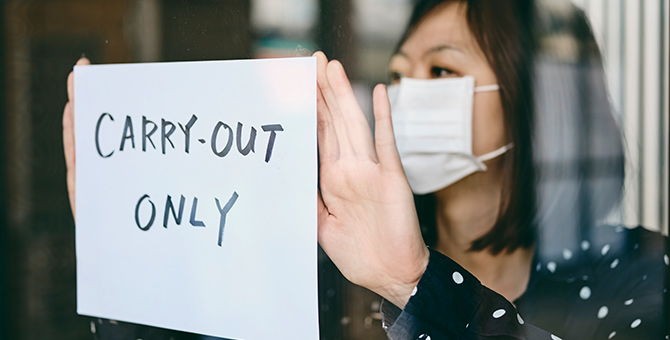 In partnership with our fellow Federal Reserve Banks, we've committed to supporting our neighbors and local communities during the COVID-19 pandemic. Along with our broader mission-driven work, SF Fed employees are focusing on acts of compassion, charitable contributions, and economic support. Here are a handful of simple ideas we've gathered that you may have done or might consider doing, too.
1. Reach out to someone close to home

To make a big difference in someone's day, you don't need to go far.

Check in on a neighbor or friend and ask about their wellness and needs.
Purchase groceries for a vulnerable neighbor or family member.
Assist with home schooling/virtual tutoring.

2. Help your community's most vulnerable residents

Consider lending a hand to an organization that is making a difference.

Volunteer or contribute monetary or in-kind donations to a food bank.
Donate blood.
Contribute monetary donations to an elderly care organization.

Photo courtesy of Ashvin Veligandla, Federal Reserve Bank of Chicago

3. "Be there" by lending your moral support and comforting someone

Your well-wishes and gratitude are even more important to the mental well-being of others who may feel isolated, overworked, or underappreciated.

Thank a first responder or an essential worker.
Write a letter, or send a text or email, of support to someone.
Give a virtual hug to someone experiencing anxiety.

4. Support local businesses and artists

Local eateries and businesses need us now more than ever, even if they're closed or only operating in a limited capacity.

Order food for takeout or delivery.
Purchase gift cards to a local business or independent contractor.
Contribute to a fundraiser for a bookstore, bar, café, pet store, restaurant, or other local business.
Support an artist through a commission, purchase, or subscription/contribution on an artist-supporting platform.
Prepay for a service, such as from a hair stylist, nail technician, or music instructor.
When we all contribute, our actions add up to bring positive outcomes. Thank you for being a part of our greater community. We hope you stay healthy and well. Take care of each other.
Robin Connell is Senior Manager, Social Responsibility at the Federal Reserve Bank of San Francisco. She holds an MBA in Sustainable Management from Presidio Graduate School.
You may also be interested in: