The San Francisco Fed at 100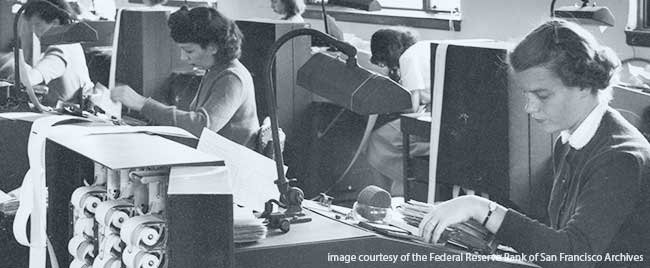 The San Francisco Federal Reserve Bank celebrated its 100th anniversary last May.
It's an ideal time to reflect on the role the SF Fed has played in the major changes in the American economy over the past century.
As SF Fed President John Williams said in a 2013 essay, the bank's first hundred years was "a century of reinvention."
"The evolution of our region has been remarkable," he wrote. "In the second decade of the 20th century, the seven western states then served by the San Francisco Fed were a thinly populated and underdeveloped territory on the American periphery, barely past their status as the American frontier."
"One hundred years later, the 12th Federal Reserve District has grown from six percent to 21 percent of the nation's population and become a global leader in such cutting-edge industries as digital technology, biotechnology, and renewable energy. And the rest of the world avidly follows cultural trends that first emerge here."
The SF Fed has had to adapt to a constantly-evolving financial system that has become much more complex over the past several decades.
"The financial system of a century ago was far simpler than it is today," Williams continued.
"There were no exotic financial instruments, no trading desks, no risk management offices. Payments were made with cash, checks, or by wire. Books were kept by hand. Credit cards and debit cards didn't exist. … The modern San Francisco Fed must contend with a banking industry and financial system that exchange information digitally, and operate with global reach and lightning speed."
And to be sure, the SF Fed's look has certainly changed as these historic photos from this centennial slideshow show. The Federal Reserve System also marked its 100th anniversary with this commemorative video.
You may also want to read The San Francisco Fed and the West: A Century of Reinvention.