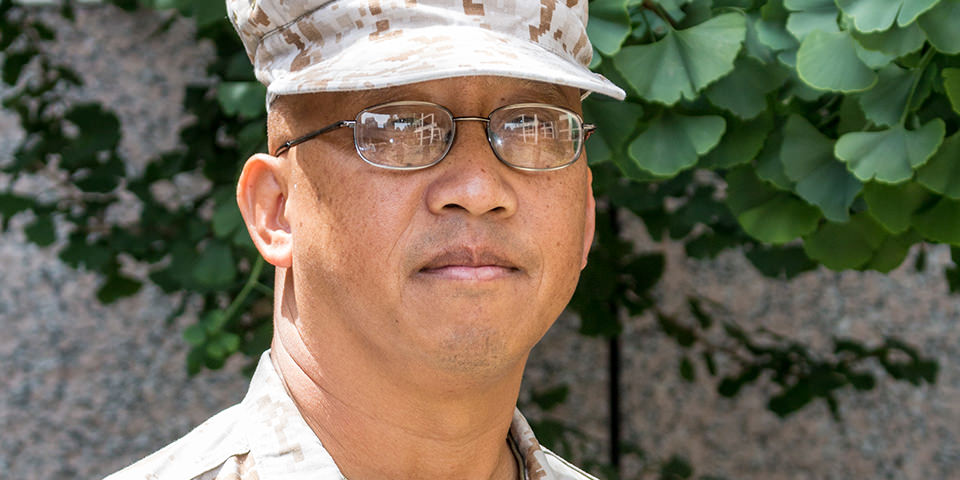 Mel Gaba
---
Colonel Mel Gaba, US Marine Corps Reserves, Returns to the SF Fed Following United Nations Peacekeeping Mission in West Africa
Mel Gaba is a senior information technology consultant for the Federal Reserve Bank of San Francisco. He's a husband. He's the father of two daughters, ages 11 and 15. And he's a U.S. Marine Corps Reserves full-bird colonel, which has him traveling to bases across the United States once a month to perform readiness inspections.
After inspections Gaba typically gets home by midnight on a Sunday and then reports to work at the SF Fed Monday morning. Including his readiness inspections, he works 14 days straight. He laughs off the fact that this schedule could be seen as grueling for the average 50-year-old, saying, "I'm energetic because of my kids."
Gaba and his wife volunteer for their daughters' drum and bugle corps, and their schools. During his precious weekends at home, he reconnects with his family's culture by reconstructing his late mother's favorite Filipino meals, and creating a few new ones of his own, like BBQ bacon-wrapped SPAM®. With a gentle smile, a mellow counterpoint to the vigorous way he talks about his military duties, Gaba reflects, "My mom had the recipes in her head. I'm trying to document them to pass on to my kids. It's time for my girls to start learning to cook."
The ability to leave work at work, which is unusual in the IT field, also helps Gaba maintain his energy. At previous employers he routinely clocked 13-to-18-hour days and doubted there was any other way to run IT infrastructure.
At the UN, you're on 24/7. That's what you're there for. Now I just have to remember to leave work at work. At the end of the day, I can turn it all off and focus on my family.
"For years my friends who had come to the SF Fed told me I'd love it here, especially the life-work balance. I said, 'I've heard that before.'" In 2005, Gaba put aside his skepticism and joined the Bank's technology solutions group within the department now known as Financial Institution Supervision and Credit (FISC). At first, he brought his laptop home every night. When a colleague questioned why, he finally started leaving his computer at the office, and is astounded at the difference it made. "I'm a lot more focused during the day. When I'm at work, my mind is here," he says.
That focus is necessary to meet the IT demands of bank examiners who have to communicate sensitive data securely. Gaba and his team determine what hardware and software will effectively fill employees' needs, evaluating new products and services, and purchasing the necessary technology. They regularly consult with other Federal Reserve Banks as well.
Gaba uses the Bank's flex time policy to work longer days and take every other Friday off. He has additional flexibility to move that day off as needed to accommodate his four-day military inspections, so most of his vacation days go towards actual vacation time. Of course, not all military duties can be accommodated as easily, and in 2010, Gaba took a longer leave of absence to serve his country. He was away from the SF Fed and his family for 14 months, deployed on a United Nations peacekeeping mission to support Liberia's second democratic election.
Liberia had experienced years of civil war. The UN's job was to stay in the background, allowing local officials to do their jobs without interference, all the while monitoring intelligence and providing backup security if needed. Gaba, then a lieutenant colonel, was Deputy Chief of Operations, the mission's chief military planner leading a support team of 8,100 troops from 32 nations. It marked the first time the Operation Desert Shield/Desert Storm combat veteran served as a peacekeeper. Not a normal job for a Marine, but given the complexities of the Fed and UN, Gaba felt right at home.
"It was an incredible experience to see what people would do to vote. They went over raging rivers and climbed mountains during the monsoon," Gaba remembers with awe. "My job was to look ahead 72 hours and beyond, to take all of the incoming intelligence, anticipate what was going to happen, and plan for contingencies."
Gaba was recognized for his work with a promotion to full-bird colonel, one rank below a brigadier general. While rewarding, it was difficult to be away from his wife and daughters for so long. The Human Resources team at the SF Fed did what they could to make things easier on Gaba's family during his deployment, continuing their health benefits so they wouldn't have to switch doctors. And when his tour ended, HR facilitated a seamless return to his old job. Still, returning home and to the workplace were big adjustments.
"It was a hard coming back to civilian life," Gaba acknowledges. "I was in charge of deploying 8,100 international peacekeepers. All the while my wife had been running the house for months. The first rule in the military when you come home is that you aren't in charge any more. Your partner is. You can't just pick up where you left off. I had to be sensitive to my family and figure out where my place was."
Easing back into work could also feel disorienting, but came as a relief. "You go from looking at a map and saying, 'I need a helicopter to go here, a convoy to go there, to being back at an office desk," explains Gaba. "I felt immense pressure come off my shoulders. At the UN, you're on 24/7. That's what you're there for. Now I just have to remember to leave work at work. At the end of the day, I can turn it all off and focus on my family."