Real-Time Insights on Labor Markets and the Future of Work
Friday, September 8, 2023
8:00 a.m. PT
Salt Lake City, Utah
Join us for a live discussion on labor markets and the future of work with Karin Kimbrough, Chief Economist at LinkedIn, and Sylvain Leduc, Director of Research at the San Francisco Federal Reserve.
Advances in data science and artificial intelligence (AI) are rapidly changing both how the economy works and how we gather information about it. Our speakers will discuss the power of real-time data as a supplement to traditional research methods.
Topics will include AI and the future of work, job vacancies and labor market tightness, worker and employer sentiment surveys, shifts in hiring and retention practices, and the evolution of remote work.
The discussion will be livestreamed on this page, and a recording will be available after the event.
Transcript
Good morning and welcome. This morning I have the honor of kicking off our discussion on real-time insights, the labor market, and the future of work. And these are really timely topics, especially now as we've seen inflation start to come down and the labor market starts to slow. While we all know it's too early to declare victory on achieving our goals mandated by Congress, and there could be more work to do, it is really important that we also start to focus on what comes next. And that's actually the job of policy makers, monetary policy makers to work on the economy of today and prepare for the economy of tomorrow. So let me then turn to the economy of tomorrow and think about specifically what it means for the labor market. Now, top of mind are two issues, and you don't have to pick up the newspaper, you can pick up any day and you'll see these two issues emerge.
One is related to the post pandemic recovery, hybrid work. And the other is related to the next wave of technology, generative AI. And both of these, hybrid work and generative AI have very uncertain futures. No one really knows what will happen, but they are both surely to leave a lasting imprint. So let me start with remote work. On one hand, we can say definitively that hybrid work is here to stay. No one's really questioning that, but that's not actually the question that's on our minds. The question on our minds is what does hybrid really mean? Is it coming in two to three days a week, three to four days a week, or just for an occasional team meeting? And as I said, no one really knows. Companies and workers are still trying to figure it out. But the settling point, whatever we decide as a community, as a nation has real implications for the economy. Whether we're talking about commercial real estate, transportation systems, or the restaurants, coffee shops, and other businesses that support vibrant downtowns or work centers, what we all decide about how we work in the future matters.
It's important to also see that the impact of our decisions on hybrid work will not stop there just with the allocation of activity in downtown centers. We will also likely see the impact of our choices on collaboration, mentoring, skills transfer, which ultimately affect not just the workforce of today but the workforce of tomorrow. Another factor, of course, is AI, specifically this generative AI. Now, if you talk to a group of technologists, which I spend a lot of time doing, almost every single one of them, with great enthusiasm, will tell you that AI will change the world. But if you talk to economists and oftentimes businesses, they are less sure. Some argue that it has the potential to increase productivity quite substantially, and others argue that it will be decades before we really are able to reap the returns of such investments. But either way, technologists, economists, businesses all seem to agree on a single point, AI is likely to be disruptive.
And we're already seeing hints of this in the labor market. Writers are striking over the fear that generative AI will take their jobs. AI job postings are everywhere. Even though they make up only a small fraction of job postings, they're really driving wages and interests in that sector. And at least once a week, seriously, I get asked by someone in the community whether robots will take every job in America before they retire. And I give them the answer that's been true for centuries, there will always be work to do, but it's likely to be different than the work we've known. And this comes back to what's really important about the future of work and as we think forward, the future of the labor market, people, and our investments in their ongoing education and skills training so that they can match the demands of an evolving economy and continue to participate and grow as the economy changes.
So I look very forward to this panel in hearing what the two people here have to say on these issues. And with that, let me introduce our panelists for today. So our first panelist is Karin Kimbrough, Chief Economist at LinkedIn, and a member of the Economic Advisory Council of the Federal Reserve Bank of San Francisco. Now Karin also has the distinction of being a certified, by me, data geek because she really does earn that honor. Our second panelist is Sylvain Leduc, Federal Reserve Bank of San Francisco's Executive Vice President and Research Director, and also author of Are Robots Taking Over? Or some version of that title. And I look very forward to the discussion that these two will have. And so with that, I will turn the microphone over to Sylvain. Thank you.
Thank you, Mary. Karin, welcome. Good morning.
I'm so delighted we're having this discussion today. So one thing Mary didn't mention is that Karin has worked for the Federal Reserve Bank of New York for 10 years. And so you really know how much data we look into at the Fed, but one constraint we have is, when we look at the macro data in particular, is that the data often comes out with a delay. And so it's hard to get a good read of where the economy is in real time. So sometimes it's a month's delay, sometimes it's a quarter. If you look at state level data, it'll be longer than that, it might be a year, two years.
So it's really difficult for us to get a good read in real time. And so since the pandemic, there's been a push to do more of that to compliment our more traditional macro data with non-traditional ones. And you get a lot of insight on this as Chief Economist at LinkedIn. So I thought we could talk about this a little bit. But before we get into the data, I'd like to know what the Chief Economist of LinkedIn actually does day to day. And so if you could give us a little bit more color about your work.
It's a fair question, and one my mother asked when I said, "I'm going to go be Chief Economist." "Why do they need an economist?" So first of all, thank you. Thank you for giving me the time to share what I think are the wonders of LinkedIn's data and to share some insights that we see around the labor market. But to answer your question, LinkedIn has globally about 950 million members worldwide, and there are about 65 million companies that work with us. So as a result, we have an amazing insight into, I would say the world of work. We can see what workers are doing when they update their profiles and they share that with us publicly and with you if you want to go on LinkedIn and you can see where they've worked, whether they've changed roles, what skills they have. And then on the other side you can also see what employers are looking for.
We see all these job postings. So at any given time there's millions of job postings when we can say, well, what skills are employers looking for? How is that changing over time? So we get this phenomenal insight, I would say, into the labor market. And because the data is sort of updated in real time, if you will, in just the minute that I've been talking about eight people have been hired on LinkedIn, there's a lot of movement and information. And so it gives us a real time, very granular look where we can kind of say, well, this is the aggregate [inaudible 00:08:03], but what does it mean for women? Or what does it mean for people that live in the southeast of the United States? How is that different from the Midwest? And so that's where I think the value of our data can come to add to the Fed's understanding of the U.S. economy.
Okay, so that's great. Let's talk a little bit to start with remote work. This is probably the biggest change we've seen in the workplace in decades, and we're basically three years in this experiment. And I think people don't quite agree about the cost and benefit, particularly workers and firms. So if you look at surveys, it's pretty clear, workers thinks their real benefit in productivity, in their own productivity of being able to work remote. But if you ask firms, that's not the case. They tend to have a much more negative perspective on the productivity impact of having workers work remotely. And nonetheless, I think businesses know that remote work is here to stay. So colleagues at the Atlanta Fed run the Survey of Business Uncertainty and in this July they just asked a particular question about remote work. So they asked a set of firms, about 600 firms, what was the share of people fully remote, of their workers fully remote in 2018, now, and in five years from now?
So where do they expect remote work to go? And so this is what they find. So they find that basically the in-person work is going to be declining and remote work and hybrid is going to rise over time as we get towards 2028. So this is interesting, because even despite our concerns about productivity, businesses know that this is kind of here to stay. What I'm wondering about is a bit about magnitude. Is this enough? Because what you hear about in the workplace is that workers want remote and they at least want hybrid. So I was wondering, are you seeing this in the data? What are you seeing in your data in terms of demand for remote work?
Yeah, absolutely. So this is exactly, this green bar, Sylvain, on the chart that shows the current state of play is very close to what we see in our data. So there is a relatively limited amount of fully virtual remote work, but it is significantly increased from pre-pandemic levels. And if you want to show, this is just a snapshot of where we are today. So on our platform at LinkedIn, about 9% of all the jobs on the platform offer fully remote work. However, 44% of the applications made on our platform go to remote work. So that already uncovers this preference that we see among job seekers for the flexibility. Now, I gave the hybrid numbers on the right and you'll see that there there's a little bit closer balance between the availability of hybrid jobs, which is about 14% on our platform right now, and the share of applications that go to hybrid work, which is about 20.
So my two takeaways from this where we are right now is one, there definitely is a gap between what employers are looking to do, which is to try to bring many people back into the office and what workers want, which is they want to retain that flexibility that they started to discover. And by the way, we know this, I should say it, the flexibility is beyond just remote or hybrid, it's also just autonomy for how you spend the hours in your day. Whether or not you're onsite or whether or not you're coming in a couple of days a week. I think the other thing I would note, it's not on here, but I'll just as a note, is that this number is not static.
And so if you'd asked me a year ago, what did the remote bars look like? We would've had 20% of our jobs were remote a year ago, now it's 9%. But we still would've had around 40, 50% of applications going to remote. So what that tells me is that workers are still consistently preferring remote even as things change, but employers are definitely dialing it back. And then what's not shown of course is just that there is a full set of onsite work that's also being offered, and that's probably about three quarters of the jobs are still onsite right now, but they're not receiving the lion's share of applications.
So what would it look like? Is this completely reversed? There's a dearth of demand for those jobs.
Yeah, there's about 30% of applications are going to onsite work, but they constitute 75% of the jobs. Yeah, absolutely.
So one thing also, one concern is mentoring when you work remotely. It's difficult to do mentoring online, you have to be in person. And I think there's a generational aspect to this. Mentoring is really important for new workers in particular that are gaining skills. And so I bet that you mentioned this at the beginning, you have demographic breakdowns. How do you see this, the demand for remote work by age, by generation? Do you see a difference between younger workers and older ones?
We absolutely do. So we're able to look at the data by cohort of generations, and if I can just be sort of lazy and use the Gen Z, which is the youngest generation, which I think right now is maybe 29 years old, somewhere around there max and the millennials who are already reaching into their forties. What we see is the younger generation, Gen Z were the first to want to come back in the office, which made a lot of sense to me. They want the social life. They probably don't live in homes with lots of extra space and their own bathrooms, so they're happy to go in and have a cup of coffee and chat with colleagues.
Socialize, yeah. Who doesn't when you're 20-something? But they also get a lot more onsite mentoring. They get more information just being there than being remote. So we definitely see younger generations wanting to be in the office more older generations also. So the boomers and Gen Zs, older Gen Zs, sorry, Gen Xs.
Gen X, yes. The forgotten generation.
Shout out for the Gen X generation here.
We can have a therapy session around Gen X being unloved and forgotten later. They're more willing to come back because they sort of remember, they have that behavioral memory. Where the most reluctance to come back is of course the millennials, the parents of that seventh grader or that fifth grader that needs to be picked up and taken to an orthodontist appointment or whatever. They really value the flexibility. So we see that little pocket of parents that really look for the flexibility. We also see that women have a greater preponderance of applications to remote. We think they prefer it for the flexibility as well. That gap between men and women was excessively large when school was not in session in America. And as schools came back in, women kind of fell back in line with men, but they still generally prefer remote work more than men and women of color also typically apply more for remote work for a lot of reasons.
So I think there's definitely advantages to being in the office. And as Mary has said in the past, the devil's in the details about how many days a week and what does it look like and why are people coming in. But if I could, I would just say I had a very interesting conversation with Stanford academic Nick Bloom who spends all this time thinking about this. And we were chatting about the different reasons for the preferences. And it can relate to childcare, it can relate to time of your length of your commute, the size of your house or apartment, and all these things factor into whether or not you prefer remote or not.
So I find this data completely fascinating. I mean, the Fed is trying to bring inflation down and we're trying to get a better balance between demand and supply in the labor market. And part of the imbalances we're seeing is just that we have strong demand in part, but also that the demand has some characteristics that you're showing. So there's more demand for jobs that are remote compared to those that are non-remote. And so this is kind of interesting for wages, you mentioned Nick Bloom, he was part of a study where they surveyed firms and what they thought about the impact on wages of offering remote work.
So this is a benefit that you're providing workers, they're gaining more flexibility. And so firms in that survey thought they could offer lower wages as a result. But for us, I think at the Fed, we have to look at the whole picture. So this is just those parts of the jobs on the job market. We have to think about those that are also non-remote and whereas you're saying, it's more difficult to find applicants for those positions. And so to entice people to take those jobs, wages might have to go up. For us, it's really taking a balance between these two types of jobs on the markets.
I think that's right. The way I think about it is there's definitely a set of very… We can see which skills are in demand in our data, what employers are most looking for. And you could imagine that if you have a very talented cybersecurity expert or an AI expert, they're willing to provide a lot more flexibility to attract and retain that candidate if they really are a top talent that's hard to source. So, it's a big perk.
Great segue. You mentioned AI. Time's running out, we have to talk about AI a little bit. That's the other main concern, main development that we've seen over the past year or so. And there's great enthusiasm about this to try to boost productivity growth. Productivity growth is still relatively low in the US, growing at a trend of about 1% per year. So anything that could boost that would be welcome. But of course that creates concerns in terms of job. And Mary mentioned displacement for certain workers. It seems the demand for skills, AI related skills is really going up. So we have some light cast data that we've looked at. So if you look at this over the past 10 years, there's really been a demand, an increase in demand overall, the share of job openings requiring those types of skills. It's still pretty small, about 1% overall postings. I'm wondering, are you seeing the same thing in your LinkedIn data to start with?
Yeah, so we are. I would say for us the demand for AI skills is absolutely growing. As an example, we saw since November '22, so just almost a year ago when you remember when ChatGPT kind of emerged as a topic in all the headlines, we've seen a 21 times increase in the share of jobs that is an English language job postings by employers looking for generative AI skills, looking for AI skills. So it's exploded. And what I would remind you, and you've already said it, is that it's coming from a very low base. So it's not as though every job is looking for AI skills, it's just this fast growing from a very small base. And we're also seeing, by the way, job seekers kind of respond. They're starting to either acquire skills or make sure that they showcase the skills on their profile that relate to AI because they can see that that's a plus, that's an attractive element for employers. So we're also seeing a lot of increase of members acquiring AI skills at a rapid pace.
So do you see this mostly within the IT sector or are you seeing this branching out in other sector? I'm thinking for instance, financial services. They have a lot of data, I think they're concerned about fraud, that's something where AI could be used in the modeling of this behavior. Are you seeing this branching out in other sectors or mostly IT still?
So it definitely has its hub in IT. IT is the heart of that, and that's where I think the wave is starting. But we actually see that the demand for AI skills and actually the supply-based skills is moving, is diffusing from tech into retail, into finance, as you said, into things like consulting, auditing, all those kinds of professional services are also looking at ways to embrace AI as a technology that can help their processes. Either because the processes are routine or just are rule-based and can be checked by AI. And so there's lots of opportunities for different sectors to embrace it. It is not just tech, as you say, it definitely is finance and even education, is trying to figure out how to survive with AI.
So Mary mentioned displacement. People in this field have thought about the jobs that are at risk of automations, for instance, depending on their characteristics. I guess the same thing could be done with AI. I'm wondering if LinkedIn has been thinking about that, those kind of jobs that might be more at risk of displacement because of this new technology.
Absolutely. And I would say though we just published a report that's on our site that people are welcome to look at. But to your point, Sylvain, you're absolutely right. The way we think about it is there are jobs that are probably going to be augmented because they can embrace AI and it will help them do more and become more productive. There are probably jobs where a lot of the tasks required could be done by AI, and in that case they might not feel as insulated from AI, may feel a little bit like they're getting disrupted. And what we find is that, I'll just start with the headline. Probably eight out of 10 jobs have tasks or skills that AI or generative AI can probably perform. Now again, these tasks may be very routine. They might be the cumbersome part that you would like to be done with. Could be summarizing notes from a meeting, that may not be something that—
Maybe less routine than automation kind of jobs that the routine job that automation [inaudible 00:22:36].
Exactly. And definitely reaching into what we would call the professional spaces of corporate America as opposed to prior waves of say, automation that felt like they touched manufacturing more. So it's really across all industries and all sectors, but all levels of skill and profession. That's the first thing. And then the second thing is that you might be surprised to know that in many cases what we see is that we're not really expecting jobs to be eliminated. We're expecting jobs to change a lot. So what we often say is even if you're not changing your job, your job is changing on you.
So before this ChatGPT popped out in November of 2022, we were already seeing jobs change over time. The skills that were required by employers for a particular role had already evolved since 2016. And so what we think is that AI is just going to accelerate that pace of evolution in terms of what skills are required. And if you think about it, there was a point in time when I had to learn how to use my iPhone many, many moons ago, and now I know, so I don't have to be an iOS expert, I just have to know how to use my iPhone. And that's kind of how I try to relax people a little bit in terms of are the robots coming for your job? Well, no, but you should learn how to use the technology to help you be more productive.
So clearly an issue that will bear watching—
In the years ahead. Okay, we have a few minutes left. Let me switch gear a little bit. So I mentioned that we're trying to bring inflation down, trying to get a better balance in the job market. One thing we often look at is the vacancy, a number of job openings to the number of unemployed workers, so a sense of demand versus the supply of work. And so one traditional one is just coming from the BLS, just showing this vacancy to unemployment ratio. We often talk about this. So this has gone up a lot post-pandemic, record high according to this series, it's coming back down. So this is where there's some rebalancing in the labor market, but still above pre-pandemic levels just in terms of job openings to job seekers. I like your data, because it's a little bit different than this.
It has different ways of measuring the supply of workers, because you have data on applicants. So can you talk a little bit about this and what you're seeing?
Sure. So this is the canonical measure and we all refer to that. So we tried a little bit differently at LinkedIn and what we did was we said, let's look at the job openings on our platform. So again, this is now looking at our own ecosystem of LinkedIn. The earlier chart was looking at all of the US economy and we looked at how many job openings do we see at any given point in time, and then how many active applicants are there? So instead of just measuring the unemployed folks, we also wanted to look at people who were actively applying. It might be that you're in a job, but you're also looking and applying to jobs. So we wanted to include that population of job seekers even if they're already employed.
So that's how our measure differs. And what we've seen, and here's just a snapshot, it's a shorter period of time than what Sylvain showed, but again, it's the same idea maybe on a more muted scale of seeing this increase through 2020 after the pandemic where we started to see frankly many more job openings as employers were keen to hire and adding a lot of jobs to the platform. And at the same time, applicants were sort of retreating saying, I don't want to get sick, or I don't think this hazard pay is sufficient for what I have to put up with working in a restaurant or with customer service. And so applicants retreated, job openings increased, and that caused that line to go up, making the labor market kind of tight, and it meant that employers were competing with each other to find talent, and now it's starting to cool. And it's cooling, and actually I would say just my observation, in a very sort of sustained—
Gradual way. It's not alarming. It's not a drop off.
It's surfable. That's the surfer here. Exactly. So that's what we see. I could show you a line for every industry or for every occupation and it would look like spaghetti on the chart, but every industry is different is what I would say. There are industries that have cooled more quickly and industries that are still actually quite tight because they're looking for applicants. So think about education, trying to find teachers. Right now there's a shortage of teachers and that's been mentioned before. We see that and that market is far, far more tight than the market in the tech sector, which has cooled a lot.
But basically overall, so better measure, but overall it kind of paints a similar picture that the labor market is rebalancing.
It really is rebalancing as we see more applicants come in and we see, I would say job postings on our platform, at least leveling off. So people are hiring, they still are hiring, but they're hiring more slowly, more judiciously.
And so on. So, encouraging for us.
We're seeing the same thing for turnover rates in some of the JOLTS data, for instance, that are more traditional sources, I think you're seeing the same thing as well now on your platform, people moving less across jobs.
Correct. It seemed as if at a certain point people got the memo that they thought a recession was coming. And so this is just a chart of job transitions. It's just looking at people that are on the platform that will tell us, "Hey, I was working at company A and now I've moved to company B." And so in 2021 there was a big peak. You can see that spike up where everyone, it seemed as everybody was changing jobs and they called it the Great Resignation, the Great Reshuffle. People were moving around and then that just declined and it just kept declining. As people started to shelter in place, I think they thought, well, if times get worse, maybe it's better to stay where I am. I at least know this company. And so we just saw less and less people of turnover. I will say I do think it's somewhat cyclical and I can't imagine that it stays permanently low. And I have to think that at some point it—
It comes back and you start to see a little more attrition as people move around.
So all encouraging from our perspective.
I love how your data is complimenting the more traditional sources of data that we're using. We could go on and on. These are topics that necessitate more than 25 minutes, but I'm afraid we're out of time now.
We are coming to a close.
Thank you so much for taking the time and I'd like to thank also all the people who joined us virtually. Please join us soon. So if you're interested in economic issues, we have another installment of Ask the SF Fed on October 12 where I'll be answering your questions about the macro economy. So please join us then if you can. Thank you.

Sylvain Leduc is Executive Vice President and Director of Research at the San Francisco Federal Reserve. In addition to his ongoing research on monetary policy, business cycles, and international finance, Sylvain oversees the development of key economic research and analysis that informs the decision-making process on monetary policy. Read Sylvain Leduc's full bio.
Karin Kimbrough is Chief Economist at LinkedIn. She leads a team of economists and data scientists to provide insights on the global labor market and the future of work. Karin is passionate about using data and analytics to understand and improve the economic well-being of individuals, businesses, and society.
Related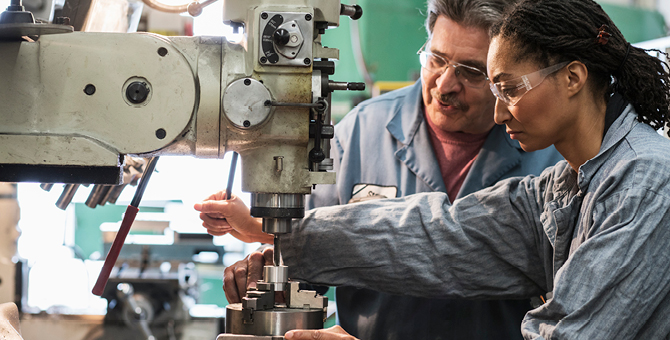 How Far Is Labor Force Participation from Its Trend?
Labor force participation in the United States has dropped a percentage point since the pandemic began. Analyzing how participation has evolved suggests that more than two-thirds of this decline has been due to persistent "trend" factors. Estimates project that trend factors—driven largely by population aging—could push labor participation down an additional percentage point over the next decade.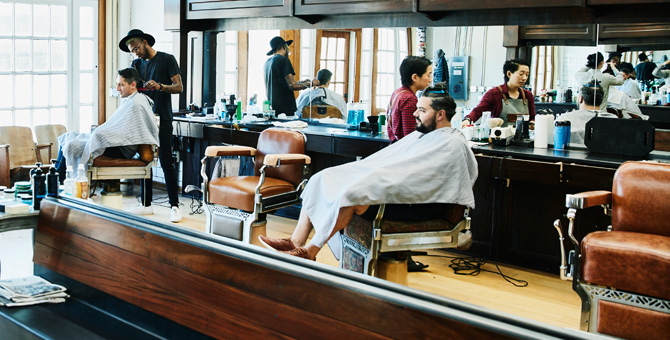 Will a Cooler Labor Market Slow Supercore Inflation?
Declining core goods inflation and expected rent inflation easing have raised the importance of nonhousing core services—or "supercore"—inflation. State-level data show that supercore inflation's typically weak sensitivity to labor markets strengthened early in the pandemic recovery. It's uncertain whether this sensitivity will remain heightened or return to its persistent weakness.
Ask the SF Fed
Watch our live discussion on Inflation and the Economy with Sylvain Leduc, EVP and Director of Research at the San Francisco Federal Reserve.