About the Office of Minority and Women Inclusion
To achieve the goals of the Dodd-Frank legislation and to champion diversity at the Federal Reserve Bank of San Francisco, the OMWI is wholly supported by the president, first vice president, and senior management. To meet its goals, the OMWI partners with business areas and our employee resource groups.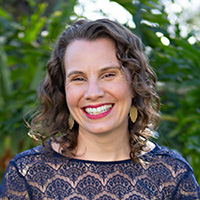 Sara Piccollo, Equal Employment Opportunity Officer
Sara Piccollo is the Federal Reserve Bank of San Francisco's vice president of People Success + Inclusion. In her role as the Bank's Equal Employment Opportunity (EEO) officer, Sara is responsible for leading, designing, and championing diversity, inclusion, and equal opportunity programs. She ensures compliance with EEO policies and oversees annual reporting of the Program's performance to the Bank's Executive Committee and the Federal Reserve System's Board of Governors.
Sara joined the Bank in 2021. Prior to joining the Bank, she held various leadership roles over a 15-year career with PIMCO. Sara was a vice president and member of the executive office, where she was responsible for launching and leading inclusion, diversity, and culture initiatives. Additionally, she served as PIMCO's co-head of talent and organizational development, overseeing professional, technical, management, and leadership development programs in the Americas and Asia-Pacific.
In This Section
FAQ
Financial Education and Community Development
OMWI Annual Report to Congress