Beyond the Numbers: Uncertain Economic Conditions Continue in the Twelfth District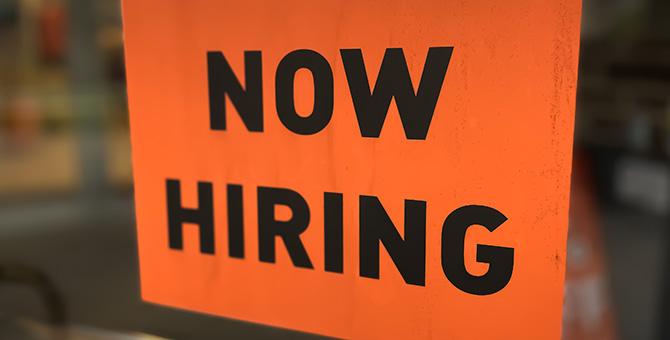 Since the most recent period of high inflation began two years ago, the San Francisco Fed has held a series of listening sessions to assess the impact higher prices have had on the communities we serve.
As the Federal Reserve continues its work to support a return to stable prices, inflation has moderated since the middle of last year. Despite this, residents across the Twelfth District still face the hardship of higher prices and other economic challenges.
To better capture insights about our District's evolving economic situation, we broadened our approach to listening sessions this spring. We asked roundtable participants—community leaders that serve low- and moderate-income households and business leaders—for a more general assessment of business and community needs. We included questions about the availability of credit, developments in the labor market, the status of household savings, and credit use among consumers. Because inflation remains elevated, we also asked participants to assess the continuing impact of higher prices on businesses and communities.
These discussions revealed some significant changes in economic trends that had dominated the earlier phases of this current high inflationary period. Still, other trends that emerged over the last two years have continued as we work towards price stability.
The business perspective: signs of both stress and strength
The changing credit outlook
With the recent turmoil in the banking sector in mind, we asked businesses whether they felt it was more difficult to get credit and whether they had changed their approach to seeking financing for their operations.
Many of the roundtable participants noted a change in the lending environment. Banks have become more selective. A number of small businesses also reported that existing lines of credit have been discontinued. Nonetheless, leaders reported that it is possible to secure financing if needed. As one participant noted, access to capital has continued but "borrowers are having to bring more capital to the table to get deals done."
In the view of some participants, not all the alterations in the lending landscape can be attributed to the recent banking turmoil. For some sectors, such as commercial real estate, they said that lenders had started to decrease their loan activity last summer.
Independent of how banks are changing their lending standards, some businesses reported curtailing their loan activity. These businesses cited higher interest rates and uncertainty about the economy's trajectory to explain this new approach.
Some easing of the labor market
After a dramatic rise in unemployment at the beginning of the pandemic, the labor market recovered quickly. At our first roundtables in February and August 2022, businesses reported significant challenges in recruiting and retaining employees across the wage spectrum.
In the latest roundtables, business leaders reported some significant changes in labor market conditions. For those businesses that are hiring, they noted that it has become easier to find candidates, although some tightness remains. Roundtable participants felt this was especially true for low-wage workers, skilled construction workers, and some specific kinds of knowledge workers, such as cybersecurity and artificial intelligence. Leaders, specifically those involved in construction, felt that the demand for skilled construction workers would continue in the near- to medium-term given the significant investment the federal government has made in infrastructure and other large construction projects.
Looking ahead, many businesses reported that they have slowed hiring or are not backfilling positions. They said they are also planning to slow wage growth and are planning for 3-5% wage increases.
Inflation is still a factor
Because inflation remains above our 2% goal, we again asked businesses about their experience with rising prices and the experiences of their customers.
Business leaders felt that consumers had become more price sensitive. A representative of the hospitality industry noted that it has become harder to raise room rates without decreasing demand. Participants also noted that consumers are opting for less expensive goods and reducing discretionary expenditures. As an example, an owner of a home repair service reported that customers now tend to fix a specific problem instead of undertaking a full upgrade. Generally, the business leaders attributed the more cautious consumer behavior in part to a decrease in the savings that many households had amassed during the early phase of the pandemic.
Asked about their own costs, the business leaders presented a mixed picture. They noted that problems with the supply chain that characterized much of the pandemic period have eased. A number of businesses said that shipping prices had fallen dramatically from their peak and were approaching pre-pandemic levels. At the same time, the participants noted that prices for raw materials and other supplies while flattening lately, generally remain elevated and have not fallen back to levels prior to the start of the current inflationary period. As one business owner framed it, the "cost of services have become a slippery slope. Once inflation peaks, many businesses will most likely keep the prices and cost of services intact."
The view from community organizations: a "sea change" in the workforce
Choosing self-employment over "traditional" low-wage jobs
Throughout our roundtables with community leaders across the District, we heard that labor market participation for low- to moderate-income workers looks different today than it did prior to the pandemic. Participants noted that more individuals are opting for self-employment rather than traditional low-wage, entry-level jobs in industries like hospitality and retail, which are still particularly difficult to fill.
Participants noted that lower-income individuals started their own businesses out of necessity during COVID. Despite pandemic employment supports coming to an end, they are seeing workers choose to stay self-employed rather than returning to the frontline jobs they held prior to 2020. With high prices and other barriers to work like affordable child care still a factor, they said workers are increasingly looking for flexibility, benefits, and more control over their working environment in addition to higher wages. "People would rather be self-employed than struggling in a low-wage job," said one participant.
We heard that those who are pursuing self-employment are starting micro-businesses—businesses with less than 10 employees—in services that have low barriers to entry like child care or elder care, landscaping, and housecleaning. Participants added that more individuals are also participating in the gig economy to earn income without sacrificing flexibility; leaning into multiple "side hustles"; and relying on government assistance and/or community support to make ends meet.
Meeting the demands for upskilling
When asked about trends in upskilling and workforce development for low- to moderate-income workers, participants said demand for these programs is high across the board.
Across listening sessions, community leaders said workers are less interested in traditional two or four-year degree programs, instead looking for shorter-term credentialing programs that will quickly help them move into higher paying roles. At the same time, employers are finding it valuable to partner with workforce development programs to offer specialized training based on open roles. Several workforce development organizations said demand exceeds capacity for upskilling programs in industries like construction and healthcare.
Participants also pointed to a gap in meeting the needs of entrepreneurs and would-be microbusiness and small business owners: despite the growing number of individuals interested in launching a business, there aren't as many workforce development programs that offer resources and support on this topic. "We need to see people that are in workforce development as potential business owners. An entrepreneurial workforce is a better workforce," said one participant.
Finally, community leaders across sessions noted that just increasing the number of programs isn't always the right answer. They shared that the same challenges that prevent workers from entering the workforce also prevent them from accessing workforce development programs, including child care, affordable and reliable transportation, and language barriers.
Difficulties in accessing credit
With the rise in self-employment and inflation remaining stubbornly high, roundtable participants said accessing credit has become even more difficult than before—a worrying trend for small business owners in particular.
For many in low- and moderate-income communities, access to credit has been an ongoing issue, but tightening credit conditions have made it even more difficult for entrepreneurs to access the capital they need from traditional lenders, said leaders. We heard that micro-entrepreneurs have the most trouble when seeking credit, as they're seeking smaller loans and may have less knowledge and experience with the process overall.
Some Community Development Financial Institutions told us that as a result, they have seen an increase in small business owners coming into their institutions with increased personal and credit card debt, or seeking loans not to grow their business but rather to refinance existing high interest-rate loans. Given the continued economic stress that many of these individuals are under, including inflation and high housing costs, participants expressed concerns about individuals taking on excessive debt and businesses closing and/or going into bankruptcy.
"It boils down to more education," said one participant. "People are afraid of losing their jobs and losing their businesses. We need to be more intentional about educating our communities…they need access to information and how this current economy affects them and their business."
Our commitment to engaging with communities
These listening sessions with business and community leaders showed that while some of the economic pressures that the Twelfth District experienced in the past two years have eased, others have continued, including the persistence of high levels of economic hardship experienced by low- to moderate-income households. Hearing the experiences of the communities we serve underscores the continued importance of the Federal Reserve's work towards price stability and maximum employment.
As SF Fed President Mary Daly has said, these conversations with leaders give her a valuable perspective on the financial and economic needs of the communities we serve and significantly inform the policy decisions made by the Federal Reserve.
You may also be interested in: