Emergency Funds: Why Americans Choose Cash for Disaster Preparation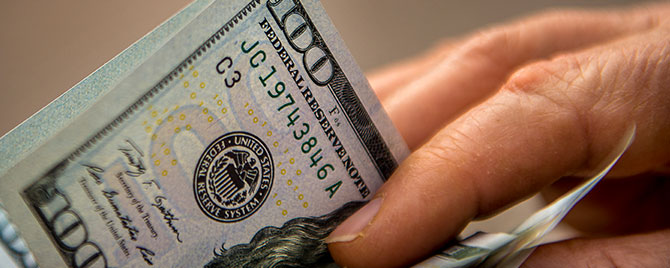 Amid a wealth of payment options, United States consumers continue to tuck away cash when preparing for the unexpected.
The average amount of cash consumers held in their wallet increased by 7 percent between 2012 and 2015 according to the Diary of Consumer Payment Choice, a Federal Reserve survey studying consumer payment behavior. The Diary finds that thanks to the stability of the U.S. dollar and near universal acceptance, consumers are comfortable holding more cash for day-to-day purchases and for emergencies.
The appeal of cash seems to be that power and technology aren't necessary to complete a transaction. If a credit or debit card is blocked for suspicious activity or there's no cell signal to make a mobile payment, cash is almost always an option. Crucially, when natural disasters or outages disrupt power or telecommunications, cash may be the only way to pay for essential supplies.
Amy Goodman, vice president in charge of cash services and New Orleans branch manager at the Federal Reserve Bank of Atlanta, experienced the resilience of cash in the aftermath of Hurricane Katrina in 2005.
"Cash truly saved the day," says Goodman. "Since card transactions could not be processed, currency was the only means by which people purchased everything from food and medicine to household supplies to begin the cleanup process."
Federal Reserve Banks ensure a ready supply of currency to financial institutions in normal times and times of stress. After Katrina, it was up to Reserve Banks to ensure enough cash was available in the disaster area to meet increased demand.
"Electronic payment options such as debit and credit, and even electronic transfer like direct deposit were not available for many weeks. Many employers telegraphed funds to their staff so they could be paid in cash. Commercial banks, most of whom saw their buildings destroyed, met heavy demand for cash by paying out currency from garages, driveways, and parking lots," remembers Goodman.
Nearly twelve years after Katrina, today's consumers can choose from many payment options offering various degrees of convenience, acceptance, and security. But the majority prefer cash as either their primary or secondary payment option. Even those who prefer a different payment option, such as their debit or credit card, rely on cash if their first preference is not available. When life's contingencies happen, cash still comes through in a pinch.
You may also want to read: