Origin Stories: Meet SF Fed's Diverse Suppliers
Wayne Armoogam, Luminous Egress
Jeannine: What inspired you to start your own business? When and why did you start it?
Wayne Armoogam: I'm originally from Trinidad and Tobago in the Caribbean. I came to the United States for college, and after receiving my degree in engineering from Arizona State University, I went back to the Caribbean, where I worked in the petrochemical industry for more than 25 years.
It's an industry where safety is a primary concern. You always have situations where you have a power outage and accidents may occur. So once I was ready to move into a different career path, to move back to the U.S. and start something new, it just made sense to pursue luminescent technology—which was brand new and not very well known—to make a difference in public safety.
I started Luminous Egress in 2008. We're a national company based in Chandler, Arizona that uses photoluminescent technology to provide a functional and guaranteed source of illumination that requires no electricity, battery, or any other form of external power. It's perfect for emergency situations, in places like stairwells, where people may need to move quickly to get out of the building. We provide products and services using this technology, which has since been adopted into International Building Codes and International Fire Code requirements.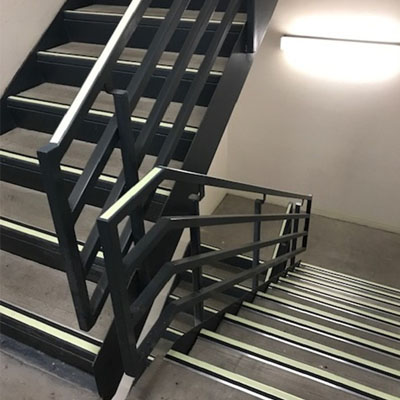 Jeannine: As you know, inflation is top of mind for most Americans right now. How have rising prices affected your business? Have you felt any wage pressures?
Wayne: We're experiencing increased material and labor costs, which then affects project budgeting and contract bids. We're also affected by the supply chain issues and impacts to the manufacturing process. Because of these issues, we're seeing price increases ranging from 15 to 20 percent.
We're also seeing delays in our installation projects because of delays that contractors are facing. When material purchases are made based on an install date and delays occur, we experience credit line limitations and severe cash flow issues.
The labor market has affected our ability to complete projects. Because it now costs more to attract workers, we have had to reduce crew sizes to complete projects. This increases our time onsite, which increases costs and reduces margins. We do work in markets where union labor is required. It's expected that annual negotiations will continue to focus on keeping worker compensation rates on pace with inflation.
Jeannine: How did your engagement with the San Francisco Fed begin? What impact has the partnership had on your business?
Wayne: I'm a member of the Pacific Southwest chapter of the National Minority Supplier Diversity Council, which has large national meetings with businesses and organizations regularly. I first met a staff member from the San Francisco Fed back in 2017 at one of these meetings. The staff member was very willing to listen and understand our technology. We talked about how a lot of the buildings in the West Coast are older and could use safety upgrades needed for emergencies.
In 2021, we started a project with the SF Fed in Salt Lake City to upgrade safety features. We're so happy about this project because it allowed us to look at all aspects of safety for the building, which was built in 1950. It gave us a chance to show that this technology is not only applicable for new buildings but that there are many existing structures that could benefit.
Jeannine: How are you thinking about your business and growing your business right now?
Wayne: This is a tough environment to expect growth in our business. We work with a relatively new technology so our penetration into the markets we hope to serve is limited when prices are high. We have decided to use this time of uncertainty to broaden our exposure into sectors where our egress systems will make a difference in public safety. We're doing this through presentations, internet conferences and calls, trade shows, and by becoming members of groups and associations where just the knowledge and education will benefit our business in the years to come.
Jeannine: What advice would you give to other small business owners, or those who are just starting out?
Wayne: When you start a business, you end up doing so much on your own. For me, I did the engineering, I was the subject matter expert, I had to give presentations and do the accounting and the marketing. You bring on other staff and you very quickly realize that you may know a little bit about everything, but not nearly enough to really take a business forward and to make it something that's working properly and efficiently. So I would tell people to prepare to learn and to move from basic knowledge in these areas, to full knowledge of what it takes to run a business, with the support of your team.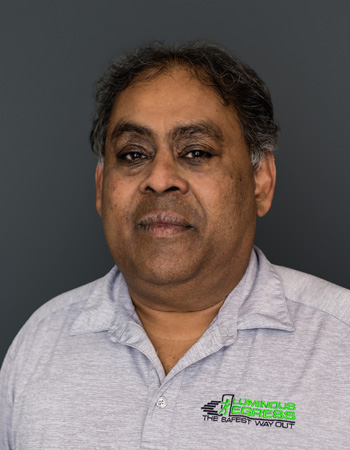 Wayne Armoogam is President of Luminous Egress, which specializes in photoluminescent signage and products that produce a non-electric functional and guaranteed source of illumination. Based in Chandler, Arizona, Luminous Egress serves clients across the country with products and services that increase building safety and cost-savings and help reduce carbon emissions. The mission of Luminous Egress is to use photoluminescent technology to make a difference in public safety.
Jeannine Louie is a lead sourcing specialist at the Federal Reserve Bank of San Francisco.
You may also be interested in: