Support Small Business Owners by Lifting their Voices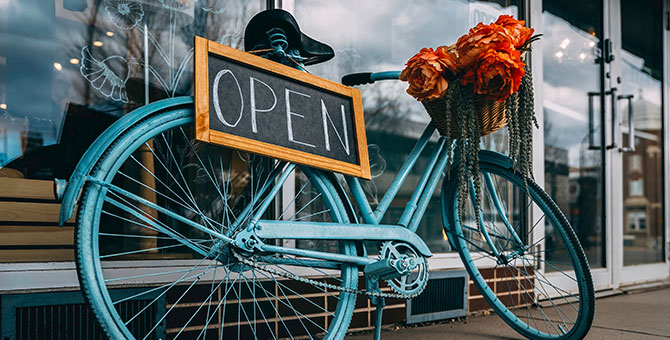 Many people are looking for ways to support the small businesses in our communities. In April, we shared some suggestions, including prepaying for services and purchasing gift cards. Another way you can support small businesses is to ensure their voices and experiences are included in this year's Small Business Credit Survey data.
Now through October 31, the Federal Reserve System is conducting the annual Small Business Credit Survey (SBCS) to uncover the current challenges small business owners face accessing credit. Businesses currently in operation, those recently closed, and those about to launch are invited to participate. Individual responses are confidential. 
Why survey small businesses?
The coronavirus pandemic and recent climate-related disasters are forcing even successful small businesses to make tough choices about their operating futures. Understanding how small businesses are faring in the face of current crises will help policymakers, service providers, and lenders improve programs for small business owners.
A report from last year's SBCS data found that respondents reported a "strong end" to 2019, with more than half (56%) reporting revenue growth and one-third adding employees to their payroll.
At the same time, the data revealed, "If faced with a two-month revenue loss, 86% of firms would need to take some action to supplement funding or cut expenses." The most common action cited was to use the owner's personal funds. We also learned that 88% of respondents rely on the owner's personal credit score to secure financing.
In addition, data gathered by the SBCS can reveal challenges often masked in aggregate findings. For example, a supplemental brief released in April used a "financial health spectrum" to explore variations in pre-pandemic financial health by annual revenue, number of employees, age of firm, industry, and race/ethnicity of ownership. In the aggregate, only 6% of firms were considered "distressed," but of the small businesses that identified their ownership as Non-Hispanic Black or African American, the percentage of distressed firms is 3.5 times greater (21%). 
The same report digs into how responses to the "two-month revenue loss" question varies by financial health. In response to that question, small businesses considered "at risk" or "distressed" were the ones most likely to suggest they would downsize, use an owner's personal funds, take out debt, or close/sell the business.
For too many small businesses, a two-month revenue loss is no longer a hypothetical scenario. Borrowing money can be a lifeline for small businesses, and the SBCS helps reveal where lending can be improved. 
How you can help
Whether you are looking to support local small businesses, are a small business owner, or have a network of small business contacts, here's how you can help and participate.
Share the link to the Small Business Credit Survey with a small business you care about: sffed.us/sbcs2020
If you're a small business owner, take the survey today
If you have a network of small business contacts, gain access to data-driven reports about your network by becoming a survey partner
Let's work together to lift the voices of small business owners and inform the lending programs and policies intended to support them.
Laurel Gourd is the communications strategist for community development at the Federal Reserve Bank of San Francisco. She holds a degree in Communications from Boston University.
Image credit: vo images via Twenty20.
You might also be interested in: