Veterans Continue to Face Steep Housing, Employment Challenges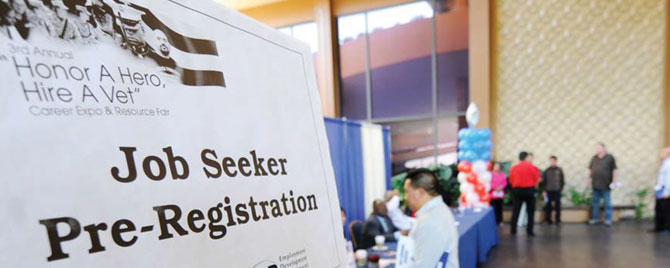 Zach Totans is the Veterans Resource Coordinator at Truckee Meadows Community College. In a recent conversation with SF Fed Community Development, he shared, "The hardest obstacle I've found for returning veterans, including myself, is readjusting to civilian life. Coming home, especially after more than two years of combat, was a culture shock. It took a while for me to get comfortable in my surroundings and settle back into a normal life again."
By 2017, there will be more than 60,000 post-9/11 service members residing in Los Angeles alone. While Americans who have defended our nation typically return to a hero's welcome on U.S. soil, that support is in sharp contrast to the challenges they face in obtaining housing, employment, and financial and health services.
At last year's Los Angeles Unite for Veterans Summit, SF Fed President John C. Williams called on community leaders to do more to help returning veterans successfully reintegrate into society. "We ask our men and women in uniform to risk their lives in our defense. It is the tiniest reciprocation that we, in turn, demand that they come home to fair and equitable access to jobs, housing, and the services they were promised. The return from war is difficult enough—the wounds aren't just physical and the barriers aren't just structural."
Just how big is the problem? In a one-night count of homeless individuals across the United States in January 2014, the U.S. Department of Housing and Urban Development found a 33% reduction in veteran homelessness since 2010. Still, more than one in ten homeless individuals counted were veterans. Seven of the ten cities with the largest number of homeless veterans were in the Twelfth District: Los Angeles, San Diego, Las Vegas, San Jose, San Francisco, Seattle, and Oakland.
Businesses need to be involved in hiring veterans. They should be aware that we are molded to be leaders.
– Kristina Enriquez, Fellow, The Mission Continues
The Federal Reserve Bank of San Francisco's Community Development department is working to bring attention to veterans' housing issues, and developing best-practice models for hiring and employee retention. Powerful strategies are emerging.
"Returning military members often say they feel unprepared for the transition from service to civilian life. Many are eager to quickly secure a mission-oriented job in the civilian sector and note that stable employment is a common denominator for a successful transition. However, the employment process is difficult for them to navigate on their own. Additionally, city and county agencies may be ill-prepared to meet veterans' employment and service needs due to a lack of coordinated resources," says SF Fed research associate Gabriella Chiarenza.
Chiarenza cites Nevada's Green Zone Network and Los Angeles' 10,000 Strong initiative as examples of several programs across the West that are effectively connecting veterans to employers and to one another. "My colleagues Joselyn Cousins [Las Vegas area] and Melody Winter Head [Los Angeles area] have done extensive work coordinating events around veterans' community development issues. We definitely see better outcomes and more stability for veterans in areas that are able to build a supportive network around veterans seeking employment, linking public and private sector employers with leaders and community stakeholders. Veteran peer support through local organizations is also an important factor for success in easing newly separated service members' return to the civilian environment," she explains.
Totans, who is also a Green Zone Network fellow, has experienced the impact of these initiatives first-hand. He encourages more people to get involved. "The most crucial thing to understand is that a veteran cannot be helped without the support of the community and its resources. Those who are interested in veterans' success should get involved with programs or institutions in your local area. If you are an employer, you can give the greatest gift to a veteran: a job."
Read more about the challenges facing returning veterans and their inspiring stories in the Veterans and Community Development issue of Community Investments magazine.
You may also want to read: