New Future of Work Survey: What Will the Post-Pandemic Workplace Look Like?
From physical distancing and face coverings to a need for flexible schedules and remote work—what started as a response to a health crisis has turned into a new normal for workers.
What's next for the workplace in the wake of the pandemic? To explore this question, the San Francisco Fed surveyed businesses about the New Future of Work in February and March 2021. The 72 business leaders from the 12th District who responded to the survey represent financial services (34%), retail trade and services (19%), and real estate and construction (14%), among others.
Our survey found that almost all businesses are making significant investments to prepare for the post-pandemic period. Telework is a major part of firms' strategies, although details vary widely. Many firms are also either downsizing or redesigning their physical workspaces. In developing these plans, many companies emphasized that they are prioritizing employees' voices and needs.
Post-pandemic plans for investment
Business leaders said they are not waiting for the end of the pandemic to begin their preparations. An overwhelming 96% of firms reported that they have completed or are in the process of developing their post-pandemic plans.
Two-thirds of respondents indicated they expect significant changes to investment spending, the workplace environment, or employment and compensation practices. Among those respondents, Figure 1 shows that the most common specific categories of workplace changes include making work environments safer (22%), upgrading equipment and systems (20%), and modifying management practices (16%).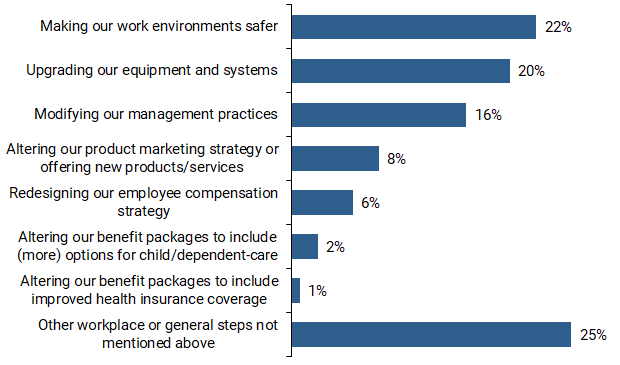 Business investment plans focus mainly on protecting the safety of employees and customers. Many respondents mentioned plans to increase the space between offices and cubicles, add plexiglass barriers, expand hoteling and shared spaces, have fewer employees on-site, and increase the frequency of office cleanings. Several mentioned investing in equipment to enable contactless payment and access to doors and elevators.
Other investments center around preparations for a hybrid workplace. Those include upgrading laptops and video conference equipment, migrating to cloud technologies, investing in cybersecurity, and developing tools to measure the productivity of remote workers. Only two firms reported investing in automation aimed at reducing employee headcount. Management practices are also expected to accommodate more flexible work arrangements, including long-term policies for remote work.
Telework to remain, but details vary widely
Social distancing to help limit the pandemic's spread made telework a necessity for many companies. In the aftermath, almost 80% of firms plan to offer some form of extended telework to their employees. Only about 15% of respondents expected all employees to return to the workplace or stated that their firm or industry does not lend itself to a telework arrangement.
Among those planning telework options, what fraction of the workforce would be allowed or expected to take advantage of this flexibility varied (Figure 2).

The majority of firms reported plans for teleworking, but with some limits. In fact, only 18% of respondents plan to accommodate unrestricted telework for qualifying staff. The most common limit was requiring at least one day a week in the office, to help maintain company culture and collaboration.
Another common guideline for telework is based on commuting distance to the workplace. This is intended to facilitate in-person attendance for important meetings or to avoid conflicts between state laws and compliance requirements. Among the firms planning to support telework, 11% indicated it should be exclusively from within their normal commute zones. Many other companies plan to restrict telework to a few states. Regarding support for employee telework costs, about a third of respondents specified that they would not cover internet service bills or other costs associated with working from home, such as printing, furniture, and office supplies.
The majority of respondents said remote work has proven to be as productive as working in the office. In some cases, it has even improved efficiency, for example, by reducing the amount of time spent on commuting. However, many are still trying to find ways to maintain company culture, increase engagement, encourage innovation, train new employees, and support parents with school-aged children.
Downsizing or redesigning workspaces
Most companies are rethinking their physical workspaces. About 80% of respondents indicated that they plan to redesign, downsize, acquire, or move to new spaces as part of their post-pandemic plan.
To allow for social distancing between employees, many employers are planning to reconfigure their workspaces to increase the distance between cubicles. They also plan to convert cubicles into individual offices, expand shared spaces such as conference rooms, and improve air circulation with more windows and HVAC systems.
One popular approach is hoteling, where employees reserve individual workspaces before coming into the office. This was frequently mentioned as a method to allow remote workers access to the office a few times a week. The method allows employees to schedule their use of shared facilities, such as desks, cubicles, and offices.
Employees come first
Overall, firms prioritized their employees when developing their post-pandemic plans. Firms indicated that the main drivers for planned changes include health and safety, followed by boosting employee engagement and enhancing hiring and employee retention.
Business leaders mentioned a variety of additional strategies, ranging from company-wide surveys to get regular input from employees to more direct and frequent internal communications. Others are developing new ways to increase engagement among remote workers and are planning to continue substituting virtual meetings for some business travel. Hiring practices and incentives are also expected to change, as the hiring pool expands geographically and applicants place increasing value on the ability to work remotely.
A final lesson that several firms highlighted was the importance of staying agile and developing contingency plans—such as ensuring the resiliency of supply chains in case of another catastrophic event.
Watch a video of key takeaways from the New Future of Work survey
The New Future of Work
[People walking through glass corridors]
What is the new future of work?
[Exterior buildings and skyscrapers]
The San Francisco Fed surveyed business leaders in our District.
[Exterior of office building windows, with various offices and workers inside]
Here are the four key takeaways.
[Masked worker taking notes in during a meeting]
Number 1: Firms are not waiting until the end of the pandemic to begin preparations.
[Two masked workers inside an office]
2 out of 3 respondents expect significant changes to:
Make work environments safer
Upgrade equipment and systems
Modify management practices
[Video conference on a laptop showing four remote participants]
Number 2: Telework is a major part of firms' strategies… but details vary.
[Person looking at a laptop screen]
Almost 80% of firms plan to offer extended telework to their employees post-pandemic.
[Office interior with empty desks]
Number 3: Companies are downsizing or redesigning their workspaces.
[Office interior with empty meeting area]
Approximately 80% of respondents plan to redesign, downsize, acquire, or move to new workspaces.
[Person working alone on a laptop inside an office]
That means:
Increasing the space between offices, cubicles, and workspaces
Expanding shared spaces like conference rooms
Improving air circulation
For remote workers, reserving workspaces before coming onto the premises
[Person walking along a corridor, wearing a backpack]
Number 4: Employees come first
[Small group of people in a meeting]
Overall, firms prioritized their employees when developing plans.
[Two people having a discussion while looking at a computer screen]
The main drivers for planned post-pandemic changes included health and safety reasons, boosting employee engagement, enhancing employee hiring and retention.
Hishgee Jargalsaikhan is an economic analyst in the Economic Research Department of the Federal Reserve Bank of San Francisco.
Luiz E. Oliveira is a senior associate economist in the Economic Research Department of the Federal Reserve Bank of San Francisco.
Photo credit: onurdongel via iStock
You may also be interested in: