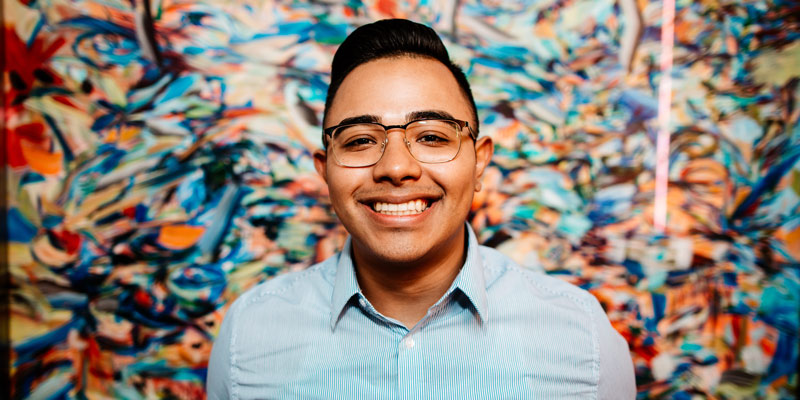 Angel Medrano
---
A Sacrifice Worth Making
In celebration of Hispanic Heritage Month, the SF Fed is sharing perspectives and family histories from members of Unidos, our Latino Employee Resource Group. Visit Latino Communities and the Economy for more information on how the San Francisco Fed is studying and sharing what we learn about the economic contributions of Latinos to the U.S.
I've had so many roles throughout my life: son, big brother, student, part-time busser—and now a full-time professional. My culture has shaped the person I am today, and I'm proud of where my family comes from. I've seen where my parents grew up, and because of them, I have the privilege to be here at the San Francisco Fed making a difference. In my current role as a talent acquisition specialist, I listen to people's stories and open new opportunities for them and their families.
I was born in San Francisco as a first-generation Mexican American, the eldest in a family of six. Like many children of immigrants, I was responsible for my two younger brothers and my sister throughout most of my life, while balancing school, friendships, hobbies, and pursuing a career. My parents pushed me to graduate from high school and go to college. With the help of federal programs, I was able to be a full-time student at San Francisco State University.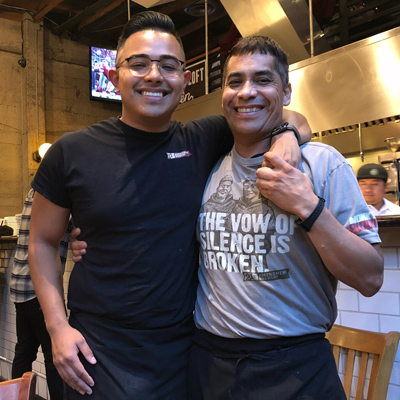 Because we had a big family, I picked up a job as soon as I could to help with finances. My first job was bussing tables in a restaurant and my first co-worker was my dad! He was a busser, too. I saw first-hand how hard he worked to provide for us—picking up dirty plates, sweeping, and cleaning tables. He was tired by the end of a shift, but he had a smile on his face. His children were his motivation. Latino immigrants tend to prioritize the well-being of their families over their individual well-being, and that sacrifice was true for my father.
My father was 18 years old when he came to the U.S. from Tarimoro, a small town in Mexico in the state of Guanajuato. After arriving in Texas, he found work making cement in a construction site for low pay. His next job was in San Francisco as a busser at a popular breakfast spot, Dottie's True Blue Cafe. My dad loved his job. He worked 10 hours a day as a busser, server, food runner, and eventually as a cook in the kitchen. While his job title may not seem like much to other people, he prides himself on being a busser.
My mom was 13 when she came to the U.S. from Nueva Venecia, a village in Guatemala that had no electricity. She joined her mother in San Francisco and they stayed in a small apartment with three cousins. My mom graduated from Mission High School with plans to attend college, but her plans changed when she became pregnant with me. She went to work as a house cleaner and a nanny and has continued doing this work for 28 years.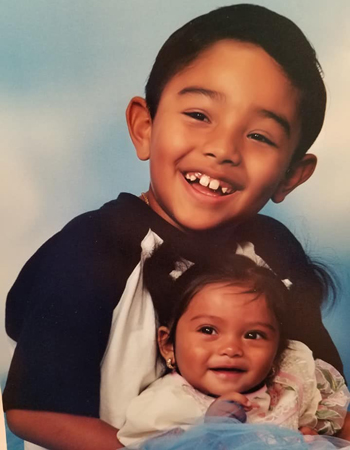 My parents' work ethic had a big impact on me growing up. In the summers, I would either go to summer school or work with my mom cleaning houses. As a family, we all played important roles. I was a parental figure to my younger siblings. I took care of them, cooked for them, took them to school, and helped them with their homework. On weekends, my brothers, sister, and I would play in the park, or we would shop with our grandmother for things in the Mission, a neighborhood in San Francisco, while our parents were working.
Cooking and enjoying food were other things that brought my family together. And when we cooked, it was always in big portions! Being both Guatemalan and Mexican, I was lucky to enjoy traditional dishes from both countries. My favorite dishes from Guatemala are pepian, tamales, garnachas, and tostadas. My favorites from Mexico are enchiladas, chile relleno, gorditas, and flautas.
On Sundays, my family went to church. I saw how my parents relied on their faith in difficult times and how it helped them overcome many obstacles, which is why it's something I cherish in my culture. I play guitar in the Spanish mass every Sunday and participate in special masses for the Virgen de Guadalupe and the Senor de Esquipula—important figures in the Mexican and Guatemalan communities.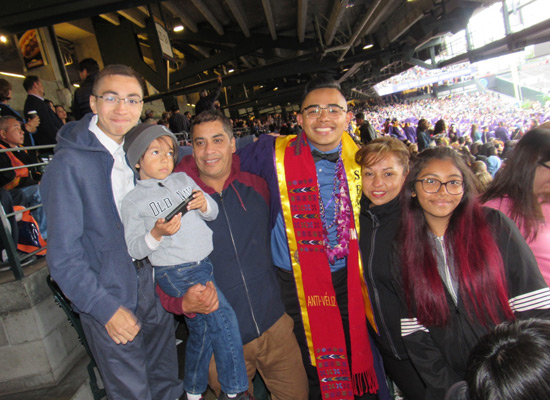 Humility, hard work, responsibility, familial dedication, and faith are values I hold dearly. I've tried my best to follow in my parents' footsteps. I now know how difficult it can be for families who come here and sacrifice so much. That's why I'll never forget where I came from and will always hold my family, my culture, and my values close to my heart. I wouldn't be who I am without them.