Careers in Law Enforcement
What it Means to Be a Federal Reserve Police Officer
Our police officers serve as the face of the SF Fed, both as frontline defenders in our five locations and ambassadors in the communities we serve. Our Police Services team is made up of law enforcement officers, analysts, security technologists, and training specialists; in short, no matter what skills you bring to the table, we have a place for you. Whether you're a seasoned veteran or just starting your career in law enforcement, there are exciting opportunities for you in Police Services.
All SF Fed police officers are considered Federal law enforcement and are expected to uphold that responsibility accordingly. Our people in uniform are high-quality individuals looking for something outside of the normal role of law enforcement. Being a protector of the SF Fed means taking on a defensive posture, as opposed to patrolling a traditional beat. It means being in constant company of your fellow officers, so being a team player is essential. And it means being open to taking on leadership roles and new assignments—we have K9 officers and EMTs, specialty assignments like executive protection and our Special Response Team.
Subscribe to our newsletter to stay current on SF Fed careers, news, and more.
Explore available Police Services jobs
Our Mission at the SF Fed
The mission of Police Services is to provide a safe and secure environment for employees while safeguarding the SF Fed's facilities, operations, and assets.
Every year, our sworn law enforcement teams perform security screens on some 550,000 people, 455,000 parcels and 4,200 vehicles with the assistance of our K9 teams. These highly trained police officers respond to medical emergencies, provide executive protection for the SF Fed's leadership, assist local police with investigations, and stand ready to secure currency moves in times of civil unrest or natural disasters.
Learn about our commitment to equity
Our Locations + the Basic Law Enforcement Course
Our police team is divided into three regions—Northern, Central, and Southern. The Northern region is comprised of our Seattle and Salt Lake City offices, while Los Angeles and Phoenix fall under the Southern Region. The Central Region refers to our namesake office in San Francisco. Each of our offices has a full complement of police officers, meaning anyone looking to join our team can find roles in all of the SF Fed's locations outside of Portland.
That said, everyone on track to become an SF Fed sworn officer begins their employment with six weeks at the Basic Law Enforcement Course. During this time, cadets spend 240 hours learning about constitutional law, court testimony and reporting, use of force and de-escalation strategies, how to approach terrorism threats, vehicle and pedestrian control, firearms, and more.
A lot is expected of our officers, so to help ensure they continue growing, adapting, and evolving with modern-day strategies and technologies, they move from BLEC training to the Field Training program, which requires another 240 hours before they are considered fully prepared to fulfill the core functions of their job. Think you have what it takes? Explore our available roles and apply today.
Police Officers around the 12th District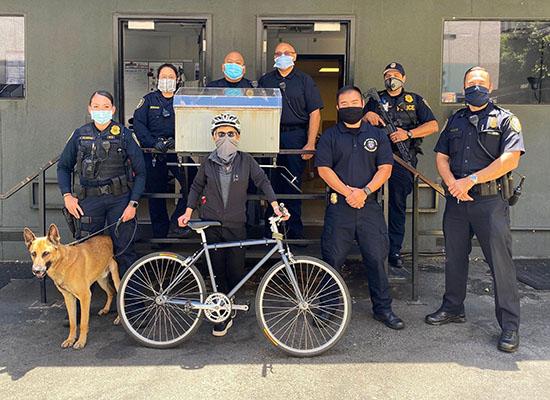 President Mary Daly visits San Francisco police team during the pandemic.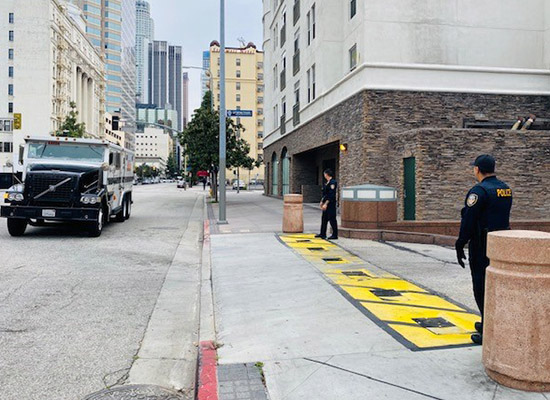 Police waiting to screen an armored carrier with the day's currency delivery.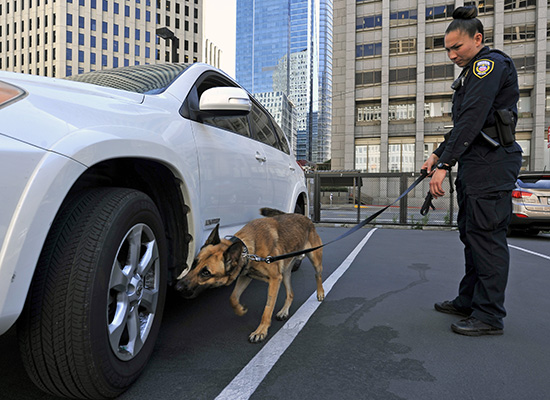 Explosive detection dog and handler screen a car in the San Francisco office.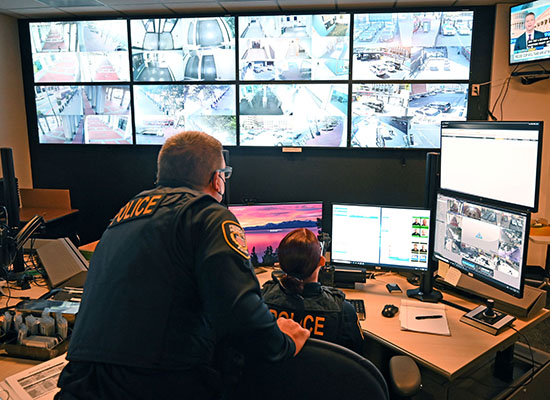 Police keeping an eye on security cameras from the control center.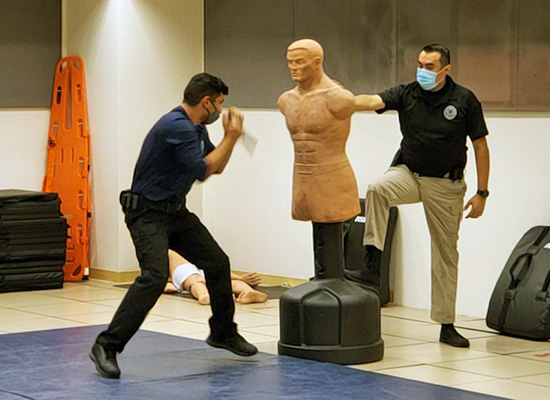 Hand-to-hand defense training in the Police Academy.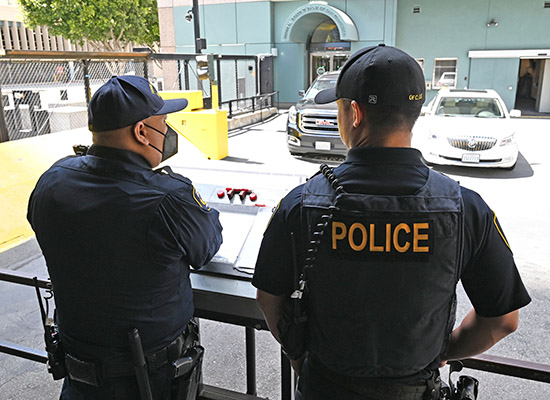 Two police officers stand watch at our San Francisco office's primary vehicle entrance.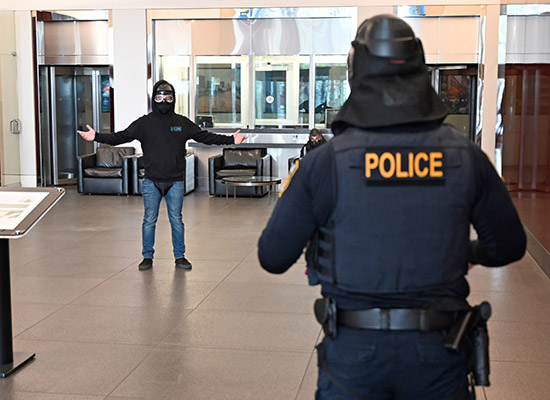 Scenario training in the San Francisco office.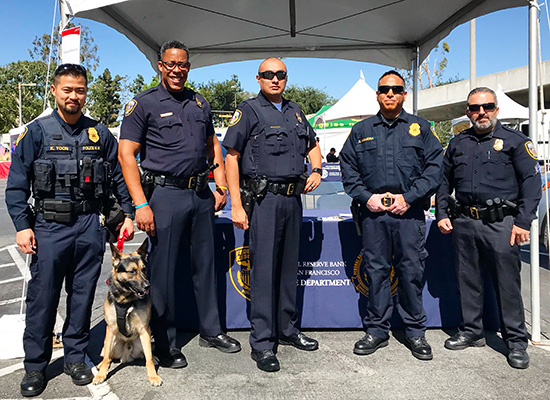 Los Angeles police team volunteering at the Special Olympics.
Ready to join us?
Explore available Police Services jobs
Search all available SF Fed roles