From Legislation to Application: ADUs as a Response to Housing Affordability Challenges
An interview with Susan Long, program director, Self-Help Enterprises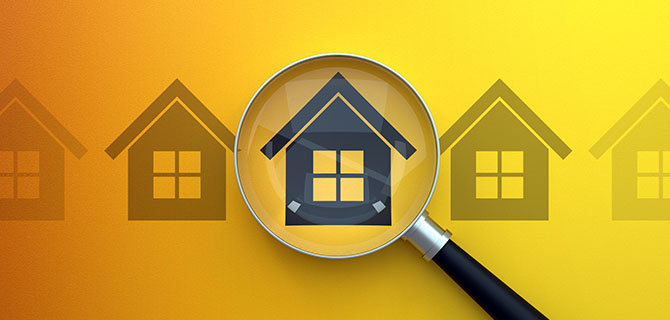 A constrained supply of new housing throughout California has exacerbated the challenge of housing affordability1 within the state. The starting point for people's economic participation is affected by where they live—by the cities and neighborhoods in which they can afford to buy or rent a home. In our efforts to help ensure the economy is one that works for all, the Federal Reserve Bank of San Francisco studies affordable housing, including residential displacement and poverty rates in different types of suburbs, and implications for the economy.
One solution to housing affordability challenges that has gained prominence through new state legislation is to construct more accessory dwelling units (ADUs) on single family home lots.2 Effective January 1, 2021, the California legislation aimed to streamline ADU approval at the local level.
Because of their small size, ADUs are typically affordable by design. However, the number of ADUs constructed since then has been relatively modest in most California jurisdictions despite the legislation's passage. In 2021, there was only a 23% increase in completed ADUs from 2020, compared to the 35% increase in completed ADUs from 2019 to 2020.3 While there are several potential reasons for this, one key challenge for homeowners—particularly those with low- or moderate- incomes—to construct ADUs is financing.
As a member of the SF Fed's Community Development field team in California, I spoke with Susan Long, program director at Self-Help Enterprises (SHE), to learn more about ADU challenges, opportunities, and an expanding ADU financing program for homeowners offered by SHE in partnership with the California Housing Finance Agency.
For many years, Susan and I have both served on the board of the San Joaquin Valley Housing Collaborative, which hosts cross-sector convenings on topics related to affordable housing.
---
Susan, can you tell us a little bit about the challenges of constructing ADUs and why more haven't been built since streamlining efforts were put into place at the state and local levels?
Securing financing is the largest obstacle for most homeowners. Unless a homeowner has cash assets to fund the construction themselves, they need a bank loan. Traditional lenders look at the addition of an ADU like a home remodel, and they often don't recognize the added value it will bring to the property. This results in homebuyers only being able to access equity they have in the existing home up to 80%. For newer homeowners, that may only be a few thousand dollars. Even for those who have been homeowners for longer terms, their available equity may only provide them with $40,000-$60,000, which is not sufficient to construct an ADU. If a lender were to recognize the value of the new unit once it was built, the homeowner would then have adequate equity to fully fund the build.
For example, if an existing home is worth $250,000, and the homeowner owes $175,000, 80% of the value is $200,000. So the homeowner can only borrow $25,000. But if the value of the ADU was included, the property value would likely be $425,000. In this case, if the homeowner owes $175,000, 80% of the value would be $340,000; so the homeowner could borrow up to $165,000, giving them ample equity to fund the construction.
The other challenge with traditional lenders is that they typically want the owner to have a history of rental income to offset the increase in their house payment.
How does Self-Help Housing Enterprises' ADU financing program work?
SHE's ADU financing program provides up to $140,000 in financing for ADU development on owner-occupied properties to homeowners with an annual income at or below $159,000. Interest rates for the program range from 1.4 to 3.08%, and terms range from 10 to 12 years.
Applicants apply directly to SHE by submitting an application with a credit report fee along with their application fee. SHE will then open escrow, order a preliminary title report to confirm the owners and no other undisclosed liens. If eligible, the borrower can begin working with a licensed, insured, bonded contractor along with their local city or county permit department, to incorporate all construction, permitting, plans, and hookup fees to then execute a final construction contract. An appraisal can then be ordered based on the approved plans and specifications for the ADU, to ensure we have enough equity, not to exceed 100% CLTV (combined loan to value) that will include the increased value of the ADU. SHE would then prepare loan documents (deed of trust, note, loan agreement) for the borrower to sign, and once we close escrow, the funds will be held at SHE and paid to the contractor as approved by the borrower and SHE's Rehab Specialist.
During the construction period, the borrower will only make payments on interest. Once they receive the occupancy certification, they will start making full principal and interest payments.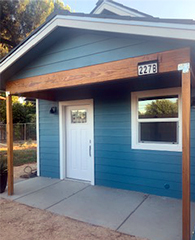 How does SHE partner with jurisdictions to help facilitate more ADU construction?
SHE has partnered with several jurisdictions to aid them in facilitating the construction of ADUs. This has ranged from providing financing, to updating ordinances, and working with them to have standard plans developed that would be available to their community members at no cost.
Can you give us an example of an ADU that SHE helped finance?
A husband and wife contacted SHE back in 2020 with a problem too often heard. Due to COVID, no rentals were available for their adult son, who was moving back to the area and was desperately looking for a place to rent. Their current home was too small at two bedrooms and one bathroom. Either rent was too high, and/or the upfront cost for the deposit—first and last month's rent—was out of their son's reach.
They tried saving money but only had a fraction of what was needed, so they contacted SHE. The ADU financing perfectly fit their needs. Though the project had many delays due to COVID—through no fault of the contractor, materials were backordered for months then became no longer available in stock and there were delays with utility companies for hookups—the family persevered. And they expressed gratitude to SHE for the financing program that helped them access affordable housing.
If people reading this want to be more engaged in affordable housing issues in California, what would you recommend they do?
There are multiple opportunities for those interested in engaging with affordable housing issues in California. The San Joaquin Valley Housing Collaborative offers workshops throughout the year on various topics that impact affordable housing. They also hold an annual housing summit in September, with several workshops and keynote speakers, that discusses current trends and challenges faced by the San Joaquin Valley related to affordable housing. Registration is currently open for the 2022 summit, where I am partnering with Leilani to lead a session on ADU financing.
Other housing conferences are held throughout the year in California as well, such as Housing California in Sacramento in April and the Rural Housing Summit in Asilomar in October.
You may also be interested in:
---
Citations
1. More information on housing affordability in California can be found at the California Budget & Policy Center and at the California Association of Realtors® Housing Affordability Index.
2. The California Department of Housing and Community Development provides more information about ADUs.
3. ADUs completed in 2021, 2020, and 2019 were 9676, 7867, and 5833, respectively. Source: Annual Progress Reports – Data Dashboard and Downloads, California Department of Housing and Community Development.
Would you like to be notified as new publications and resources become available? Want to stay in the loop on upcoming conferences and events? Join our mailing list.