Why Our Seattle Branch Is in Renton, Washington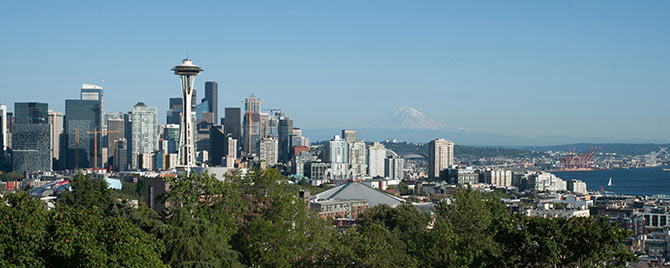 It's not unusual to see eagles flying overhead or coyotes walking across the street when you're at the Seattle branch of the San Francisco Fed. We're not located next to a natural history museum. We're based in Renton, Washington, eleven miles southeast of downtown Seattle, surrounded by trees and with magnificent views of the Cascades and Mount Rainier.
You might know Renton as the final assembly point for Boeing ​737 commercial airplanes. Or, if you're a football fan, as the home of the Seattle Seahawks.
We moved here in 2008.
Our old office was in downtown Seattle just two blocks from the famous Pike Place Market. Our employees loved being in the bustling neighborhood, with great lunch options in every direction.
Why'd we move?
Portland's cash operations consolidated with ours, and we needed a significantly bigger vault. No amount of workplace rejiggering was going to get us the extra square footage. Our vault capacity more than quadrupled to 1,800 containers.
Our branch is all about tackling challenges head-on, and we didn't skip a beat in relocating. Following a considerable amount of careful planning, we packed up our old facility and headed to Renton. The United States Secret Service and 300 law enforcement officers helped us move the entire vault overnight. No one was the wiser, and there were no disruptions to our internal and external customers. It's a point of pride.
There are other perks to being in Renton. As one of the newest buildings in the Federal Reserve System, we enjoy an open, light-filled, industrial design. While we definitely have fewer outside lunch options, the surroundings are beautiful and everyone has parking. It's a place that allows us to wrap ourselves around our operations, with 62 of our 95 employees working in cash operations or police services.
Close-knit and community-focused
We're a competitive bunch that likes to be on the leading edge. When the Federal Reserve rolled out a new system for processing cash in 2016, our branch was the first of 28 cash operations in the U.S. to train employees and implement the system. We found efficiencies and provided feedback that helped fine-tune the rollout to other offices.
We're also a close-knit community that rallies around one another, supporting everyone in doing their best work. Eight or so years ago we started a branch recognition ceremony. Now we do one every six months, recognizing employee contributions that are above and beyond—from earning a degree to getting a promotion to reaching a milestone length of service. Each department puts forward people who engage, excel, and enable. It's amazing what the kudos can do for morale.
As an operational branch, giving employees time off to volunteer on the same day is challenging, but we are focused on finding ways to strengthen and broaden how we serve our local community. We support the United Way year-round, and you'll often find individual employees closely engaging with their local communities.
Most of all, we like to have fun, together. When you visit us—and we hope you will—you'll often hear laughter as you walk around our building. That's what we're all about.
Darlene Wilczynski is vice president and regional executive of the Seattle branch of the Federal Reserve Bank of San Francisco with additional responsibility in financial institution outreach. She served on active duty in the United States Navy for almost six years and in the Naval Reserves for another 17 years before retiring as a Commander in 2009.
You may also like: