Perspectives from Alaska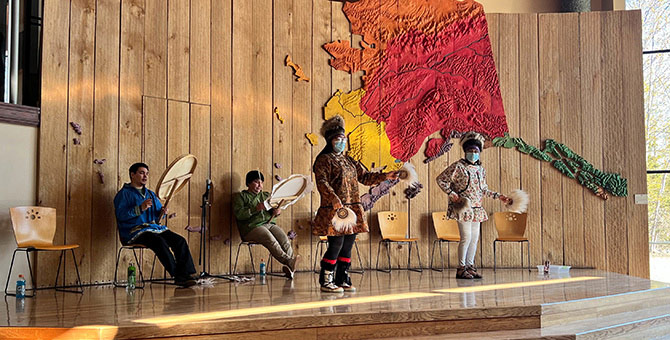 I love my job. As regional executive of the Federal Reserve Bank of San Francisco's Seattle branch, I get to connect with business and community leaders throughout my region of Washington and Alaska to learn how economic conditions are impacting their communities.
These meetings are an essential component of our work at the Fed. Listening to and learning from the communities we represent directly informs our monetary policy-making process, leading to better policies that reflect the full spectrum of our economy and the people we serve.
Most recently, several Fed colleagues and I engaged with community stakeholders in Anchorage and Fairbanks—my first big in-person engagement opportunity since the beginning of the pandemic.
While there were many important takeaways from my conversations, here are some of the highlights from my visit.
The economic landscape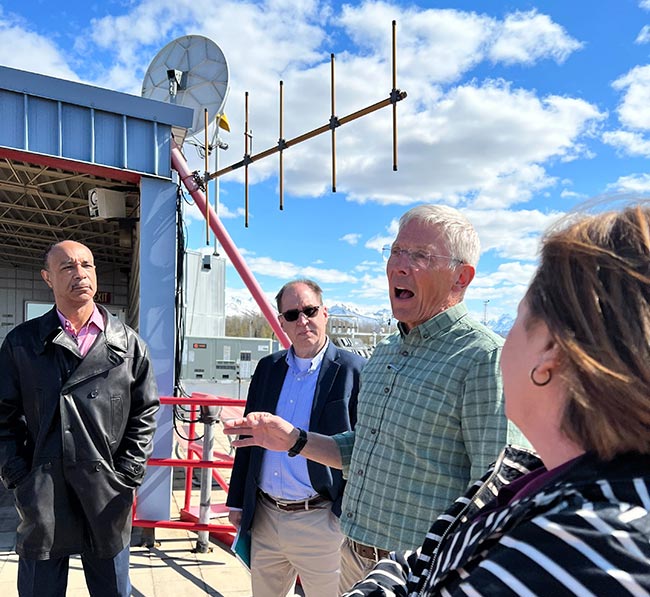 Bill Popp at the Anchorage Economic Development Corporation helped set the tone for my trip by sharing some of his insights into Alaska's economy. I am always impressed with how generous business and community leaders are in sharing their time and perspectives with us, and Bill was no exception. He graciously shared his knowledge and understanding of what drives Alaska's economy, from tourism, to resource extraction, to health care, to government contracting. It was a great launching pad for our week of meetings and conversations across Anchorage.
We then headed to the Port of Alaska where we got to see a ship being unloaded. This particular ship was unloading quite a few vehicles, which I'm sure will help fill the many empty car lots we saw all over Anchorage. Jim Jager, the Port's director of business continuity and external affairs gave us a comprehensive tour and we saw first-hand the critical role the Port of Alaska plays in the lives of its citizens and the economy. We learned that ninety-five percent of all food sold in Alaska is shipped from outside sources and Alaska has no outside rail, pipeline, or powerline connections. The Port handled 4.9 million tons of fuel and cargo in 2021, which supported $14 billion in commercial activity in Alaska.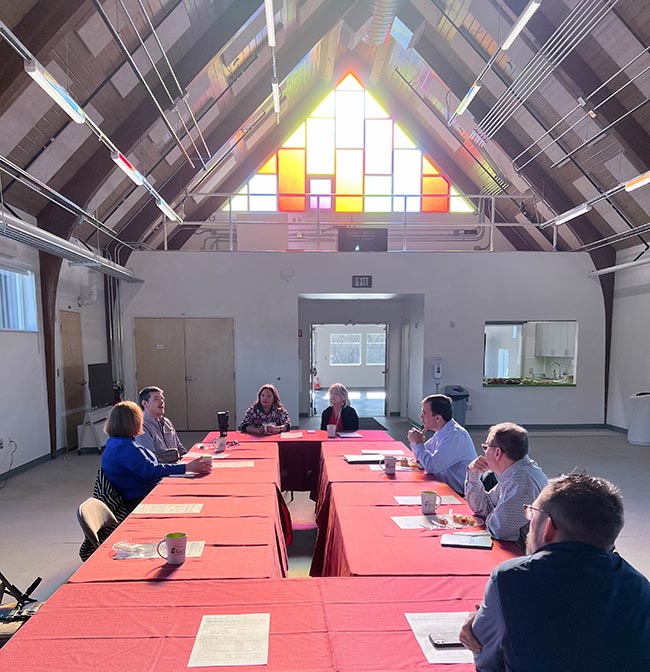 We were also lucky to meet with a large contingent of Small Business Association personnel and a member of Business Impact NW, a Community Development Financial Institution, who support small businesses in Alaska. We talked with them about micro-lending opportunities in Alaska and the fact that many Alaskan small businesses face super-sized challenges. Things like labor shortages, inflation, and the high cost of goods in the state make building a business more difficult than in the lower 48 states.
Housing challenges
In Fairbanks, I had the opportunity to meet with a few of my banking contacts. I always enjoy talking with community bankers since they have unique insight into what is happening in their community. Which industries are thriving?  Which areas are struggling? One challenge that I heard about throughout the trip is a shortage of housing. In Fairbanks, the recent arrival of the final two F-35 aircraft to Eielson Air Force Base meant 3,300 additional Air Force personnel and their families were in need of housing.
Anchorage has its own unique housing challenges as well.  Due to the city's geography, with mountains on one side, water on another, and Joint Base Elmendorf-Richardson on one side of the city, there's only so much space where new housing can be built. In her role as SF Fed Seattle board member, Carol Gore, president and CEO of Cook Inlet Housing Authority (CIHA) regularly provides us with updates on how difficult it is to build and maintain affordable housing in Anchorage. We heard similar observations during this visit. Whether she is trying to find employees to support CIHA's operations or trying to find appliances for their housing units, Carol's work is challenging, but rewarding.
SF Fed community development manager Craig Nolte and I also met with Colleen Dushkin from the Association of Alaska Housing Authorities. We heard about the unique needs and challenges of different areas in the state. Colleen shared that housing in many small Alaska Native villages is being impacted by climate change.
Preserving Alaska Native heritage
Throughout the course of my trip, we had several opportunities to learn about Alaska Native culture and the indigenous communities throughout the state. 
For instance, Carol Gore, members of her team, and Colleen Dushkin hosted us at the Nave, a local community center in Anchorage. The center has open community space for people to gather, but they also have small artist studios where artists can pursue their creative endeavors—while drawing in and supporting local culture. 
After leaving the Nave, we headed to the Alaska Native Heritage Center (ANHC). The 26-acre Heritage Center is a long-standing educational and cultural institution. The Center serves Alaskans and tourists alike through sharing permanent Native collections and offering year-round programs. We had the unique experience to learn and explore the traditional and contemporary ways of Alaska's Indigenous cultures.
We were treated to a private tour of the grounds by Paul Asicksik and Yaari Walker. As Alaska Natives, they provided us with a very personal view of their culture and way of life. We then had lunch with a group of staff and board members where we heard about the center's history and their plans for the future of this amazing treasure. No visit to Alaska would be complete without a stop at the ANHC.
Preparing the future workforce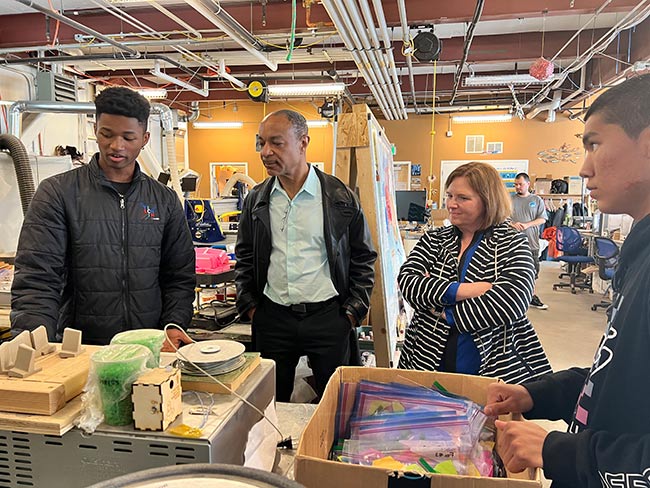 During our visit to the Cook Inlet Tribal Council (CITC) and its Fabrication Lab (Fab Lab), we were greeted by Gloria O'Neil, President and CEO of CITC and members of her team. CITC is focused on child and family support and their work makes a real difference. In 2021, 97% of the students who attend CITC classes graduated from high school. They served over 1,029 students during the year and logged over 10,480 hours in the Fab Lab and micro fab labs. This doesn't even begin to touch on the services they provide in recovery and re-entry, Alaska Native justice, early learning, and Get Out the Native Vote.
We got to learn all about CITC's Fab Lab, which is a digital fabrication resource center where students learnt to use high-tech design programs, industrial-grade manufacturing machines, and electronic and programming tools. These technologies will help develop new solutions to practical real-world problems and transform ideas into reality. Fab Lab staff is responsible for creating culturally informed, STEM-based experiences that allow students to explore and experiment. 
We heard stories from the students and CITC staff about how they ended up at the Fab Lab and what it means to them. We met with one student who graduated from high school the night before our tour. He shared that he started coming to the Fab Lab when he was 15 years old and homeless. They surrounded him with support and gave him a job in the Fab Lab. Three years later he graduated and is looking forward to his future, something that he couldn't see when he was 15 years old.
The impact of a changing climate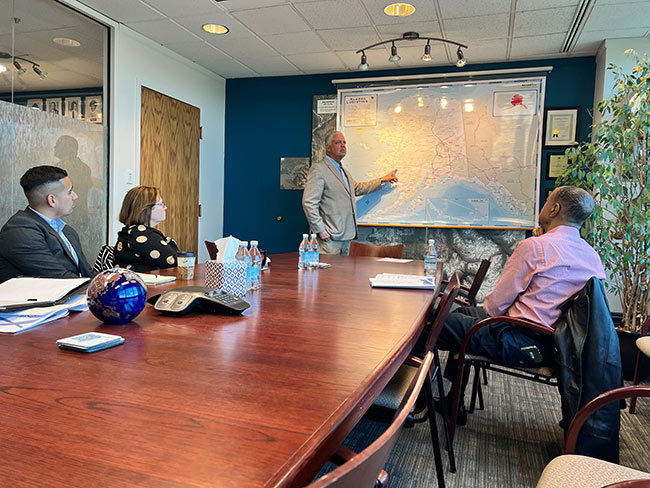 We also had the opportunity to meet with Davin Holen, an anthropologist and coastal community resilience specialist and assistant professor at the University of Alaska, Fairbanks. He painted a very clear picture of what tribes must do to survive day-to-day in a changing climate. We got to hear about his work on climate adaptation and how he recently helped form a community of practice group to support Alaska Native villages. Climate change is already impacting Alaska Native communities and, without intervention, could eliminate the subsistence lifestyle many Alaska Natives practice. We learned how in some villages, everything revolves around harvesting resources that supports their culture, family, and survival.
The last meeting of our trip was with Tami Fordham, the EPA's Director of Alaska Operations. We heard about her work with the Arctic Resilience Work Group, which is addressing issues like building water projects in the interior and how to maintain them effectively and efficiently in remote regions. Their work is all about building sustainable communities and livelihoods.
Throughout our time in Alaska, we all learned so much and took away an even greater appreciation for this amazing state and its people. And this trip was just one part of our larger, year-round engagement efforts. We're planning many other visits across our District this year, including a return to Alaska this fall. I can't wait to return.
Darlene Wilczynski is vice president and regional executive of the Seattle branch of the Federal Reserve Bank of San Francisco.
You may also be interested in: