Serving the public with innovative research and analysis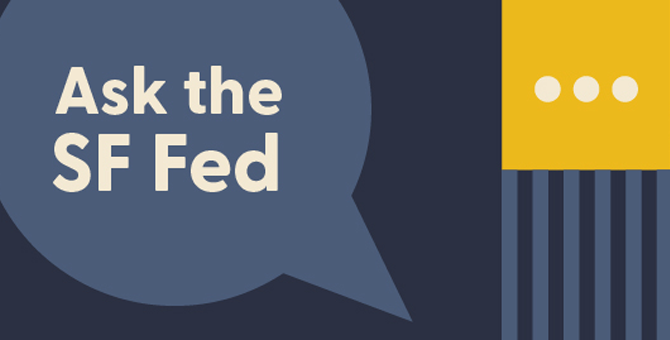 Join us on Tuesday, February 7 at 10:30 am PT, for a live discussion on Inflation and the Economy with Research Director Sylvain Leduc.
Sylvain will cover the drivers of high inflation, current labor market dynamics, and the Fed's efforts to restore price stability, and answer pre-submitted questions from the public. Register and submit questions through our event page.
FedViews
Adam Shapiro, vice president at the Federal Reserve Bank of San Francisco, stated his views on the current economy and the outlook as of January 12, 2023.
Economic Letter
Global supply chain disruptions due to the COVID-19 pandemic have increased the costs of trade between countries. Given the interconnectedness of the U.S. economy with the rest of the world, higher trade costs can have important impacts on U.S. labor markets. A model of the U.S. economy that incorporates variation in industry concentrations across regions can help quantify these effects. The analysis suggests that recent global supply disruptions could cause a sizable and persistent reduction in labor force participation.
Working Paper
Fiscal support measures in response to the COVID-19 pandemic varied in their targeted beneficiaries. Relying on variability across 10 large economies, we study differences in the inflationary effects of fiscal support measures targeting consumers or businesses. Because conventional measures of real activity were distorted, we control for the underlying state of real economy using households sentiment data. We find that fiscal support measures to consumers, but not firms, had inflationary effects that manifested 5 weeks following the announcement and peaked at 12 weeks. The magnitude of the effect was larger in an environment of improving consumer sentiment.
The China Cyclical Activity Tracker, China CAT, is an alternative measure of China's economic growth based on research in Fernald, Hsu, and Spiegel (2019).

Cyclical and Acyclical Core PCE Inflation divides components of core personal consumption expenditures according to whether they move in tandem with economic cycles or are independent of the state of the overall economy.

​

The Daily News Sentiment Index is a high frequency measure of U.S. economic sentiment based on lexical analysis of economics-related news articles.

​

Inflation Sensitivity to COVID-19 divides core personal consumption expenditures inflation into components that are sensitive and insensitive to the economic disruptions caused by the pandemic.

PCE Inflation Dispersion statistics present a more detailed summary of the personal consumption expenditure price index (PCEPI), a measure of U.S. inflation. Included are measures of the distribution of price changes across categories and diffusion indices.

​

The Proxy Funds Rate uses a broad set of financial market indicators to assess the stance of monetary policy. The proxy rate can be interpreted as indicating what federal funds rate would typically be associated with prevailing financial market conditions if the federal funds rate were the only monetary policy tool being used.

The SF Fed Data Explorer is an interactive tool that gives users the ability to explore, analyze, and download detailed data for various groups of people in the U.S. labor market. The data come from responses to the monthly Current Population Survey (CPS).

Supply- versus Demand-Driven PCE Inflation determines the monthly contributions to both headline and core personal consumption expenditures (PCE) inflation from supply-driven versus demand-driven components.

​

Total Factor Productivity (TFP) presents a real-time, quarterly data series for the U.S. business sector, adjusted for variations in factor utilization—labor effort and capital's workweek.

​

The Treasury yield premium model decomposes nominal bond yields of various maturities into three components: expectations of the average future short-term interest rate, a term premium, and a model residual.

This page provides estimates of weather-adjusted employment change in the United States for the past six months. The estimates are aggregated from county-level estimates of weather's employment effects, which were derived from a county-level analysis of the short-run effects of unusual weather on employment growth.